Started : 1977
AREA : Mahattan, N.Y.C
MAIN LINES : 1's, 3's, 4's ... All City.
Alias : ZEPH, GOLD, HEIST, JOI, PASSION.
Writing Groups : THE REBELS, RTW, CIA, MAFIA.
*************************************************************************
1) When did you start writing graffiti and where?

First off, let me start by thanking you for the opportunity to tell a bit of my story. I've been the subject of a number of interviews over the years. In fact, I've probably received an undue amount of attention. I am, after all, just a spoke in a big wheel. But please let me preface by filling in some background information. In the late 70's and early 80's the media became enamored of graffiti.
| | |
| --- | --- |
| When journalists tried to reach out to writers, they found few to none to interview. They knew of no real place to look. If and when writers were found, it was often after they had been arrested and had been through "the system". By that time they had already been humbled by the experience of their arrest. Other writers, if they could be located at all, were hesitant to speak out. This is fully understandable given the illegal nature of our pastime. However, from the very beginning, I felt that speaking to the media was a way to help elevate this art form. When the Village Voice interviewed me in December 1980, and requested to photograph me for the same article, I agreed. When the photographer snapped my picture, I covered my face with my hands to | |
maintain my anonymity. I felt compelled to do so because, at the time, Hickey and Ski were often parked in an unmarked Blazer outside my house. When the article appeared and I saw the photo, I was upset. I realized that covering my face made me look like a criminal. I decided then and there that I would never do that again.

That I would from that point onward go public and stand by my convictions as a graffiti writer to defend this art form, even though I was still heavily involved with painting trains. I made a conscious
| | |
| --- | --- |
| | decision to express my ideas and my unwavering support for this movement, despite the possible consequences. When ALI (rest in peace my brother), FUTURA 2000 and I created the Soul Artists workshop in 1979, we began holding weekly meetings that were open to the public. We welcomed the media. Suddenly, graffiti writers were no longer mysterious phantoms of the night. We became actual people with real faces and ideas, aspirations and even political ideologies. The media welcomed the opportunity to interview us. Myself, FUTURA 2000, ALI, |
HAZE, DONDI(may you rest in peace my brother), CRASH, STAN 153, NOC167, IZ THE WIZ, TRACY 168 and a host of others were all there at various times and could make themselves available to reporters, if they felt inclined to do so. Many good stories were written during this period, and of course a few that were not so good. Yes, to some extent, the cat was coming out of the bag. during this period, and of course a few that were not so good.
But I believe that history needs to be recorded, and many of the articles by journalists such as Richard Goldstein, Steve Hager and Glenn O'Brien, all of whom covered graffiti at that time, helped create a critical document of an art form in flux during an ephemeral renaissance. Over a long period, about 25 years give or take, I've had the opportunity to speak to the media from time to time. Questions usually range from my own story to an overview of the "culture at large".

FUTURA and HEIST ( aka ZEPHYR ) Burn up the lines, early 1980's
I hope I am not misguided in my belief that talking to the media has not harmed or diluted the overall message or meaning of our movement. In fact, I believe it has strengthened it. I do not claim the right to speak for this movement, and I don't believe I have taken the liberty to do so. I have always attempted to divert the spotlight onto the bigger picture, and call for harmony among the ranks, among other things. As I stated already, I've always perceived myself to be a small part of a bigger organism. And I believe that the survival of this organism, which is a fragile and irreplaceable community, is predicated on a cohesive lifting-up. Respect for the importance of our roles as artists in this world of ours, and a high regard for all our brothers and sisters in this culture, is paramount. Anything less is self-destructive. A strong belief that we are part of a phenomenal movement is a prerequisite to success for all of us. Perhaps sadly, we need to come to terms with the fact that it may not be until
| | |
| --- | --- |
| | after we have all turned to dust, that the world may (or may not) fully comprehend the importance of this art form. To that end, I will always focus on the collective, not the individual. Plainly put, this shit is much bigger than any one of us. Maybe graffiti has royalty, I don't know, and I really couldn't care less. To obsess on individuals is to lose sight of the big picture. The raw energy of this movement has always been at the base, not at the so-called "top". Now, to answer your question, and I thank you for your indulgence, the first wall I ever wrote on outside my bedroom walls was in the fire stairs of the building where I grew up in the Yorkville section of Manhattan. That was probably in 1973. |


2) How did you find the name " ZEPHYR "?

I was inspired by a brand of surfboards and skateboards that were made in California in the mid-
| | |
| --- | --- |
| seventies. For anyone who's curious about the early days of the California skateboarding scene, or the derivation of my name, I strongly recommend an amazing documentary called "Dog Town and Z-Boys" by Stacy Peralta. | |

3) Could you name the writers that you looked up to when you were first starting out.



| | |
| --- | --- |
| | Giving you a laundry list of dope style-masters and influential writers is probably a bore for anyone but the most minutiae-minded. So, since I started as a tagger, I'll give some shout-outs to some writers whose tags I thought were always "on point". First, I have to acknowledge the dude who got me |
into all this crazy graffiti stuff in the first place: LSD-OM, the president of THE REBELS. In graffiti terms, he will always be my mentor and father. Some other dope dudes that pop into my head for their smooth tag styles are: TEAM, AZTEC (RIP), JESTER (aka DY 167 ), MOVIN2 (aka TI 149), SPEAR, DEAN, DERBY, SHADOW, PERIL (The Rebels), Rebel 3 (The Rebels), Curse 5, DEFIE (aka DEFIVE or DEFIE), OOONE, Flint (For Ladies Only), Stay High 149, Karado 135, and about a thousand other badass ink wranglers. But I don't have to say shit about any of them, 'cause you know who you are!





4) Can you tell us about your first experience hitting the trains.

| | |
| --- | --- |
| | I was probably a motion-tagger for way longer than most writers ever are. I actually got pretty good at it. I was actually getting up doing that shit. I even used spray paint on the insides, the in-betweens and sometimes the outsides too, all while the trains were running. The first time I went into the yard I was too scared for words. I was a tiny kid, and the way the trains laid up in that yard (the #1 yard at 242nd Street) put the panels very high. I couldn't even climb into the cars without huge problems. Anyway, needless to say, my first trip to the yard was pretty stupid. I was a 14-year- |
old panic button, wet behind the ears. I was way too small, and completely overwhelmed by the noise and all the trains.
| | |
| --- | --- |
| I loved tagging insides, but I quickly determined that yards were scary and sucked. So I went back to doing my little motion tags for about the next 2 years. But I have to say, for motion tagging, I had it pretty good because my school was at the last stop on the line. That was '75 and '76, before I wrote Zephyr. I was writing "Kane" and some other stupid names. Then in 1977 Bil-Rock turned me onto the #1 tunnel at 137th street. By then I was two years older, I had homies to roll with and I was a little taller, which was a big help. | |
5) Who where your first writing partners when you first coming up.

None of them are known writers. Believe it or not, I actually had a partner named Porky 89. No shit. How toy is that? He was inspired by Porky Pig, no doubt. I had another partner that wrote "Dice 3" and his crew was "TRG", "The Reefer Gang". I was writing "Sky" and my jive-ass little crew that no one wanted to be in was called "ITA", which stood for "Invincible To All". I'm giving you all the stupid dirt now. Early 70's shit that I've never admitted to anyone, and now you know why.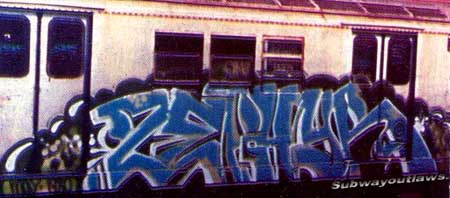 6) You were a member of the original RTW crew. Could you tell us how that came about and name all the original members of the group.

Well, Bil-Rock was the president. RTW was his creation. The name, "Rolling Thunder" came from the Native American healer, teacher, and activist. His sister had a book called "Rolling Thunder Speaks". When I first met Bil, he was writing "Sage". He adopted the name Bil-Rock a bit later. He was a cool dude. A big guy. Pretty crazy, but in a good way. I swear to God, that dude had heart. He never backed down to anyone. But he also was a really mellow, peaceful guy. He was big into spliffs and reggae music and Rastafarianism long before people in New York City really knew much about
| | |
| --- | --- |
| | those things. He was a white dude sportin' dreadlocks back in the early eighties. I guess you could say he was ahead of his time. In the mid-seventies Bil used to hang out at the NOGA (Nation of Graffiti Artists) clubhouse on 88th street. He was an old-school writer who had never really gotten up much. A street tagger. But he knew a lot of graff history, and had huge respect for all the graff forefathers. I knew REVOLT, but when we first met he was writing Sac 1, and going to Art and Design with FLINT... and BOMB |
ONE. He was dope on a bicycle. He could do a wheelie for ten minutes on a clunker bike. We used to go to Hot Tuna concerts and steal beer from Pick and Pay. Then there was RASTA. I probably met
| | |
| --- | --- |
| him in '76. He had already been writing graffiti for a while by that point. He was a tiny dude with long straight hair down to his waist. Later he became an awesome kung-fu expert and a self-taught acrobat that could do back flips and stuff like that just for shits and giggles. He had gone to a school called Source Academy with some writers from the West Village, TEASE and ME 62. Go Club guys. By the time we met, he had pretty much already honed his graffiti | |
skills. He had the craziest tag style ever. Totally illegible. RASTA was a shoplifter. He never had any money so he stole everything. Food, clothes, anything he needed. When I met Min, he wasn't writing MIN yet. He was still "NE". RASTA had the name "Min" first and "NE" got it from him. "NE" arrived on the scene a little later. He was Bil-Rock's friend.
| | |
| --- | --- |
| He was living upstate. Shortly after I met him he moved down to the city. When he arrived on the scene, I believe it was 1978, he lived with me for a while. He was the youngest of our bunch. "NE" was really feisty, non-stop, full of energy. He was in constant motion, sportin' his shoulder-length blonde hair. Those were crazy times. Vandal was this rich kid we hung out with. He went to St. Ann's in Brooklyn. He lived with his parents in a phat-ass brownstone on west 77th street. After Bil-Rock got fed up with his room always being filled with us, the game room in Vandal's basement became our new | |
hangout. We used to sleep down there and eat all the food in the refrigerator and drive him crazy. He thought it was cool that we did graffiti, but he had little interest in it himself.

Then he started showing us these straight-letter outlines he was doing. They were horrible. But we really liked him, he was a hilarious dude to be around, so as a goof we took him with us to the #1 tunnel one day. That was probably during the winter of '78-'79. He did some really ugly pieces at first,
| | |
| --- | --- |
| | but then he actually started to get pretty good pretty quickly. He didn't do too many, but he managed to get one of them on the cover of "Subway Art". Not too shabby. MACKIE (aka HYPER ) was a Japanese cat. A dope skateboarder. He went on to become a famous rock n' roll drummer with one Punk rock group called " the cro mags ". RTW had it's own "skate posse" that included Rust 1, also known as "Puppet Head" |
and "Kess", the infamous skateboarder Andy Kessler, but that's another story. Mackie was a cool kid, but he was famous for being a cheapskate. He was a really quiet guy. A kid of very few
| | |
| --- | --- |
| words. He went to Music and Art. He was doing nice pieces before most of us were. He had the desire to burn with style while most of us just turned out tags on the insides and simple, ugly pieces. We were mostly all about just getting up. In fact, after Bil-Rock met Quik he turned his attention to going all-city with throw ups. After that we didn't see too much of Bil. He was off on the A's, E's, F's, and all those shiny fuckin' ding-dong trains. RTW became a huge crew pretty fast. I remember one day Bil recruited over 50 dudes in one afternoon. He wanted some muscle, so he put all these dudes from the Pitkin Yard, I think they were called the G-Crew or something, in RTW. | |

That was some wild shit. Anyway, I've only mentioned a handful of the original key players here. There were many others. In fact, some of Bil-Rock's initial lieutenants never did much writing, so

their legacy is more obscure. That would be two guys named "Hunt" and "Hughie". They were Bil's original home boys, and he used to terrorize the RR line on the insides with them. So I really should give them props, because they were doing that before RTW really got rolling. Plus, they were both cool cats. Then, of course, I'd be remiss not to mention our man who would hold it down in Brooklyn, Strike, with his sweet-looking tags. And there were some of the Central Park guys, like Earth and Sauron, Sag 3 and Regal, and a few female writers we had like Monk and Chi 193. Or the uptown posse, Haro (later he became EN 005) and Gin. Or the Downtown Boys, Saki and Samurai. We had a bunch of heads. The crew went on and on and Min kept it alive and put down all kinds of new blood that repped big and rolled deep and hard. Cats like Rich 2, Pade, Boe, Sago and a myriad of other heads. Shout out to all RTW members, especially Min for keeping the crew alive on transit much longer than we ever dreamed. Special love to Bil-Rock and the original posse, you know who you are. One day while we're all still alive and well we should have a big friggin' reunion and paint a wall somewhere.


7) DONDI, was a strong artistic force in his time. Could you tell us how you both met and what was it like painting the trains with him?

If, as you say, Dondi was "a strong artistic force in his time" then it's my opinion that Dondi's time
| | |
| --- | --- |
| is far from over, and hopefully never will be. I don't believe anyone has had more of an influence on the way modern graffiti looks than Dondi White. I met Dondi at Esses Studio in March of 1980. The #1 tunnel, where I did most of my cars, was quickly becoming uninhabitable. The Ball Busters were down there indiscriminately shooting dudes. That made the timing perfect. When Dondi and I met, we hit it off right away. Within a week I was chillin' out at his house, meeting his parents and going to Utica and New Lots with him and his boys. | |
| | |
| --- | --- |
| | As far as painting trains with him, those are memories that are very sacred and personal to me, and if you don't mind, I'd like to keep them to myself for now. |


8) Would you have any raid stories to tell us about.
| | |
| --- | --- |
| Sure. Here's a good one. I was in the Kingston lay up in 1980. Kingston was a weekday, midday, rush-hour lay up. I was in there with some of my RTW boys, Strike was there and NE and a whole bunch of us. More and more of our boys kept showing up. In that lay-up you had to be really quiet. But before long there were like 8 of us and it was really getting | |
noisy and stupid. We knew something was gonna happen. Then EN 005 (aka Haro ) just starts wilding in there. Making as much noise as he can just to be an asshole. Well, sure enough, the cops came
| | |
| --- | --- |
| | down the catwalk in force. We were spread out inside the cars, tagging insides, and the cars were all dark. So the cops pulled the lever and opened all the doors on the catwalk side of the train. It was the craziest shit I've ever been involved in, and 've been in some pretty hairy raids. Suddenly we were face to face with cops. I It was pure pandemonium. |
Cops running everywhere. Writers running everywhere. Total Three Stooges type shit. If I remember correctly, everyone got away. Maybe not. It was 1980, so forgive me. But I had a close call. I was running down the catwalk and a cop inside the train (and remember, all the doors are open) grabs the back of my shirt as I'm running. Through the miracle of adrenaline and fear, I got away from him. Needless to say, I never went back to the Kingston lay-up.


9) You were a very effective inside killer in your time with great hand style. Could you tell us your approach while hitting insides.

Wow! Did you call me an "inside killer"? That has a good ring to it. I shoulda thought of that back in the day. I coulda' put that up. The term "hand style" is interesting to hear also. My cousin was an old- school writer from West Philadelphia. Buzz One. He used to use that term back in the mid-seventies. Now I hear that term all the time here in New York. It's just funny, 'cause in all my subway painting years, 1977 to 1984, I never heard anyone in New York use that term "hand style". Anyway, for hitting insides, I was always looking for blank space. I used to write on the ceiling a lot. I tried to keep my tag readable because I wanted non-writers to be able to read it. I went writing by myself a lot. Especially on the insides. That helped me to get up. I never had to rely on anyone else's schedule. If I had ink and I wanted to go, I just went. I was also influenced by "Italian" FLINT.... He always wrote a little saying after his name like "Bad but not evil" and stuff like that. I thought that shit was pretty entertaining, so I came up with my own little phrases. The one I wrote the most was "Hi Mom".



10) Did you ever have any conflict with other writers due to back grounding?

In hindsight, I realize that during certain eras it was inevitable that if you wrote for a period of time you were eventually going to encounter those kind of stupid situations. But that shit is very negative stuff, so I'm going to respectfully pass over the question as far as detailing any incidents or names. Besides, it's all ancient history at this point anyway. However, I will say that I find it really odd that one of the more notorious go-over dudes seems to have taken on some kind of hero status over time. Just why people want to celebrate this jackass is a mystery to me, but I guess people just find villains compelling, which I suppose could explain how George W. Bush got to be president.


11) Could you name some of the writing groups you were a member of?


Sure. RTW =The Rolling Thunder Writers, TR =The Rebels,SA= Soul Artists, CIA, United Artists, TDS =The Death Squad, THE MOB, MAFIA, Out To Bomb, TLP = The Local Partners, TNA =
| | |
| --- | --- |
| The Nasty Artists, Tragic Magic, Freaks At Large OTB = Out to Bomb, UA = United Artist and a host of others. But in my opinion, these crew names don't have much meaning unless you actually have homies you're down with. Of all these crews that I've mentioned, the one that has always felt most like a family is RTW. I suppose that's because I was one of the founding members that was there at the very beginning. Back in the day it was prestigious to be | |
| | |
| --- | --- |
| | down with respected crews. Like, when I was coming up everyone wanted to be down with Phase 2's crew, The Independents. That was a crew everyone wanted to be in at the time. Some of my boys were down and they used to put it up after their tag. But then I found out that some of them |
didn't even know Phase 2. That shit was crazy to me. Some of the writing crews in the 70's got too big too quickly, and the authority to put dudes down drifted really far from the center.


12) Could you name all the train lines you hit over the years.


I made it a point during my writing career to get up, at least a few times, on every train line. But I did most of my stuff on the #1 line.
13) Can you tell us all the writers you have painted or wrote with over the years, and could you tell us who was your best partner?


It would be impossible for me to list all the writers I've written with. But as far as partners go,
| | |
| --- | --- |
| | Revolt has always been there. It's not a question of better partners or worse partners. It's about being in sync. Revolt and I have very similar frames of reference. We were both weaned on Marvel and DC comic books, bad science fiction movies, Fillmore posters, underground comix, Yes and Zeppelin album covers and the like. If he tells me to shade the clouds behind my piece like Berni Wrightson would, I know exactly what he means. |




14) Would you have any racking stories you could tell us about?


None in particular, but I was pretty good, if I do say so myself. I miss stealing original Red Devil from that little hardware store in China Town.


15) You used to do JOI throw up's, what did that stand for?

"JOI" is french for "JOY". Doing throw-ups is a lot of fun (and a bit of hard work too) so the name seemed appropriate. I wrote "JOI" instead of "JOY" because it takes less paint to make an "I" than a "Y".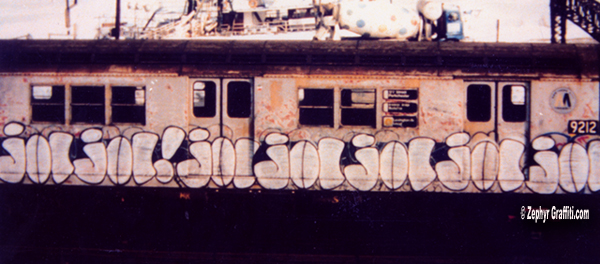 16) When was the last time you hit the subway trains and why did you quit?


I think I did my last train in 1984. By that time I had been painting trains for seven years straight and I was pretty burnt out.




17) Would you have any closing words.

If anyone would like to see more of my work, please visit my website, www.zephyrgraffiti.com. Thank you, Subway Outlaws, for the opportunity to share some of my thoughts. Love and eternal light to all my graffiti friends, partners and associates who left us way too soon: Dondi, Ali, Kid Panama, Sane, Cliff 159, Sie 1, Sail, Bear 167, A-One, Aztec, Boom 2, Kist, Shy 147, Smily 149, Caine 1 and Padre 2. Rest in peace my brothers. One love.