| | |
| --- | --- |
| | BLACK BOOKS |
********************************************************************************************************************************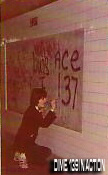 .... DIME.139 was a very well known writer from the mid 1970's with very good style . here are a few images of some of his finesse work as well as other's. Enjoy and should any one have any of his work please contact us at messages@subwayoutlaws.com .
DIME.139 ~ I know it's funny but that was early 73 I wish I had the photo of the piece I did. It was up for a long time. And as much as I heard that some guys were going to kick my ass for it nobody ever wrote over it. The colors held up pretty good too. I didn't do it on a hand ball court it was done on the back of the bleaches just as you walk to the courts for all to see!!!

It was big back then for Forest Park, Queens...No body wrote in that area at that time. I t was my first piece ever done @ Victory Field.

One of DIME's last style's before he retired.

DIME.139 ~ This Vegas piece was my first black book piece in 73 right after I changed my name from THE KID . It is not too different just starting to evolve a style. I remember my friends playing cards while I was hanging out listening to them battle it out while I pieced away! I didn't loose on it...I broke even...

DIME in yellow.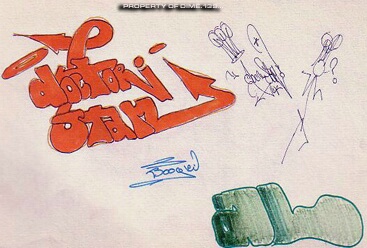 DOC-STAM and AL-88 . Early writers from the E and F LINE, 1970's.
*************************************************************************************************************************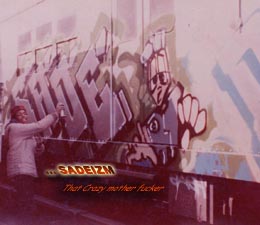 SADE TCM was a true subway outlaw on the 2's and 5's in the 1980's and is truly over looked in the history of graff. with his partner DUNE produced many pieces on the IRT's. Here are a few images from his black book collection. Should any one have any of SADE & DUNE's work please contact message@subwayoutlaws.com
SADEIZM takes over the the 5 train.

SADE's own super hero.

The winter time blues.

SADE gets loose with the colors.

Check out SADE's portfotolio . You will see some of his old style as well as his new styles that are just off the hook! log in and enjoy.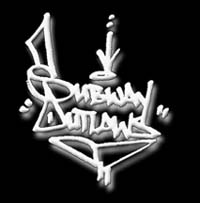 FOR EASIER ACCESS, PLEASE CLICK ON THE PAGE OF YOUR CHOICE:
( New Images from the wife of DICE 1.)