TRACY 168

LOVESTER 1

The power of the mind and soul with all the heart in the world.

~ WILD STYLE ~

NEW YORK CITY "WRITER"

GROUPS : EX VANDALS.. WAR.INC W.C. 188th IND'S..

PREZ OF : WANTED, W.S.

ALL-CITY: TRAINS, BUSES, TRUNKS, ALL SURFACES, ETC.. BLAH... BLAH.. BLAH..

**NAMES : HAWAII 5-0 , SEVEN-11, SUGAR BEAR, CRAZY TRACY, TERRIBLE ME 168, LOVESTER ONE,**

WILD STYLE
********************************************************************************************************
Tracy 168 units writers from all four Boroughs. Appearing in this photo :

LAVA 1, FLICK 1, TAGE 1, CHRIS 170, TRACY 168, PNUT 2,

and KOOL BREEZE ( Who was the leader of the black Spades )........

TRACY 168

( THE MOVIE )
A ROLLER COASTER RIDE ON
THE N.Y.C.
SUBWAYS

CHI~CHI 133 and TRACY 168 in the 7 yard.
______ THE EARLY YEAR'S ______
TRACY 168

Done on an IRT train 1972. TRACY 168 - This was not my first peace. My first piece was done on the D-line in the early 1970's. Back in those days what we conceded a peace was only an tag which we would out line.

TRACY 168, Out side Yankee stadium.

TRACY 168 - I was there from the very Start! By the early 70's, the movement had already started . Every body came from ever where; it was little cliques. you got Clinton High School, which had dude's like :

LIONEL 168, SWEET DUKE 161, LEE 163 and LEE 163's protégé "PHASE 2 ". These are some of the dudes to kick start the Bronx Graffiti movement.
Cannot be reprinted without permission of © SUBWAY OUTLAWS.COM!
All photos are property of Michael Tracy and cannot be reprinted with out his permission!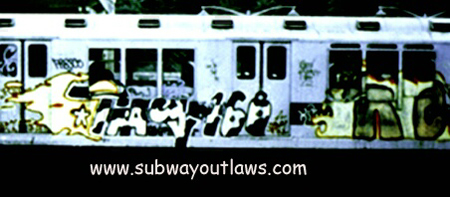 TRACY 168 and RC 162 burn up the line. The First flame piece, early 1970's.
******** WILD STYLE *********

The TRACY 168 interview, written by Michael C Tracy -168. 10 / 17 / 04, We would like to thank all that made this Possible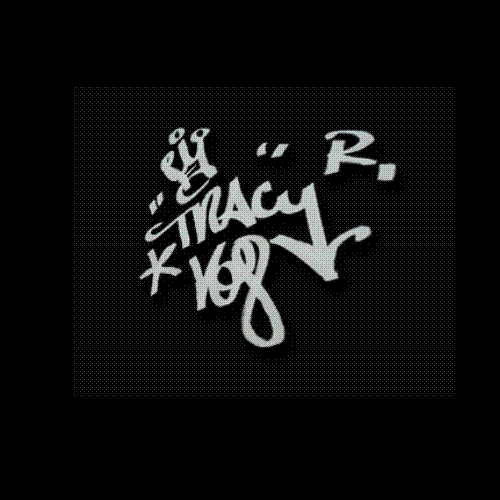 For More on the Wild style man - TRACY 168 , click here and take a tour of the OLD SCHOOL KINGZ section