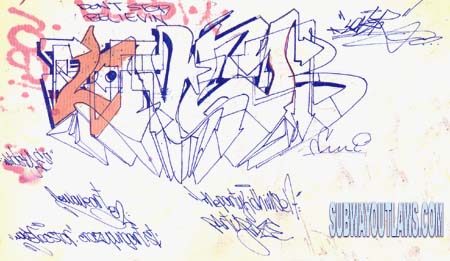 LOVER outline done for LOVE.67, by ERNI-newave aka PARTY PAZE, in 1981.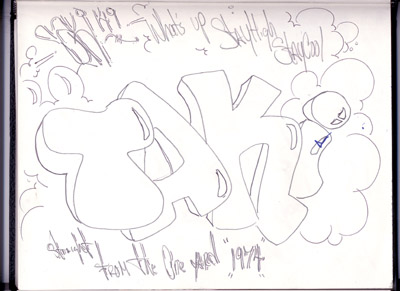 Outline done by TAKI-149 from the 1 line, in 1974.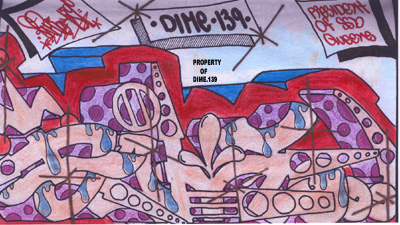 DIME.139 outline done in early 1976 on the E & F line. DIME was always known in Queens, for having a great style.
DIME.139 and SHORTY.13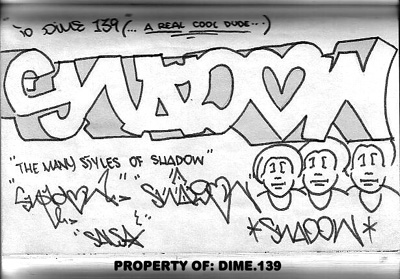 SHADOW, a writer from the mid 70's with good style, who happened to be the younger brother of Spike Lee, the Director.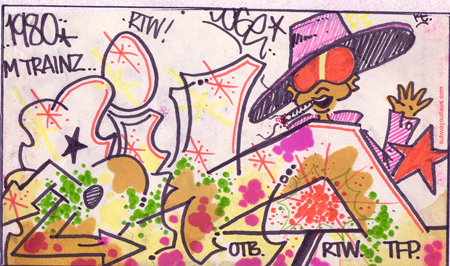 BIL outline, done by BILROCK in 1980.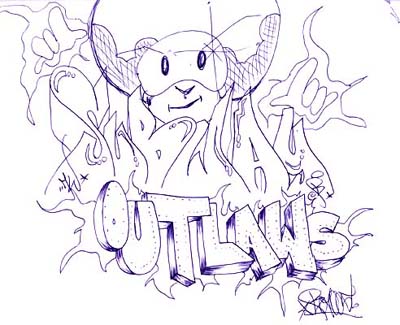 BOMOO.5 ( BOM.5 ) did the Subway Outlaws lettering with a classic, old style character, which was very popular during his time.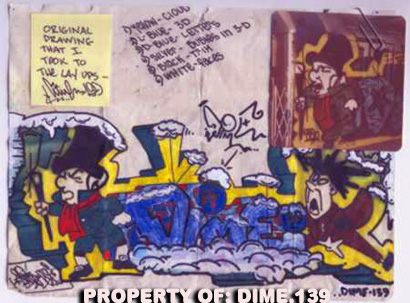 DIME.139
"I REMEMBER THIS PIECE RAN ON THE DOUBLE E'S. SHORTY AND I PAINTED IT AT AN ABANDONED STATION. THE PLACE WAS REAL COOL, BECAUSE WE WERE ABLE TO STAND ON THE PLATFORM, AND PIECE OUR HEART'S OUT!"
SHORTY and UNCLE JOHN took off hitting the insides, after SHORTY and I did a whole car together with the paint he supplied. I basically did the outline and he filled it in. I went over a throw-up of UNCLE JOHN'S with my MR. MAGOO character, not really on purpose, but more for the case that back then real-estate was hard to find. Therefore writers had to piece and choose what was worth having run, and what was needed to go over! I chose to go over it. Especially because he thought it was funny to leave me in a deserted station that I knew nothing about. However, I had a grand-old time by myself. Hey...the lights were on, and I was like a kid in a candy store! It was all good.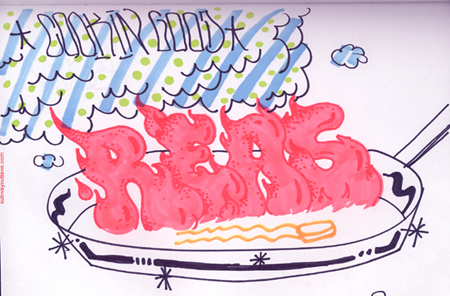 REAS outline in1988.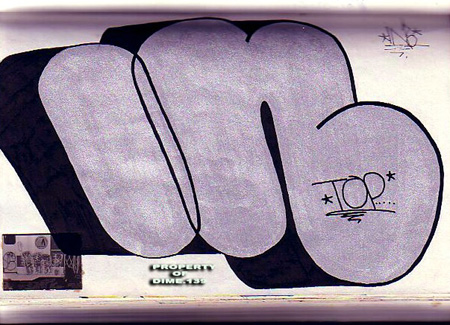 IN aka KILL.3. This quick throw-up piece only took 10 seconds to do, as told by DIME.139...........................................................................................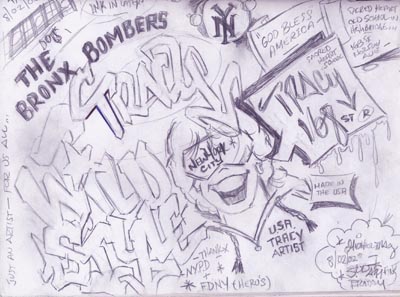 TRACY.168... One of the all time kings of Graffiti, shows us a quick outline done for the people in the World Trade Center blast. Here in this outline, TRACY shows off his famous character.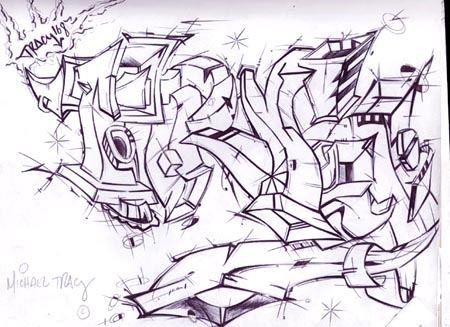 Outline shows off TRACY168's, range as an artist. His art has been showcased all over the world, as well as respected by many writers.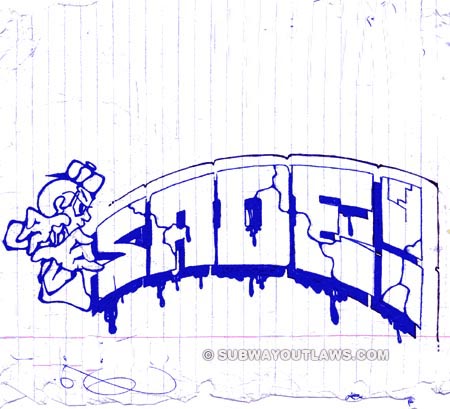 SADE outline done by SADEIZM. He, may possibly be one of the most under rated writers, during the mid 1980s and who was over shadowed by T-KID and the TAT crew. SADE stayed consistent on the 2 and 5 subway lines, with his partner DUNE.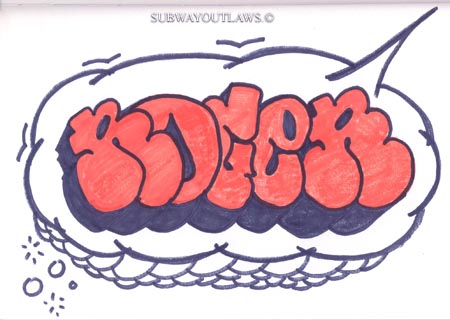 ROGER, one of the original kings of the number 7 line, and an All-City subway killer, in 1975.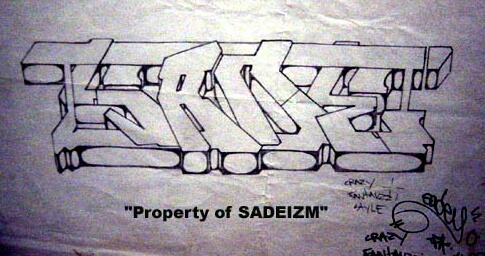 SADE outline by SADEIZM .TCM. This outline is of many that SADE has completed on the 2 and 5 subway lines.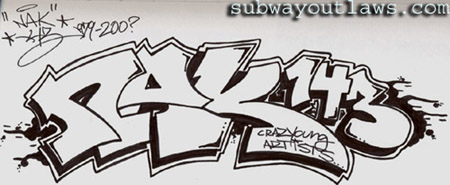 NAK.143 ( NAC.143) . He shows off this quick, plain style outline.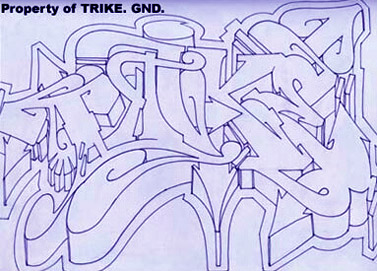 TRIKE .GND, displays a wild-style that is just as wild, as the man who did it. These outlines were meant to confuse many, and to keep others from "biting" (copying), as well.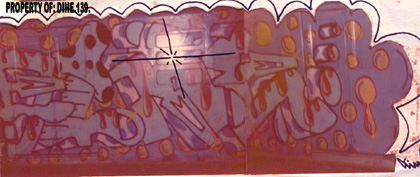 The finishing product and only existing photo, of the Top-to-Bottom done with SHORTY.13 in early 1976.
DIME.139 and SHORTY.13
Top-to-Bottom done in early 1976. The photo was cut out and pasted in DIME's black book, with the end of the SHORTY missing. DIME added on the T&Y letters, in designer markers at a later time.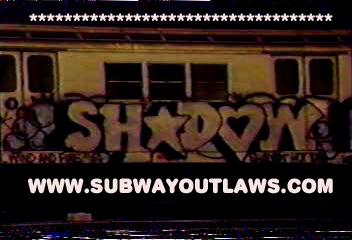 The finishing product to the SHADOW outline, with some changes. In the mid 70's, SHADOW had many cars running on the 2 line.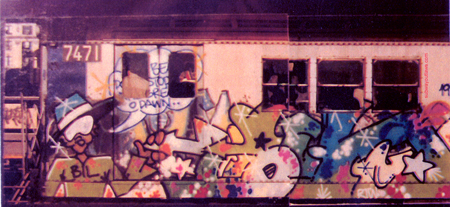 BILROCK's finishing product.
All are welcome to send in outlines, to be posted on the site.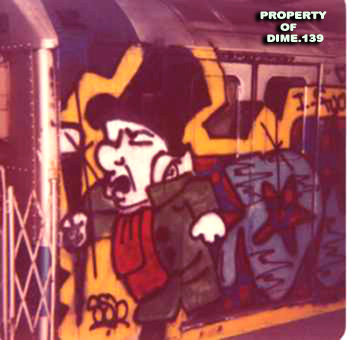 DIME.139 's finishing product. This car was aired in the movie "WE'RE FIGHTING BACK", which was a film on the Guardian Angels (in New York City). The car ran for a very long time. This is the only existing photo of this car. Should anyone have a complete photograph of this car, please contact: message@subwayoutlaws.com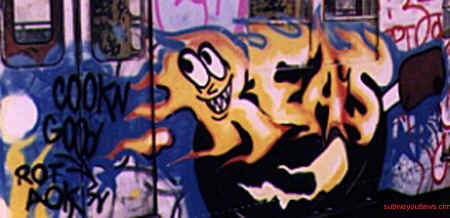 REAS piece with a few changes, in 1988.
DIME.139:
It is funny but in fact you didn't need colors for IN. He always did his basic silver throw-up, so I knew how this was going to look. As a throw-up, it took me just as quick, if not quicker to get it from him. I met him at Continental Avenue, where all the Queens writers went to watch the trains. Back then, all the EE letter trains could be seen there. This place was similar to the Grand Concourse (writers bench) in the Bronx.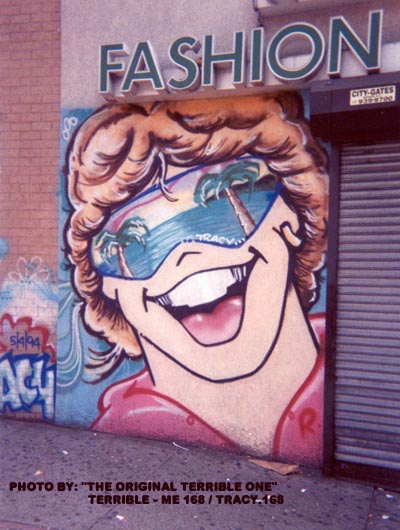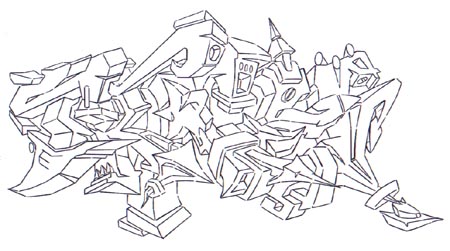 TRACY168, Wild Style!

SADE and DUNE got loose on this number 5 train, representing their crew, TCM which stood for "Those Crazy Mother Fuckers".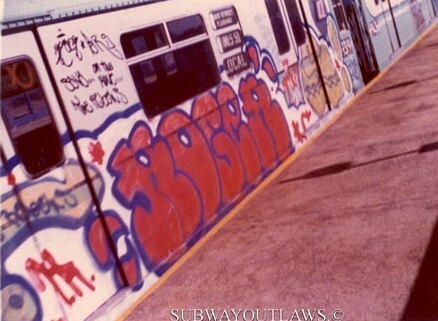 Finished product on the number 7 train line, in early 1975.