~ Hand Style 13 ~

What is in a name? Everything! How a name is written however, is even more important. Hand writing is the first step in becoming a Graffiti writer. Writers put in much time and pride into there tags. Writers developed there tag, to stand out from others due to the competition. In time, a writers tag became a label of who they were, and who they are today.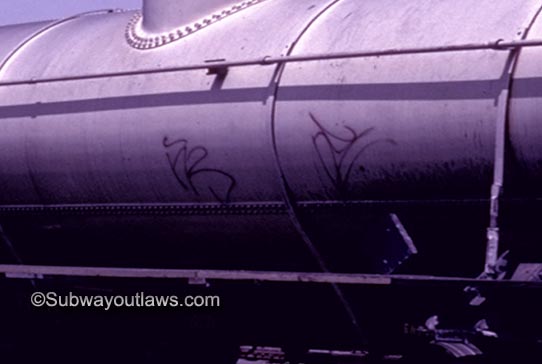 P 13 (PHANTOM 13) and OE 3 (OLD ENGLISH 3) were two very effective bombing partners in the early 1980's.
COUSIN FRANK a.k.a. GHOST

COUSIN FRANK is one of many undercover names used by GHOST, which was a nick name given to him from his younger cousin (who also wrote).

QK a.k.a. QUIK KD

is not to be confused with QUIK RTW. He was a Bronx writer from the mid 1980's that bombed the 2 and 5 trains. This photo was taken outside the J train yard.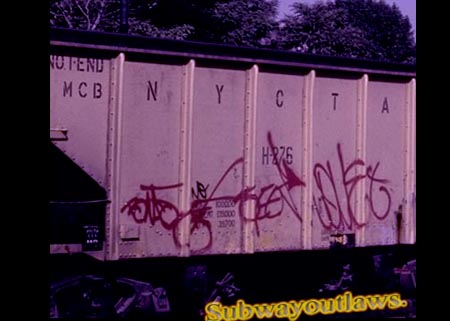 BLADE, SEEN and COMET - All tags done by BLADE 1980.
ROTO

is from the writing group NCB (NO COMP BOYS). This is a vintage Roto NCB tag taken in Bushwick, Brooklyn off the J train line.

ROTO

on the A-line in 1976, which was a line he rarely hit.
JOE a.k.a. JOE NUTS

( REST IN PEACE )

BOM 5 - "JOE NUTS was one of the best writing partners I ever had. He was like my right-hand-man back in the day. I took him out to the Bronx to hit places like the 4-yard or Esplanade Throw-Ups on the 5 line. In turn, he took me to the spots out in Brooklyn. JOE NUTS was a dude with a big heart, he will truly be missed!"

THE TBK CREW

members were JOE, AC and DELK (Brooklyn, New York)

BOY 2 - "There were only 3 crews I really put up with. They were TBP (THE BOMBING PARTNERS), TBB (THE BAD BOYS), and WOW (WORDS OF WISDOM), but the TBK CREW to me was the ultimate crew of them all. TBK FOR LIFE!"