~ OUTLINES. 2 ~

Sketches or outlines provides the writer with a guide on how to duplicate his art on the space he has intended. Some time's writers would provide a master with paint in exchange for an outline or follow the outline that has been given and wait for the master to fill in and complete it. A outline is the first step on a writers quest on being the very best, Here are a few from the subway outlaws collection and some that have been provided to us.
***********************************************************************************************************
CAINE 1's Early style. This image come from the black book collection of DIME 139.

... Others express there memories on CAINE.1 as a artist as well as there relationship with him. From 1974 - 1976 CAINE1 did some of the best art running on the number 7 line as well as the memorable FREEDOM TRAIN that would make history.

caine 1

Caine 1 forever. The famous Dick Tracy car. This photo was taken by DIME 139.

Close shot of the famous Dick Tracy Character done on the number 7 line mid 1970's.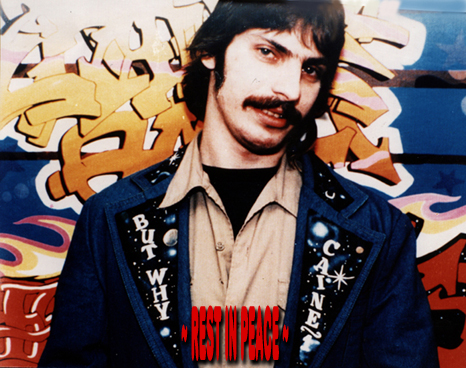 .... TRACY. 168 : Caine was a great talent and the two of us were the best of friends. My last meeting with him was a sad one, we would both hang out at this bar around where he lived in woodside Queens which I called the STAR WARS BAR for reasons that every one in there looked all fucked up. You would see people missing an eye or an arm all kinds of shit like that. I was hanging out with Caine the very night he died we were both celebrating a show we had finish, He would take off afterwards with two odd looking guys not knowing that would be the last I would see of him. The next day I would hear of his passing ~~ A WAIST OF A GREAT TALENT. ~~
... DIME.139 :
The FREEDOM CAR was Caine1's master plan. I remember ROGER and CAINE coming to my job on Queens plaza telling me about this master plan they had to paint 11 train cars asking me would I like to come along. You see it was 1976 a Bicentennial year and the plan was to do these whole cars to celebrate it. they had to be about 30 of us that night but I cant forget this one guy who wrote SPIKE.2 who happen to be sick that night and ask if I could do a piece for him. To make a long story short we did 11 full whole cars. I finished mine and SPIKE's piece which I did not like much and went out the next day to see them run. Only my car and Caine's car ran that day and the rest went to the buffing machine, There were allot of toys telling me that they nabbed Caine & Roger as well as the cops are coming for me as well ( which happen to be bull shit.) The cops tried to scare me, but thanks to speaking with Caine I knew they were full of shit. That would be the last time I would speak to Caine and he would Die a few years later. ~ MAY YOUR NAME LIVE ON FOREVER MY FRIEND ~
... ROGER : Caine1 would come over to my house telling me that he wanted to do this Bicentennial car and that SPEEDY had racked up allot of paint. The next day we would all take off to the 7-yard and do these monster pieces. A full train both sides TOP TO BOTTOMS that would not even run one day. A few weeks later me and CHINO.174 would go over to SPEEDY's house and he would show us this home movie of the workers taking apart the trains we all did. I would run into Caine a few years later and he would invite me to go to some place in the city. Once I got inside I would find out it was a national meeting for WARLOCKS. I jetted the fuck out of that place.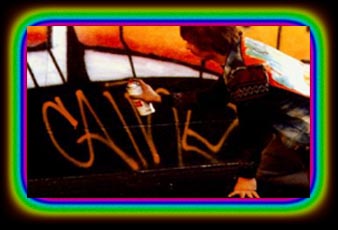 PC-KID : I was friends with eddie caine since 75 and hung around him off and on but in
78.. he said I showed promise in my work.. so he took me under his wing..
doing murals in clubs Galaxy , Plato's, Painting Jackets And customing van
tirer covers, And motorcycle Gas Tanks...81 he was geting in to tattoes...
yes you can Qoute me....