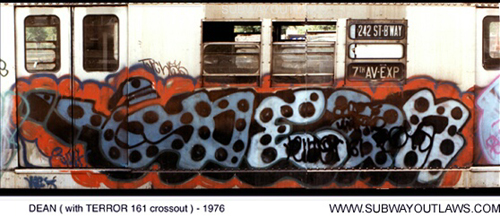 TERROR 161 over DEAN BYB on the number 1 train line (in 1976 on the IRT's).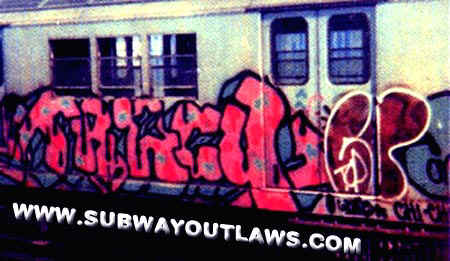 TRACY 168, windows-down piece is disrespected by a member of the TOP crew (which still angers TRACY 168 to this day).
"WARNING"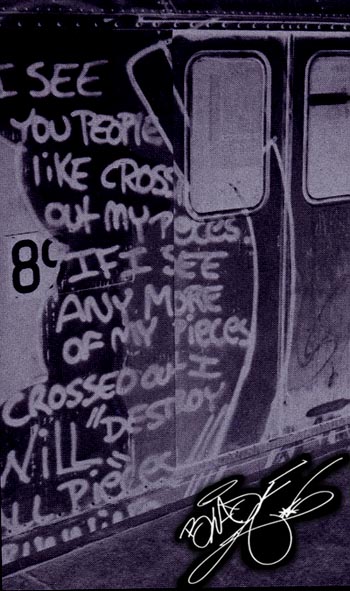 BLADE TC-5 leaves a warning to all writers.
Reading: "I see all you people like crossing out my pieces. If I see anymore of my pieces crossed out, I will destroy all pieces!"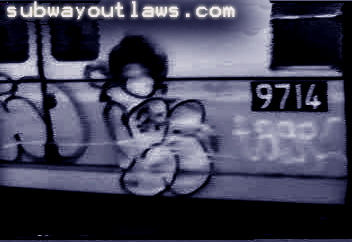 TAGE 1 crosses out an IC 2 Throw-Up on a number 7 train.
IC 2 was a BMT writer who wrote with DASH TK and RJ 2. IC 2 not only hit the BMT, but also bombed the IND's and the 7 trains. It was on the 7 line that he had a slight "beef" (problem) with CAINE and TAGE.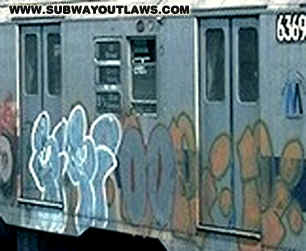 TI 149 and OO 1 TOP, over PI 2 (1976 on the BMT's).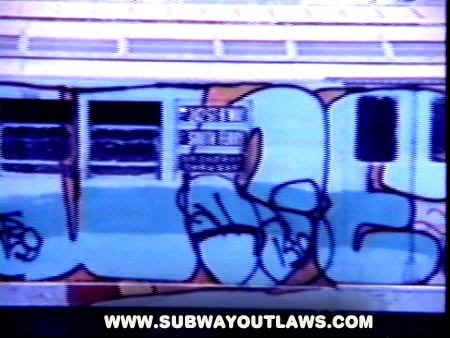 DJ 159 over USE 2

CHINO 174's piece was "back-grounded" on the right-hand side of this number 3 train (in early 1975).
I never really had any big war on the trains. However, I did have a problem with this one person, UNCLE JOHN 178. We both knew each other before we started writing in Forest Hills, Queens, in the late 60's. But, it wasn't until I ran in to him years later, that I found out we were both writing graffiti and getting up on the trains. That same week, John and I went on a mission to the E and F yard. As I finished my third piece that night, I remember hearing UNCLE JOHN 178 scream "COPS!... COPS!", "RUN!... RUN!" I ran back to the hole were we came in and waited for him. When he didn't return, I went back and found UNCLE JOHN 178 filling his bag with my paint. As a result, we ended up fighting the entire night. After that night, we were at war on the trains with each other. I ended up "back-grounding" most of his work, leaving just a little piece of his shit, sticking out.