ROGER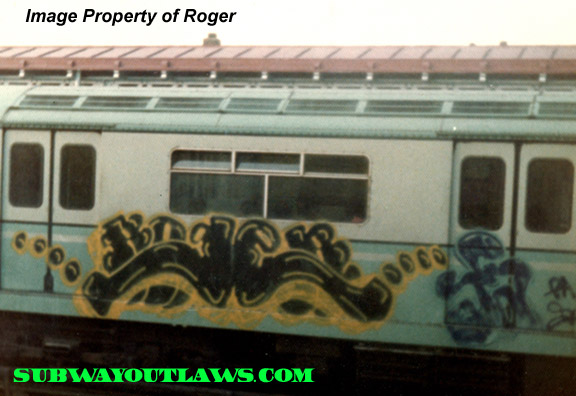 Started: Early 70's

Location: Jackson Heights Queens N.Y.

Main lines: 7s, E's, F's, RR's - All City

I started in the early 70's in Jackson heights. My first look at graffiti was on a trip over to the Bronx where I would see " EL MARKO 174, Snake 1, Stitch 1, Flint , Phase 2, Staff 161 " tags all over the walls and trains. After my trip, I picked up a dry marker and started to write my name all over my neighborhood in Queens. Thereby, also beginning my competition with BOBBY 85. The first writers I would meet in those years were KENDO and LIL CHAIN 1 with whom I went to school with. We would write on every thing in site, Buses, Walls ,Trucks, Vans and anything else we could find . It was in Newtown High School where I would take writing more seriously than before and would meet writers like JAZZ PR 1&2, and Chino174 ( Who were originally from the Bronx) and wanted get up just as much as myself.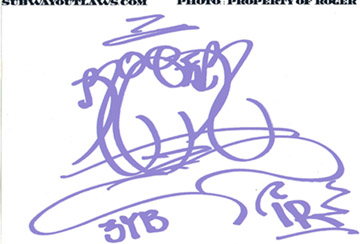 We bombed the streets and then headed up to the trains and hit those too. Eventually we would meet LUCKY2, LIL CROSS 1 and STAR 3. They were from Manhattan and lucky had recently moved to Queens. They started killing the 7s with us. Writing became an every day thing for us, hanging out getting high then going out racking up and then bombing. We concentrated on tagging the trains on the insides and throw-ups on the outside, since that's where the competition and most exposure were. I would meet up with "LSD3" at SAVAs house and he would put me in TR-(The Rebels). Later on CHINO and I met up with the 3YB boys on a trip to the three yard and they put me and CHINO down in their crew. The regular group of writers I hung out with were mostly local but me and CHINO174 would go off and hit just about every other yard and lay up through out the city. Canal Street lay-up in Manhattan was a great spot where we would go and do top to bottoms on the RR, There from time to time we ran into an Oriental kid who wrote AFX2. But it was the 7 line that I would be king of for many years, since it was my home line. We would all hang outside the 7 yard in an abandoned Long Island Rail Road car where we would get high, talk shit and wait for the work bums to leave the yard and then go in and bomb on a regular basis. I was only busted once for Graffiti while hanging with CHINO 174 and STEP 2 at the Queens Plaza station, We all had bags of paint and markers on us when one of my boys took a tag on the station and Officer Brown stop us, once we started down the stairs. We all wound up doing community service for it. We had to clean subway station walls during the weekends with other writers who had also gotten caught such as HULK62. But that only gave us clean spots to go back to later.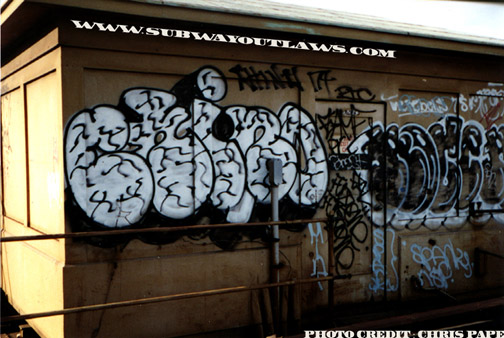 The greatest experience was the night that we did the Freedom Train in 1976. It was the bicentennial year so CAINE1 came over to my house with an idea. He wanted to do something that no one had ever done before. He would tell me that this guy SPEEDY who was about 30 years old then, Had gotten a hold of a lot of paint (about 300 cans) and they wanted to do something big to commemorate the bi-centennial and since CHINO and I were the kings of the line we were invited. That night CAINE1, CHINO174, DOC1, MAD102, SPEEDY, TAGE1 and I threw the bags of cans in my mothers station wagon, then took off to the 7 yard where I parked the car right across the yard in Flushing Meadow park. We went to our meeting spot and hooked up with all the other writers that wanted to get down with us and we entered the yard at about 11:00 PM and spent the rest of the night in there until about 6:00 AM painting. I did a top to bottom, side to side ROGER then a STICK3. We painted every single car on the whole train with top to bottoms, side to side pieces without leaving a square inch of unpainted surface on either side of every wagon. We even painted the interior sides of the windows to match the exterior, so that when they buffed down the trains to clean the windows they were still painted on the inside. SPEEDY would put it all on film and still has it to this day. However, that train was not put into service the next day, it was broken up taken to be cleaned .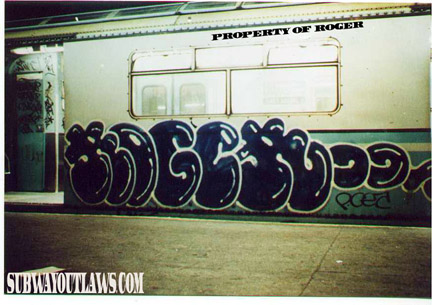 I stopped writing by 1977 due to the heaving buffing they were doing that year and the introduction of the coatings that were being applied to the exterior of the trains which prevented the spray paint from adhering to the surface of the trains. I made a quick come back in early 1978 with my former partner CHINO just for old times sake. By then the security at the yards had change quite a bit they had installed double layers of fences with a path in between them for guard dogs. Life went on and the risk of going to jail for writing just didn't add up so I hanged up my uniwide, mini, pilot and of course the red devil and krylon cans that had given me so much pleasure in the competition for recognition of your tag and pieces and not to forget all those days spent running thru the tunnels looking for lay-ups. I would like to give a big shout out to all my old school and writing partners, CHINO174, STAR3, LUCKY2, LIL CHAIN1, LIL CROSS1, KENDO, DOC1, SLY65 - RIP, STITCH3, CHOO -CHOO1, MOVE1, LSD3, SAVA1, PANCHY136 - RIP, SIN3/SINO, STEP2, BOBBY85, JAZZ PR1&2, CAINE1 - RIP, MAD1O2 - RIP, TAGE1 , FLASH161, CANE3 And also to all the old timers that have survived the last 25 - 30 years.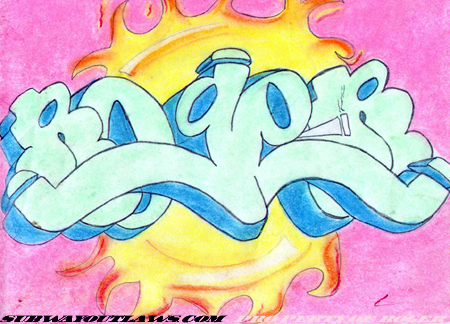 Peace ~~~~~ ~~~~~~ ROGER TR !