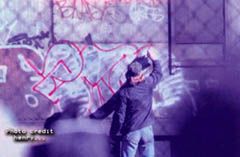 The famous "cross-out" wars reached its peak in 1977, with the battle between the TC-5 and TMT crews on the IRT's. In late 1977, cleaning on the IRT's was not in existence, which forced many writers to go over many of the older pieces that were still running on the trains. The TMT crew started heavily painting on the 2 and 5 train lines later that year, and was forced to cover many of the older pieces. BLADE and COMET were victims of these acts. They both did not appreciate the diminish of their pieces, and felt they should run even if they were 2 or 3 years old. BLADE and COMET started crossing out their offenders, as well as back-grounding most pieces that were running. As a result, the TMT crew started to retaliate.
| | |
| --- | --- |
| The retaliation caused much of the great art works to disappear from the 2 and 5 train lines, which is how the next chapter started. CAP, a Morris Park writer from the Bronx, was at odds with BLADE & COMET as they "crossed-out" much of his work, as well as many other writers. According to the rules among writers, it was accepted to go over tags or throw-ups of other writers. CAP however, did not share the same thinking and felt it was just a sign of disrespect. PJAY, CAP, and the rest of the MPC crew started a "cross-out" war that eventually spread all over the city. | |
_____________________________________________________________________________________________________________________________
CAP over SHY147 and DURO, in 1982.

CAP over CEY

.

SCOP and CEY over CAP

Note: Throw-ups by PJAY and a piece by TERROR 161 a.k.a. JAYSON.

A close-up shot of CAP over SHY 147 from the book, Subway Art.

MIN RTW over JN a.k.a. JAYSON also known as TERROR161

MIN and DURO were the only two writers that kept CAP and the MPC crew off the 2 and 5 subway lines (for a short time). MIN caused havoc on the BMT's and IND's amongst many writers. MIN and the group, RTW, later became a bigger menace than MPC on the IRT's.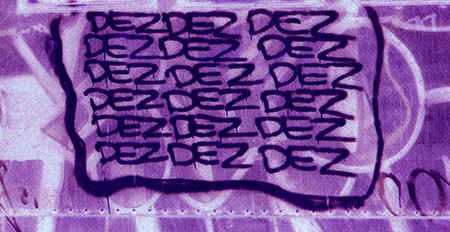 DEZ over CAP, from the book, Subway Art.
AD, CAP, JN a.k.a. JAYSON / TERROR 161, AMMO over QUIK RTW

~ Photos given by: Tracy 168, Ezo1, and from the book, Subway Art.

SPAR / LED 2