Throw Ups

The history of the "throw-up" started with writers in the 70's doing quick "bubble-letter" pieces to "get-up" fast. The first writer and crew to take this form of "bombing" to a new level was, IN-1 & THE TOP CREW. Their goal was to take over the whole subway system. They accomplished this by inventing the two-letter throw-up which helped them become "All-city" kings in the mid 1970's. Many writers used this concept and took it to a new level. Originality is also very important and writers could be criticized for having a "whack" "throwie"
| | |
| --- | --- |
| LE aka DEAN. BYB | TJ.159 and RM aka DANGER. 59 |

IZ aka IZ THE WIZ, MIKE.707 aka DEAL. NSA, GH aka GHOST
DEAL NSA. (MIKE707)..DEAL WAS A WRITER FROM THE MID 70STO 80S FROM BROOKLYN HEIGHTS...HIS CREW NSA FEATURED WRITERS BUSTER1, REK139, STAYKOOL3, SMIZ, CATCH22, BUF1, SAM, CHUCK, JOUST1, KEON , TRIKE, SCALE, EONE , AER, BASE , REBEL and a few others .DEAL WROTE WITH MANY WRITERS OVER THE YEARS INCLUDING SHADOW & LEE TF5...THERE IS NO WAY TO MEASURE HOW MUCH DAMAGE A GUY LIKE THIS DID CAUSE HE USED SO MANY ALIASES ... DEAL > MR.DEAL > MIKE 707 > EARL 389 ,BUT MAINLY HE WENT ALL CITY AS DEAL OR MR.DEAL ALSO USING DE FOR THROW UPS.

SAM. NSA : I would love to see DEAL, NSA found. I loved the guy and he had some talent and is a very over looked
writer on how much he bombed.. Also, he may be obscure but FOX, TR.; Probably dead by 1977, but I would love to see just one tag of his again.



SUBWAY ASSASSINS.

LIL SOUL. 159 In late 74 - 75 I would take king of the E's and F's but started noticing the these quick TEE pieces coming out of nowhere just wiping me off the line. I started to ask around at the Person writers bench in Queens who this person was but no one had any idea just that it could be some Brooklyn writer. ODD1 would tell me that TEE could be this writer from the A-line who wrote SLICE1, but I would learn later that it was SUNOCO1 who TEE was originally. I would learn from others that TEE wanted to meet me, once we did he would take me the " Big Time, hitting IRT's in Brooklyn which after that first experience I would leave the IND's behind me. Thanks to TEE I would start meeting deferent writers thru out the city as well as later on in my career connecting with SO-FIVE and hitting the 1's, 3' and 4's. TEE and his brother STIM would kill almost every train in the city. They speak of IN being the greatest throw up king,, I feel TEE should have that title.
IZ and PD aka PADE.

This photo was taken by PADE in early 1982 which ran on the E's and F's.

BEO.

Was a writer who killed the insides of the IRT - lines in the late 1970's and early 1980's, here he bangs out a quick throwie on the out side of this number 6 train 1981.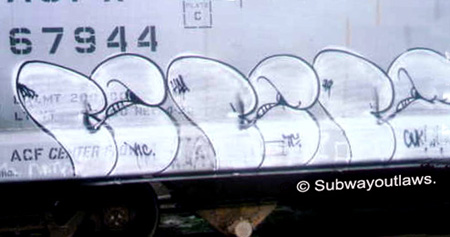 ~ PEAK ONE.
OE.3

A former BMT killer. This photo was taken in bushwick Brooklyn. Note faded out line throwie by REC. 127. This photo was taken by BOM 5 of the writing group MW - MOST WANTED )

BE 2 and OI

Members of the Top crew. OI was also known as HURST who's plan style pieces would inspire some of DONDI's earliest work. This photo was take by JUICE.NSA.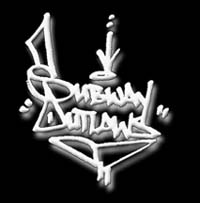 Photo credits go to JUICE NSA , BOM 5 SAR TMB and DANGER 59. Stories and text writen by SAM, JOUST and LIL SOUL. 159. Should any one have any photos of DEAL NSA or TEE 3YB please contact us at MESSAGE@SUBWAYOUTLAWS.COM