1) Where are you from and when did you start writing. 40. Projects in South Jamaica, Queens. I started writing at the ripe old age of 13, as soon as school let out in the summer of 1973; motion tagging insides, and hitting stations, streets, trucks, and buses. I did my first piece in September 1973 on an E Ironhorse (later called Ridgies).
2) Who where the first writers you seen up and what writer would you say truly inspired you. During the tagging generation, of course it was Stay High 149. Also Tan 144, Coco 144, Ace 137, Luis 1, Snake 1, Stitch 1, Taki 183, Wise 550 (aka TOO 3YB), Cay 161, Junior 161, FDT 56, Hoy 56, Tine 56, Yaz 56, "A" Train, 7 Up, Shark 77, Ross 1, Ski 168, Ice 395, Casper 1, Pit 163, Tree 127, Tea Garden, Star 206, just to new a few. Back home, it was Dizzy 1 (aka Wait 525) and his partner Cool Coke that put QUEENS on the map during the first generation. Mingo, Uncle John 178, and Luke and Fro weren't far behind. Once piecing hit the scene, I remember in the summer of 1972, The Sunday Daily News ran a big story in the "Color Section." On the front page was a big fat Phase 2 piece on I think a Redbird on the 1 line. The article also talked about U.G.A, and about how one day Cay 161 and Junior 161 got chased by the cops in a stolen car which crashed and left Junior paralyzed. Then it was DIZZY 1 (aka Wait 525), Flint 707, Spin, Cliff 159, Moses 147, Pistol, Killer, Savage, and many more. However, my real "HERO" was SUPER STRUT.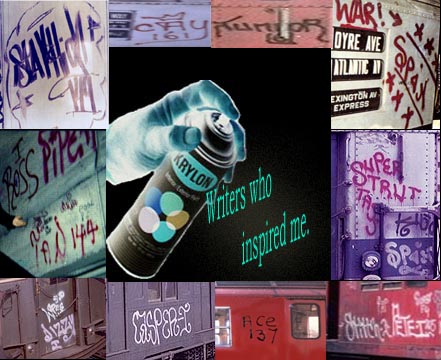 3) How did you find the name LIL SOUL. Coming into my teen years in 1973, I was really impressed with the Black Power/Black Panther ideology, the Blaxploitation flicks, and the James Brown musical explosion. I was always the shortest guy in my age group, had a really BIG Afro, and lived on 159th Street. Thus the name: LIL SOUL 159. In the very beginning, I ended my name with Inc. (Incorporated), and later changed it to Exp. (Express).
4) Can you tell us about your first experience hitting the trains and where was it. My first time out was at the Pitkin Yard on the E side. All the 40 Projects writers cut school and went; Wizard 159 (rip), his brother The Big O 159, LIL ACE 159, Footstep, Truck 2, Showdown, and Royal 1.
5) Who were your first writing partners and who could you say was your main writing partner. I started with all of the cats that took me and Royal 1 to Pitkin Yard for the first time, but they were a couple of years older than us. They also started a good year before us, and quit when they turned
| | |
| --- | --- |
| | 16 (the "golden" Rikers Island age). When I first started, my first "main partner" was Royal 1. He didn't like that name after a while, and I suggested the name Sinbad 159. He wrote that for a minute, but then wanted another name. Then I gave him Wicked 1, which he quit with. He only wrote about a year, because the excitement became a bit too much for him. All of us from Parsons Blvd. and Continental Ave. were really tight. Before we branched out to other lines, we literally hit 169th Street layup every single day, and the layups from 169th to Jamaica Yard at night. Brothers such as the "legendary" Dizzy 1 (aka Wait 525), True 2 (rip), Sin 158, Paul (aka Stop 2), Skate (who took me in 169th my first time), Move 1, Can 134, Kodak, Rhino, Warmack, Uncle John 178, Tear 2, Dime 139, Duke IX, Disco 3yb, Doc Stam, Keon, Split 5, Coke 67, Jesus 2, Shorty 13, Cosa (aka Mr. Knox when he hit buses), and Nice 1. I remember when Quik first started hangin' out. Apologies to those |
I missed. My second "main partner" which was at the end of my career was So-Five. He moved to Queens from the Bronx. He took me to the uptown IRT spots such as the 3 Yard, the 1 Tunnel, and Baychester.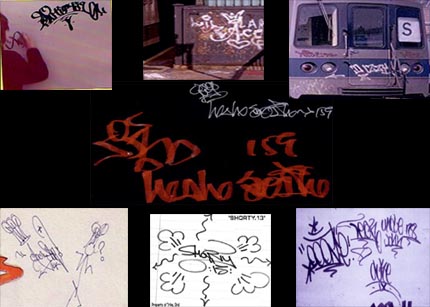 6) What writing groups where you in and what group did you push the most. I pushed LIL SOUL 159!!! Seriously, I didn't "belong" to any groups. I hung out heavily with Mingo's crew, M.O.G. (Masters of Graffiti). I was real cool with Del's (Delfonics 1) crew, U.S.A (United Soul Artists) from the 7 line. Heads like Move 1, and Cash and Pawn. But my strongest affiliation was with the Brooklyn-based 3YB writers; Tee and his brother Stim (rip), Diablo, Priest 310, Mr. Ed, Herb 99, Lama 1, and the rest of the Atlantic Ave. crew.
7) What were all the train lines you hit in the early years and what line did you focus on most. Being a Southeast Queens boy, I OWNED the E and F lines, but I also hit the 1, 3, 4, 5, EE, GG, AA, A, B, J, M, and RR lines.
8) The IND's are a truly over looked subway line. Can you tell us who do you feel was the biggest king on that line... inside and out, and who had the best hand style as well. SUPER STRUT absolutely crushed the INDs back then. As far as insides on the Queens INDs, shit.....ME!!! But also, Paul (aka Stop 2), Chino 174, Tear 2, Master, Sin 158, and True 2. Roger had a very unique tag. In terms of the perfectly straight style, the Art & Design cats bombed the insides with nice style too; Steve 61, Earl (aka Shasta 62, aka Save The Children), and his protégé Shawn 67 (rip). Bach and Kane raped the insides of the Js with mad style. As for the Manhattan and Bronx INDs, Jester and Defie (also wrote Defier) tore up the insides with truly beautiful tag styles. TJ 159 and Dr. J 127 showed a lot of style with only two and three letter names.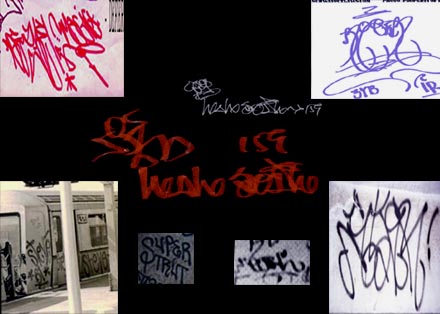 9) Would have any raid stories. One night when SoFive and I were leaving Baychester, we saw a Ghost (I'm serious!!!) Anyone who's ever been to Baychester knows that shit was HAUNTED!!! Kingston was always hot, so raids weren't really raids; they were normal. The worse one was when a bunch of us from Atlantic Ave. and Parsons Blvd. went in there not knowing that there was a bomb scare early that morning. When the cops and DTs came in, we ran one way, but got chased back into the tunnel. By now, the platform in the tunnel was swarming with cops. Then we climbed into the train, ran through a few cars, jumped over cops wrestling with other writers, and climbed down onto the tracks and ran into the next station. There were a couple of DTs laying on the station floor like they were drunk. We got to the platform and they snatched up a few guys. I jumped back down on the tracks and ran all the way into the next tunnel. Next thing I know, a 3 train from Flatbush comes squeaking around the curve. I don't know if the motorman saw me, or if the train stopped because another one was ahead of it, but when it did, I stepped up on the running board and climbed in between cars. As I was climbing, I hear this voice saying "Soul, wait, it's me." It was Keo from Queens. I reached down and helped him up. One of us could have gotten killed if the train pulled off while we were climbing up.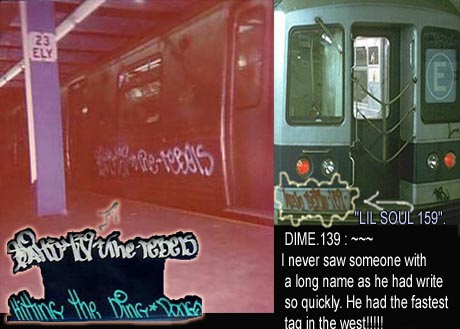 10) 175th street in Queens was the writers bench for Queens writers, Are they any stories you could tell us while hanging out there. Actually, Parsons Blvd. was the bench for the Black writers, and Continental Ave. and 63rd Drive were the benches for the White writers. That is not to say that we were segregated, but the fact of the matter is that in the early 1970s, Jamaica and the surrounding neighborhoods were predominantly Black, while Forest Hills was predominantly White. These were simply our respective home stations. I can say with total certainty that back then, color DID NOT MATTER. A writer was a
| | |
| --- | --- |
| writer was a writer. In fact, I went to Hillcrest High School which was right up the hill from Parsons station. Before we TOTALLY stopped going to school, Uncle John 178, Tear 2, Keon, and their homeboy Rick West (he didn't really write, but he hung tough with us) all went to Hillcrest. Shit, Uncle John and I played in the band together; he played the Trombone, and I played the Trumpet. I remember two really funny stories. A bunch of us were on Parsons one day, and this man who must have owned a store, had just come from the Bank. He had a satchel full of coins and tokens, and dropped it while zipping up the bag. We ALL hit the deck after that money as if we were in the middle of a shoot out!!! We also used to ride the side of the train as it was pulling out of the station, to see who could stay on the longest | |
before it got to the tunnel. One day at Parsons, it was me, Herb 99, Cadd (aka OO One), and a bunch of others, and this cat from Queens that wrote Jive Jake. He had the misfortune of getting on while facing
| | |
| --- | --- |
| | the wrong direction. Boy was he a mess after he jumped off!!! We all laughed until we cried. On a personal note, my most cherished memory was when Tee and all the Brooklyn writers came to meet me. Because I ran in Pitkin Yard so much, they thought I lived in Brooklyn, but were thrown off by the number 159, so they thought I lived uptown. I think it was Odd 1 who finally told them I was from Queens. Here I was a Queens writer who at the time other than a few As and BMTs, had NOTHING but Es, Fs, EEs, and GGs, and I was being visited by IRT writers!!! Without exaggeration, it was Tee and his brother Stim (rip), Tyco (Tee's first partner other than his brother), Nail 170, Diablo, Priest 310, ALL |
1, Herb 99, Cadd (aka OO One), Mr. Ed 131, Mr. Al, Mr. Duck, Super 2, and his brother Judo. The next day they came back and took me to their bench on Atlantic Ave. Then it was off to Kingston Ave. layup where I finally made it to the Big Leagues.
11) Would you have any racking stories you could share with us. The most bizarre story was one Winter afternoon when we went out to Five Towns, which was on Rockaway Turnpike as you head to Far Rockaway from Queens. All the paint stores in the boroughs were red hot, so we started to take our road show towards Long Island. It was me, Cadd (aka OO One), Tee, Kodak 1, and a new kid who strangely enough wrote Stem 1. Since Stem had just started, he was satisfied with a couple of cans and left. The rest of us went on to demolish Pinchik Paints, E.J. Korvette's, and a few other stores. We all had shopping bags full of paint!!! While we were walking to sneak on the bus back to Parsons, a man drives by and splashes Tee soaking wet
| | |
| --- | --- |
| with muddy water. He was wearing his brand new full-length, white with the black checks, "Maxi" coat that he just got for Christmas. Well, anyone that knew Tee knows he wasn't havin' it!!! We followed the car back to the parking lot in the mall. After the man left his car and went into the mall, Tee proceeded to BOMB this man's car with multiple tags and about six or seven of his famous throwups. Of course, someone saw him, called the cops, and the chase was on!!! We ran for a good half mile up the Tpke. Cadd was the first one to get caught. Kodak and I kept rolling, but Tee was no where in sight. Cars were swerving in the road trying to cut us off for the cops. Kodak was huffing and puffing and finally told me he was giving up. I couldn't cause one more arrest and my goose was cooked. I finally stopped when I heard "halt or I'll shoot." When they got Kodak and I back to the security office in the mall, Cadd was already there. He was 16 at the time, so they took him to the precinct. I gave a fake name, stuck to the story that I lived with my Pops | |
in Harlem, and had no telephone. After about two hours, they let me and Kodak go. The next day we saw Tee, and he told us he hid in knee high mud and water in the swamp until dark. He had to ride all the way back to Brownsville smelling like SHIT, and his new coat was ruined. He was truly a get away BY ANY MEANS NECESSARY Brother. I vaguely remember the AA and B layup at 168th Street in Manhattan getting raided one night, and he spent the night on top of the train.
12) What writers do you feel are truly over looked in our history.
Without a doubt, SUPER STRUT!!!, but also, Shinto, Wise 1 (aka DAC 1 aka ODD aka Whin 161), K-Gee, Saint 150 (aka Tamer 1), Bon 134 (Bonanza) and his brother Blue 174, Malt Duck (aka ADD), Piper 1, Ross 1, Ski 168, Moses 147, Wise 550, (aka Too 3YB), Big D, Polka 1, and too many more to name.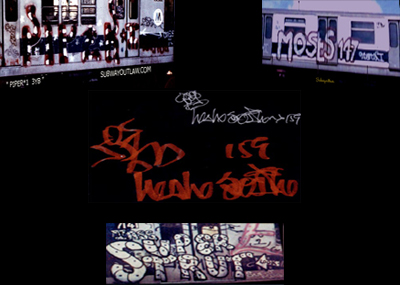 13) When and why did you stop writing. I stopped in the summer of 1975 because I got left back in the 11th grade, but fortunately, I had gotten skipped in the 3rd grade, so I broke even. Unfortunately, MOMS wasn't tryin' to hear that shit. But the biggest reason was too many serious arrests, which ironically had nothing to do with writing. One more and it would have been off to juvey.
14) Would you have any closing words. Although my career was cut short due to "injuries," (ha ha ha), I did major damage and then proudly rode off into the sunset. I wrote with some of the best of my time, and many of them went on to become some of the best of all times!! The rush of racking paint, watching your pieces roll by, and the smell of the yards and layups is something totally indescribable. I'm glad I was a part of one of NYC's most significant cultural revolutions ever. Shout outs to my Wife, 2 daughters, and 2 Sisters, and rest in Peace to my MOMS and DAD.
*******************************************************************
Photo credits go to : CAVS, DIME 139 , STAYHIGH 149, TRACY 168, JUICE NSA, FARGO 1, LIL SOUL 159 and The team @ Subway Outlaws.com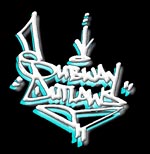 Should any one have any photos of LIL SOUL's work please contact Message@subwayoutlaws.com