Throw Ups

The history of the "throw-up" started with writers in the 70's doing quick "bubble-letter" pieces to "get-up" fast. The first writer and crew to take this form of "bombing" to a new level was, IN-1 & THE TOP CREW. Their goal was to take over the whole subway system. They accomplished this by inventing the two-letter throw-up which helped them become "All-city" kings in the mid 1970's. Many writers used this concept and took it to a new level. Originality is also very important and writers could be criticized for having a "whack" "throwie"

" PART. 31 "
QUIK. aka LINWOOD.... the Subway destroyer!

QUIK began painting trains in the early part of the 1970's and continued to do so in full throttle until 1984. QUIK resided in Queens in a neighborhood without any nearby subway, yet his reign of decorative terror eventually blanketed the city. QUIK was a true all city bomber, having left his indelible throw up mark on every subway line at some time. QUIK's early writing comrades included UNCLE JOHN, TEAR 2, VINNY, DUKE 9, COKE 67, JESUS, TRUE 2, SO FIVE, INK 76, and RHINO in his adolescent years. These famous writers were quite influential in QUIK's development as an all out bomber. In 1975 QUIK had the opportunity to paint with the legendary King, JESTER. At this time he discovered the technique and attitude which allowed him to pursue his goal: to bomb like his graffiti idols IN and JESTER.
LIL SOUL 159 ; I can remember first seeing Quik when he was first coming up in 1974. He use to hang out at our writers bench on Parson's blvd in Queens basically takes notes from writers that were killing the E's, F's, EE's, N's and GG's. Back then Quik was a very quite dude, I would have never Imagined he would later take on legendry status.
QUIK. RTW, TVS

Started bombing Subway cars in Queens on the LIRR's ( Long Island Rail Road ) and IND's ( Subway Division ) . In the late 1970's QUIK and BILROCK took over the Subways, what many felt seemed over night.

--

DELI 167 aka BAN 2.

Ban 2 was a very effective writer on the subways with throw up's. DELI 167 was another name he used to get around and some times shortening it with the initials DI-167. Ban 2 partnered up with one of the all time legends of the 4-line " MITCH 77 "

SUR 167 ; Quik always had a very unique approach to throwie's, which made city wide. He used all kinds of faces in his QK's to express self. I can recall seeing him on the 5's once they painted them all white, there he had one car full of QK throwies on every spot of the subway car. The next few cars he had QK's going down the row which he place funny faces in each of them, like moma QK, papa QK and baby QK. It was the wildest shit I've ever seen
BY 168 aka BABY 168

Baby 168 was a very effective subway killer in the early 1980's. Baby's throwie's possessed a unique style and flair. Many Bmt writers took pride in there throwie's almost as much as there pieces. SPAR ; Baby 168 is one of the most over looked writers in history. In the early 1980's Baby was the only writers on the Bmt's doing the most colorful burners, top to bottoms and windows down pieces. Most of Baby's best work appeared on the Bmt's, which in an era dominated by IRT's trains, many of his best art went over looked.

--....... SUR 167 and REC 127 .........

Sur 167 was a Queens writer from 1980's mainly hitting the Flushing number 7-line. Sur did the last known piece that go into service on the white trains of the number 7-line , which was a Survive 167 dedicated to Ball Busters from Broadway. REC 127 was very effective with throw up's on the Irt's, Bmt's, Ind's subway line in early 1984. During the year "Subway Vigilante", Bernard Getz shot several teenagers in a car. REC 127 and his partner NEO throw up's would be seen on almost every television station that was reporting it.
*************************************************************************************************************************

1970's
IN. ( Subway legend ) Large throwie done on a number 6 train, circa 1970's. QUIK ; I do a LOT of reading that come up in some of these interviews in books, and its funny about the Caine 1 train and the Fab 5 x-mas whole train.The FIRST whole train was done by IN! I saw it 1975! double decker floaters silver and red (mostly, then he used black outlines when the red ran out) on 9 cars!!!!! the last car had an IN 't2b "burner" in the middle with 3-d going both left and right! the train whizzed by me at 8am on a monday morning. it must have been 2 or 3 trains, it was on Broadway.....please, It's time for some one to set the record STRAIGHT!

--

Legends of the Bmt's.

OO 1 aka CADD and DY 167 fight off the buffing machine. In the mid 70's up till the 1980's, the E and F lines were the hardest Subway line for most writers to display there art on due to high level of cleaning. TRIKE.1; When Gavid Gunn ran the MTA he lived in Park Slope Brooklyn and took the train for work at the 7th Avenue station. He made it a point to have the E's & F's clean. Me and my boys killed them as they buffed them.....in my estimation the IND's were the hardest to king due to the high level of the buff.
The "IN "-creditable

BLADE : IN may have bombed, but to me and many that were doing pieces and whole cars on the IRT's , he was a absolute menace. While many of the subway cars on the IRT's were colorful pieces, IN would place one of his small throw up's in the corner of ever piece that went by. This use to piss off every writer hitting the IRT's, but because he was getting up on every subway line in the city VAMM decided to make him a member of the The Crazy - 5
IZ THE WIZ : IN was the man who started the two letter throw up and I just kept it going. The guy was fast at painting and at many times he would fill in his throwies with two hands.

QUIK ; Skeme, Dez and Lady Pink in the 80's did about two hundred pieces in there life time. Real bombers like my self plus other like IN, JESTER, TI 149, IZ THE WIZ and MIN did two hundred pieces in one week. I went to The university of Washington dc when EX~1 took king of the IND's, '1976-1978. I was busted with VINNY, K2R, CAPTAIN AMERICA and COKE 67 in 1975 after EX dimed us out across the 75th avenue platform . HE 3 got grabbed that same night as well! After that I only bombed holidays and summers from 1976 till 1978. In June 1978 I came back to New York to stay. That's when it all began.
DANGER 59 ; Once writers started to abandon there names and take on the two letter throw up, it all came to an end. The traditional way of getting up was piecing, Many of us back then did quick pieces just to get up, or should we have enough time do something colorful. But with the two letter name no one know who was who. AFX 2 surprised me when he took on a two letter name " OX ", where you would think the name AFX is short enough.
" THE ODD PARTNERS "...
TEE.3YB

---

JEE 2 aka JAMES was the second president of the Brooklyn base writing group T.O.P ( THE ODD PARTNERS. ) The group was one of the most successful bombing group in history. MICKEY aka TO 729 was the founding president of the group. The group had legendry Members, such as IN aka KILL 3, OI aka HURST, CD aka CRAZY DIKE, SID THE KID, PO 137 plus many more.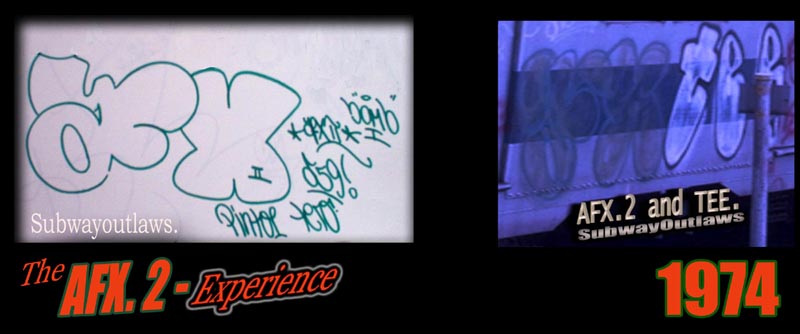 TERO ; It's hard to under stand what kind of presents or impact a writer had on the Subways unless you were there to see it. AFX is such an over looked writer, in an era where there were very few Asian graffiti writers. He bombed so many lines, but sadly many guys with great photos collections do not have the true documented history of what this man put into to his craft. He had bombed with some of the best ...CLIFF , IN, TEE, STIM, LAMA and so many others. It would be great if someone found him, but he will be harder to find (in Chinatown) his name is Robert Chen or Chang?! (close enough.)
DUKE 9 ; I met AFX 2 in Queens about 74 - 75 and we became really tight. You never really saw him at any of the writers benches. We both would just plan to meet at the lay-up and go bombing. He was fast and did his stuff big. At few times he brought his boys TERO and PINTO along to hit some of the lay up's in Queens. Then he stopped coming out. Never seen AFX again and love to know what's become of him.
****************************************************************************************************************************
| | |
| --- | --- |
| p | Look for the interview with one of the all time bombing masters, QUIK-RTW, Coming soon. - For more on QUIK check out his web site htt://homepge.mac.com/alexndrnguyen/quk_. Photo credits go to : QUIK , JOUST, DANGER, SUR 167 and BOM 5. We would like to thank all those who have sent in photos over the years. If you have opinions or questions please contact us @t Message@Subwayoutlaws.com |