Throw Ups

The history of the "throw-up" started with writers in the 70's doing quick "bubble-letter" pieces to "get-up" fast. The first writer and crew to take this form of "bombing" to a new level was, IN-1 & THE TOP CREW. Their goal was to take over the whole subway system. They accomplished this by inventing the two-letter throw-up which helped them become "All-city" kings in the mid 1970's. Many writers used this concept and took it to a new level. Originality is also very important and writers could be criticized for having a "whack" "throwie"

PART. 28
SE 3 aka HAZE.

This throw up was hard to many who did not know him to read. But HAZE had one of the best looking throw up in history. He started in the early on Broadway, writing with MALTA, PAX and a few others. In the 1980s he returned with the group RTW, those years would become the biggest of his career as a Subway Bomber

CI aka CITO.

CI was a writer from the J -yard in Brooklyn who with the crew MOG , took over the line almost over night. The group included RE, PIZER, BUST and a few others. It seemed from 84-85 , one of there throw up's where on almost every subway car that pulled in to a station.
NEO ONE . RIS

Neo was a member of the the RIS crew in the 1980's. He would become very big on the 2's and 5's whiles they being painted white in early 1984 with his then partner REC 127. The two had throwies on almost every train that pulled in a Subway station at the time. Neo also hit Bmt's and Ind's with such members of his group as GHOST, DA, LOST, GATO, DUTCH, CRO, NYE, and a few others. Neo continue while GHOST was making his come back to the trains after a long lay off in early1988. He completed two or three cars with GHOST and VEN until retiring that same year.

KAP. TPA & NE ( MIN ONE )

This photos proves how important it was to keep one step a head of the buff. KAP TPA was a Jamaica Queens writer who was more well know on the E's and F's from 1983-1984. KAP and his partner CER were very famous for doing large stretch out throwies. NE aka MIN ONE would have to be one of the all time kings in history. In an era when the buffing machines were at it strongest, MIN was always a few steps a head of the buff, as well as a few steps a head of KAP. PHOTO BY: TRIKE 1

SES. DOG

Known more for his hand writing style then his throw up's. Brooklyn writer SES had the best hand style in history. SES developed a hand writing style called devil style, that many tried to copy in the early 80's. His S's were just masterful, It is said on how he found his name was by listening to the sound of a snake..SESSSSSSSSSSSS.

TUE aka ( MITCH 77 )

Mitch 77 was a total style master from the Bronx in the late 70's and early 1980's. He at times would do throw up under the name TUE. Witch stood for Tuesday, his favorite day of the week.
Gee Crazy by GHOST.

This work was typical of GHOST approach to bombing. Ghost was know to cover a whole train with his GH's along with a fewof his funny little saying.

PE aka ( PEAK ) and VFR aka ( VEEFER )

This photo was taken in Harlem on 125th street. Note the smoking face by VFR

In the end of 1985 till 1986 writers such as CRO 3 CSB, ZE aka ZANE from the Bensonhurst area of Brooklyn took hold of the BMT's, with a strong push on the B line. They primarily hit the elevated B train layups that ran over 86th street as well the Dewey Yard. SE aka FEAR was a very well known writer on the Bmt's in the mid 1980's and now and then would hit the IRT's. RD was a writer from Manhattan who got up on the 6's and RR's that at time would switch over to the Q's and B's occasionally. AZ and AI were both once kings of the A-line from the end of 1985 till 1986. IZ THE WIZ faded from the scene and AI and AZ kept thing alive with large stretch out throwies on the ding dong trains as well as the ridgie trains. WADE a Brooklyn BMT writer from the Sheepshead Bay area of Brooklyn, was also very big on the BMT insides with BET & ROACH TFV in the mid 80's.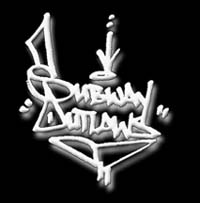 Photo credits go to : WADE and SNATCH. We would like to thank all those who have sent in photos over the years. If you have opinions or questions please contact us @
Message@Subwayoutlaws.com