Throw Ups

The history of the "throw-up" started with writers in the 70's doing quick "bubble-letter" pieces to "get-up" fast. The first writer and crew to take this form of "bombing" to a new level was, IN-1 & THE TOP CREW. Their goal was to take over the whole subway system. They accomplished this by inventing the two-letter throw-up which helped them become "All-city" kings in the mid 1970's. Many writers used this concept and took it to a new level. Originality is also very important and writers could be criticized for having a "whack" "throwie"

PART. 25
QK ( aka QUIK ) and BIL-ROCK 161.

Bombing the Broadway line, early 1980's. In the late 1970's , BIL-ROCK would join QUIK for an All City take over of the New York sub way system . This would start the beginning of the group RTW dominance on the sub ways

CC 3.

Originally of the writing group NCB = ( No Comp Boys ). This photo was taken by JUICE.NSA in Brooklyn New York.
QUIK OUT LINES.
| | |
| --- | --- |
| IZ THE WIZ. | SE.3 ( aka HAZE ) |
SU.2 a.k.a SUN 2 TOP

former partner of CD (aka CRAZY DIKE ) This photo was taken by Snatch,Cwk in the Kingston lay up's.

QK ( aka QUIK ) along side a HAZE tag.

Done in the early 1980's on a workers train.
iiii

SEEN. UA

In the mid 1980's, the 6 line belong to no other then SEEN. Here SEEN displays a solid clean throw up style that wall papered the 6 - line in his time.

COPE. 2 and QUIK. KD

In 1986 COPE 2 and QUIK. KD, Held a heavy partnership on the the number lines. Note tags by SASH and a throwie on the far left by 3CEE and I.R.T 80's bomber.
SL ( aka SLOAN ) and CN ONE

In late 1984 early 1985 Brooklyn writer CN ONE torn up the M's and Double R's, Who was a writer who seem to have come out of no where. Note tags by PEWE tpa, REC 127 tpa and NYE.

SA ( aka SAGO ONE.)

member and leader of the Brooklyn writers group WOW ( Words of Wisdom. ) A Brooklyn writing group that not only dominate the trains but the the area of Brooklyn where they lived.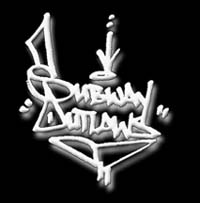 Photo credits go to : ZEPHYR and SNATCH. We would like to thank all those who have sent in photos over the years. If you have opinions or questions please contact us @ MESSAGE@SUBWAYOUTLAWS.COM