Throw Ups

The history of the "throw-up" started with writers in the 70's doing quick "bubble-letter" pieces to "get-up" fast. The first writer and crew to take this form of "bombing" to a new level was, IN-1 & THE TOP CREW. Their goal was to take over the whole subway system. They accomplished this by inventing the two-letter throw-up which helped them become "All-city" kings in the mid 1970's. Many writers used this concept and took it to a new level. Originality is also very important and writers could be criticized for having a "whack" "throwie"

PART. 23
*************************************************************************************************************************************************
FUZZONE and BOOTS 119.

Go down the line which many writers would do to show a sign of dominance on a Subway line. BOOTS 119 would become FUZZONE's most effective writing partners before FUZZ locating to Queens where he would take over the number 7- line. Photo credit : AZ-1

IZ THE WIZ and PD aka PADE

Keep one step ahead of the buff. The E's and F ding dongs trains where the most frequently cleaned Subway trains in the late 70's and early - mid 1980's. The E and F ding dongs would would become clean of Graffiti by the mid 1980's, with some writers contuning the the attack until moving on to different lines. Photo credits : PADE.
JOI aka ZEPHYR.

In the early 1980's Zephyr would take on the name JOI which he found easer to do throw up's.

OD 3 aka SEEN and PJAY.

The two would take over the 6 -line together, over and over again. Here in this photo we see both display there original throw up's style's.
****************************************************************************************************************************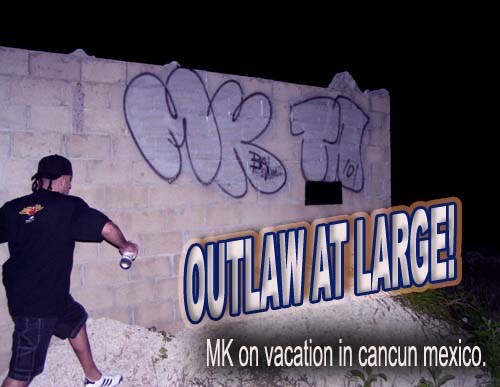 MK aka MEEK-BAD former subway killer from the A-line in the 1980's, shows the world that
New York city writers are still representing were ever they go
****************************************************************************************************************
CER. TPA

would hit all three subway lines in the 1980's. CER and the TPA crew would keep a strong hold on the E's, F's, GG's and N's as well as hitting many other lines. CER had a very respected throw up style.

EL 3

( REST IN PEACE )

The original pres of the TNS CREW - ( The None Stoppers. ) EL had a very respected and original throw up style. After his death writers would copy his E's .. one was E-MAD who use to kill the insides of the GG's and N's in 1984, Many of the TNS members would cross him feeling he was biting. Photo credits : SNIPE. TNS
PG 3 , LOVE 67 and EBIZM of the TKC crew.

PG 3 king of the M -line in 1982, showed up on almost every BMT flat train that flow in to a station during his reign. LOVE 67 was a inside killer in 1982 with good hand style and would do throw up's on the out sides now and then with LOVE or O-2 throw up's. EB of the the writing group TKC - ( The Kill Crew ) which originally belong to SMOKE aka YE. Photo taken in 1981.

EBIZM. TKC.

This throw up was done on Madison avenue, shows he still has the touch. Photo taken by : MARIO 2
**************************************************************************************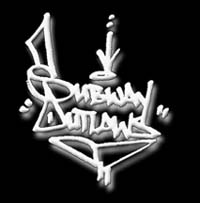 Photo credits go to : AZ-1, PADE and SNIPE. We would like to thank all those who have sent in photos over the years. If you have opinions or questions please contact us @