" THE DESTROYER "

STARTED : 1979

AREA : Lower east side.

NAMES WRITTEN : RICH 2, RH, PROVIDE 133

WRITING GROUPS : RTW, TNS, TD, WOW, TVS.

LINES HIT : Every BMT!... IND's, 1's, 2's, 3's.
1) Where are you from and when did you start writing.
I am born and raised on the Lower East Side of Manhattan. The home stop is East Broadway on the "F" line. The last stop in for those who may not know. My writing career started in 1979 around September.

2) Could you name some of the first names you seen up and what one writer inspired you to write.
Some of the first names I had seen up was well before I started writing seriously. I used to go motion tagging with a homeboy (Flute 5) in like 1975, and these were some of the first names I saw: Uncle john, Vinny 3YB, IN, K55, STIM, Cliff,
| | |
| --- | --- |
| TERO, TEE, TO TOP. These are some of the names I saw early on while trying to write on the "J" line. I was inspired to write by a cat who did not really make a name for himself but was well known on the Lower east side, his name was CANO 707. I used to watch him do pieces on the handball courts amongst other places in the hood, and he came off cool with us cats who were just starting out. | |
3) Can you tell us about your first experience hitting the trains and who were you with.
The first time I ever "HIT" a train was in October I believe I know it was in 1979. It was myself, EL3 RIP, BYE TNS, and a cat who wrote LUS TNS. It was at the "D" yard in the Bronx. We were in there for about an hour just staring at a JESTER throw up that was always on that first train as you entered the yard. I had one can of red Flo- Master, and a NIJI that wasn't pinned. I had most of the ink all over my hands, but it felt good! I was scared as shit, fronting like I was bold. We hit the yard for about an hour until the ink ran out, and we were out of there.


4) What was the first writing group you were in and what other groups have you written for.
The first crew I was ever down with was the TNS CREW (They Never Stop). EL3 was the president of the crew. I joined the crew the day we went to the "D" yard (1979). Later on as I got a little more fame, I wrote for these crews: RTW, RTWOW, TD, ROC STARS, ROC STEADY, and TVS. I associate my name today though with TNS, RTW, and TD.

5) You were a member of the lower east side group TNS who's leader was EL.3 ( R.I.P. ) Could you tell us about EL.3 and what was your relationship like with him.
This is a good question. I had to think about for a minute. EL3 Really introduced me to the world of graffiti. He took me
| | |
| --- | --- |
| | under his wing, and showed me the ropes. He was not a big cat, but he was a down cat. The relationship started out as like he was sort of a mentor to me. He used to take me around and introduce me to writers like LEE, and PEO aka CISCO. I was surprised at the time that he was well respected, so I respected him for that. The relationship changed as I got more into writing. I became the TNS enforcer, and more like a big brother to EL. It became a mutual respect. The word that comes to mind when I think of my man EL is survivor. The kid was straight street, and was able to survive and battle while living strictly in the streets day and night. My heart is heavy just writing this piece. I miss him to this day. We talk about true friends, that kid is my true friend. I keep a picture of me, EL3, and DY TNS in my house to remind me of where I am from. |
6) Can you tell us all the train lines you have hit and do you feel you went all city and why.
I have hit all of the IND and BMT lines inside and out. I did most of my damage there. I have had times when I bombed the IRT's but those times were few and far between. I could call myself all-city, But I will leave that to other writers who did put
| | |
| --- | --- |
| in more years than I have and deserve the accolade. We throw the All-city props around too easy in the graff world. There are really not too many writers who can honestly call themselves all-city writers. I can truly say that I killed the BMT's and IND's. If there was a list of all time great's on the BMT's and IND"s I would be very interested to see where my name would wind up. I done a lot of work. no, I do not call myself all-city. | |
7) What other names have you written.
These are the names that I have written during my graffiti career. ICE13, Rich2, Richer, Prove2, RH, and Provide133.

8) You are a member of the group RTW, Could you tell us who you feel were the true hard core members of the group that you feel put the crew on the map.
That is a tough question for me to answer, but I will try. The crew RTW was already on the map when I was recruited. The
| | |
| --- | --- |
| | writers who put the crew on the map as I know it are: Bil Rock, MIN ONE RTW, QUIK RTW, and SACH RTW. There were other writers as you know who were well known who were down with the crew, but in my mind at the time, these were the names I regarded as those who put RTW on the map. I must say though that RTW was established by many writers who I have never had the chance to meet well before I was ever recruited that probably deserve props for repping RTW. |
9) Would you have any raid stories.
I have been asked this question many times, but I don't really have any raid stories, because we were on top of our game all of the time. I think this is what separated RTW from many crews was that we were not getting caught, and were absolutely destroying things as well. I personally have never seen, or been part of a "real " raid, and have never been caught writing graffiti. I have been caught in a train station with a marker before, but it was more for loitering than anything else. I have been a blessed writer in that regard.


10) Can you tell us all the writers you have hit with and who do you feel was your true hard core writing partner.
I have had a very interesting writing career in regard to who I have been fortunate enough to know and to write with. There have been some unknowns who are my boy's and some of the all time great's who are my boy's. Some of the names: EL3,
BYE TNS, SOE TNS, LUS ONE, REVEAL TNS, PLUS and JS from BKLYN, SAGO, BOE RTWOW, MIN ONE (My Brother), QUIK, SACH, HAZE (SE3), IZ, REVOLT, BOOZER, KEL1st (My Brother), MARE139, PADE RTW@. There are some who I have forgot to mention who will be pissed, and a whole lot of tipsters from the lower, but if I forgot you it was probably because you were not worthy of being on this list. It had nothing to do with you being cool.
The answer to who was my hard core partner is MIN ONE. He was the one who introduce me to bombing and destroying shit. EL3 is my partner, but we did not write as much later on in my career. I sort of branched out with the RTW crew. I always give EL3TNS his love, but MIN ONE (NE TD) was my hard core partner. No doubt.



11) What yards and lay up's did you and your group control in the 80's.
There were a few places that were under RTW control during the 80's era. The ones that I was involved with were: City Hall Lay-up, 175th St. Under ground yard, 155thst Lay-up, Bklyn Bridge lay-up, and the Dewey Yard (Coney Island), as well as Sutphin Van Wyck Lay-up and up and down there (QK's house). When I say we were in control of these places, I mean that writers had to check to see if any of us RTWOW were in the lay-up before they would bring their paint out to write. I know this to be true from stories I have heard after I quit writing. To this day, I can't believe how feared I was. I was not even really that big time up until the last few years of my career. It was laughable sometimes how writers would just give up their paint at the sight of me!
12) You were not only effective on the out side , But you were also very effective on the insides. Do you feel inside writers are truly over looked.
I think that you would have to answer that question. The writer's that I respect from my crew, have given me reason to think that all of those inside bombs were important. My hand styles were innovative and very cool to me. it was much more work to bomb the insides of trains than it was the outsides. I personally don't think that I have been given enough credit for killing
| | |
| --- | --- |
| the insides, and I am sure there are many other writers who feel the same. I believe that you have to have that all-around effectiveness you talk about in your question in order to be considered for those inside props. When I ride the New York City Subway System today, I am still looking at the trains to see where my tags were at, and I wonder if they have forgotten to buff some of them. I can't believe that Transit has buffed all of that graff! Yeah, in thinking about it, I think I have been over looked for bombing insides. I hear about all of these web sites that have tag pages and I have not even saw my tag on any one of them. I ask you, am I not worthy? shouldn't my name appear on all of those pages? You tell me and the people out there who visit your web site. | |
13) What writers or groups did you and the RTW crew have WAR with in the 80's.
We had war and beef with too many writer's and crews to mention in an interview. I will say though that the RTW crew was not phony while I was writing. Either you was with us, or you was against us. That was my philosophy about writing in general, and all of the crews that I was a part of. To this day, I only stand for the crews that I rep. I will die a member of the TNS, RTW, and WOW crews. I only represent those crews that my peeps began, or were presidents of. I respected the fact that EL3 was the president of TNS, I respected the fact that MIN ONE was the president of RTW. I was true to the crews in that respect, that is why you heard so many stories of me fighting beef that may not even have been my own, but if it was my dogs from the crew, who ever it was had to get it. That is how I got the "enforcer" tag. I got it the old fashioned way, I earned it. If you ask anyone that ran with me, they will tell you that I represented in just that way. I hope this answers your question.

14) Where were your favorite places for you and your group to rack paint. And would you have any racking stories you could tell us about.
The best stories I have about paint involve how powerful the RTW crew was. I need to tell the graff world that I never "racked" a can of paint during my whole career! MIN ONE was the king of the rack while I was writing, and it was EL 3 before him. There are stories though of being able to go to the crib of SACH RTW, and ask for some paint, and just fill up bags of paint from the GARAGE full of paint that he had during the early 80's. There were many times that he would give us 50 to 100 cans of paint for us to bomb with. Other times QK would call us up and "invite" us to come and bomb. All I had to do was show up and be myself and I had no problems getting paint. I got thousands of cans over the course of my career just hanging out on the platform of the BKLYN Bridge waiting for writers' to show up with theirs. There were too many of those days when I went home with 20 to 25 cans of paint in a given day. most of the time, though it was either a vick, or MIN and BOE would rack the paint. On the other hand, I did work most of the 80's in a Stationery outlet in Queens. There, I had access as the "returns" specialist. I was able to order ink and markers on the company, and we were always full of pints of ink and markers, and NEVER had to pay for none of it. I led a charmed life as a writer. Just like in life, it is not what you know, but who you know. The RTW crew was strong and versatile like that. They took care of the paint, and I would take care of the rest. Do yall get the picture? No worries when it came to supplies. My Grand mother passed away, but in her home, I still had about 2,000 of those 'hello' my name is type stickers that I signed and everything in 1987. At that time, I had planned to come out and be putting them things up in the Subway System in the year 2000, but I never got that chance.
15) RTW was a dominant group on the Subways , But many things written speak of other group's to be the most dominant in history with out speaking of RTW. Do you feel that RTW is over looked and could you let this new generation of writers know what the group was all about.
Yeah there has been a lot written without the mention of RTW. I challenge you and your web site to find a more versatile, tough, inside, outside, throw-up, burner, wild style, and still together for the most part today crew than RTW. The RTW crew has been one of the crews that transcended graffiti. We had thugs, graduates, scholars, and guys from all walks of life.
| | |
| --- | --- |
| | Sometimes when I went bombing, some of the combinations of writers was amazing. I don't see any other crew that was as versatile as RTW and any crew who could say from man to man that they bombed more. We as a crew have so many members that are like hall of fame material, then you have guys like myself who really made their claim with muscle, and heart. I have read many stories of graff and done plenty of research, and no we do not even get no where near the props that we are do. I also understand that writers are happy to do these types of interviews to pump themselves up. I am not in that category. I can tell the hones truth about my career, and feel good about it being just that, the truth. There are many other crews that I respect and that are due the respect of others in the game, but if you do not know about RTW, and you are a writer, new or old, you do really need to do some research. I believe that RTW is the best crew of all time. Take an honest look, and you will |
have to agree. I am feeling good still even today, and proud that I can say that I am one of the "hard core" members of the RTW crew. I give props to all of those who are members of the crew. They know who they are.
16) When was the last time you hit the trains and why did you stop.
was too high all of the time to really remember, but to the best of my knowledge, the last time I "hit" a train was sometime in 1990. I believe it was at the Bklyn Bridge lay-up, and it was dressed in clean street clothes with a Pilot, and one can if ink around Christmas Holidays of that year. I really stopped because the drugs were beginning to take over my life at that time. Also, Transit was really cleaning up shop in the late 80's and early 90's. It was time to quit. I have never been back to a yard or a lay-up ever since.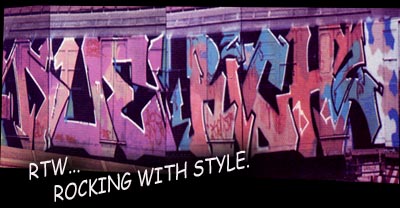 17) Would you have any closing words.
I again must give love to all of those writers that influenced me. That part of my life is a part that I would not trade for anything. Today, I am almost ten years clean of drugs and am attending The University of North Dakota, where I am writing to yall from. For the Years 1994 to 2000, I played some Pro-Basketball in Europe. Graffiti has taught me to be loyal to those who are close to me, and also has taught me to be tough because life is not easy. I still have many friends from my days of writing, and I am now enjoying being a graff writer. I don't really care much about the business side of graff. I want to be remembered as a train writer. When the trains finished. I finished. It was the rush of bombing and getting away with it that made writing appealing to me, and kept me in it for so long. It is nice to know that my name does ring a bell with those in the know about graffiti. Shout's to all of the RTW, WOW, TD, TVS, and the TNS crew's. Hater's are always going to hate, but I hope I was able to inject some of my truth with this interview. Love to my girl, RUBY.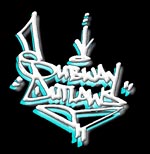 Should any one have any of RICH's work or any of the members of the RTW crew please contact us MESSAGE@SUBWAYOUTLAWS.COM