( NON STOP ACTION )

STARTED : 1978

AREA : Brooklyn, N.Y.

WRITING GROUPS : NSA, GOD, TBK, TB, BAD.

LINES HIT : E's, F's, GG's, N's, RR, M's, LL'S, B's, D's, 6's.
*******************************************************************************************************************************
When did you start and how did you come up with the name REBEL.
| | |
| --- | --- |
| | I started in Brooklyn street tagging back in 1978. I came up with the name REBEL because when I was Ďlil kid, I used to get into a lot fights in school and always got in trouble with the school staff. One day I heard a teacher say to another teacher that I was a Ďlil rebel, because I had a problem with authority. So I decided to write REBEL on the bathroom walls and then before I knew it all the kids started calling me REBEL. I was 12 years old. |
REBEL ... NON STOP ACTION!!!
Could you recall the first writers you seen on the trains in theearly years and what
writers inspired you?
The first writers I seen were LEE FAB-5, DEAL NSA, REK, SONIC, JOE61, and those
| | |
| --- | --- |
| are just to name a few. I used to love seeing burners done by those dudes. Also RIST, RON-ONE, STEEL TM5, INK76.DEAL NSA was the one who really inspired me because I knew him from my hood. I remember when DEAL & BUSTER did a piece in RedHook Pool back in 1980, they drew the JAWS SHARK(from the movie poster) in between their names. I was just so inspired knowing that I knew DEAL. | 999999 |
I wanted to be as famous as he was. REK was also a part of the inspiration. That kid had style. " DEAl. NSA " has to be the most over looked writer in the history of Brooklyn Graffiti.

THE ORIGINAL " DEAL "
Tell us your first time hitting the trains and who were you with?
My first time doing trains I was alone. I did motion tags on the F-Train. I went to Stillwell Ave,
the last stop on the F-Train. When the transit workers were cleaning the train sweeping and
| | |
| --- | --- |
| | mopping, I was killing the insides from car to car. I did this for about 2-weeks then starting going to lay-ups. That was 1980.My first lay-up bomb was at FT. HAMILTON and then CHURCH AVE. Both times I was with BASE, and a whole bunch of writers from 7DS crew. |
I was fairly knew to the game but BASE knew all those niggas from the SLOPE in BíKLYN. I
| | |
| --- | --- |
| think BURN & KCONER TBC were there when I first went. But I was so fucking excited about being in there that I didnít even care who was there. All I remember was BASE telling me that this was the 7DS CREW. I said ďWHATíS UP?Ē and went about my biz. I met BASE at the hatch about 2 hours later. But at CHURCH AVE. No body was there but us. | |

Would you have any racking stories?
Me & BUF used to go racking in Nassau County. We would rack about 200 cans a rack
2 times a month, and walk from Nassau County to Far Rockaway to catch the A-Train back home to Brooklyn. Every time we would have t at least 50 cans at the train station to lighten the load for the ride home. We would leave those cans in the shopping carts we took from the racks we hit. ************************************************

What were some of the writing crews you belong to?
N.S.A. NON-STOP ACTION, G.O.D. GRAFFITI ON DOWN , A.O.W. ALL-OUT WRITERS, B.A.D. BOYS ARE DOWN, T.B.K. THE BROOKLYN KINGS, T.B. THE BOYS, T.F.V. THE
FANTASTIC VANDALS, T.B.R. THE BAD RACKETS, B.S.K. BAD SUBWAYS KINGS, B.A.P.city BAD ASS PARTNERS, F.D.S. FUK DAT SHIT. There are more, but these are the
ones I was mostly tight with the other members. A lot of writers I would meet in yards and lay-ups would ask me to push their crew so I would push it the 1 time during that bomb and then forget about them. To me, if I didnít hang with you, I wouldnít rep your crew to the fullest.

Could you name all the Subway Lines you hit over those years and what lines you focused on the most?
The lines I focused on the most were BMTís & INDís. I did hit the IRTís but they werenít my
| | |
| --- | --- |
| | main focus. My main focus were the F, A, CC, & GG Lines. But I also murdered the LL, J & Mís, B & Dís, RRís also. I caught GGís at Union Turnpike in Queens. A & CCís at Grant Ave,Liberty Ave & Van Sicklen Ave. Fís at Dewey Yard, Ft. Hamilton & Union Turnpike. B & Dís at Church Ave. LL, J & Mís in Canarsie the J-Yard. RRís at The Bridge, City Hall |
in Manhattan. Also 45th & 53rd Street in Bay Ridge Brooklyn. I caught most of my Riggie trains
there. I hit the #7 yard in Flushing Queens one time.

Back in 1983.They had a double fence with dogs walking

inside the double fence. So I walked in the yard on the

tracks from an elevated L. I used to go Aviation H.S.

in Queens so I made it my biz to get up on the #7.

Back then GHOST had the 7ís sewed up. That kid was

KING OF THE 7 LINE back then. Him and REC127

really got up on that line.
The insides of the trains are very over looked in the history of writing. Could you tell us some of the biggest inside writers of your era?
BASE N.S.A, BUF N.S.A, BO aka BOND D.R.U.G, AZ K.S.W, AI K.S.W, RAB C.A.C, SM-1 F.D.S,
| | |
| --- | --- |
| ROR F.D.S, MRR S.A.D, MRR M.O.D, CHINO B.Y.I, TORCH M.A.G, CLYDE M.A.G, BETE T.B.K, KROOK T.B.K, RAC T.B.K, SOR T.B.K, LOVE 67 T.S.P, AC T.B.K, ROACHES T.F.V, BET T.F.V, CHIEF T.M.5, MESK, BLAS, IZ TMB , ERA, DELK T.B.K, OE 3, P13, DJ BONES, WILD BILL, SS, CHIC, RE M.O.G, PIZER M.O.G, ANT & NET These were just some of kats. There a lot more. I donít have enough room to name them all. But these few names should bring back some memories for the writers of the 80ís. | |
Could you name all the writers you wrote with and what writers would you say were your true hard core partners?
I wrote with : BASE, STAR, DEAL, BUF, VE B.A.P., LUE-ONE, ZONE, REVLON, IR RISK F.D.S., SM-1, ROR, ROACHES, BET, INK76, AZ & AI K.S.W. ATCO. There are a lot more but these are just to name a few. My hard-core partners were DEAL, BASE, BUF & LUE-ONE. Those were my most hard-core brothers in Graffiti.
Would you have any raid stories?
The only time I almost got caught was when me & BUF ran into the M.O.G. at the
J-Yard in Canarsie. We already had beef with them. So me & BUF went to the station
first, the RE & PIZER came out the yard with a posse from the M.O.G. crew. So I
pulled out my knife and went at RE. Right then before I got stab him 2-transit cops came
running over so I dipped out to the streets. I saw BUF in the hood about 2 hours later.
He said the cops just gave him a ticket for a bag of weed he had in his pocket and let
him go. But the M.O.G.ís got away clean. I was always going back to that yard 2-times
looking for RE M.O.G. I never got to finish the fight. That was 1984.
What writers would you feel are very over looked in history?
SM-1 & ROR F.D.S. I remember they used to kill the RRís at City Hall. SM-1 used to
tell me that he knew he was a toy but just didnít give a fuck. Because heís doing much
| | |
| --- | --- |
| damage. And he was right. That kid was up. | |
In the late 70ís and 1980ís the over population of writers on the subways would some times cause conflict. Did you ever have any conflict with other writers
and why?
Back in 1984 I had a small beef with the B.Y.I. crew because they put a kid down with them who wanted to write REBEL. But me and CHINO B.Y.I. was always cool with each other. I met CHINO in 1984 and he showed me mad respect so I gave him respect just the same. The other REBEL soon quit because he couldnít keep up with me. I was putting in work all over the place. All he did was a couple of street bombs. I saw him up on the B-Line once. Thatís when I started killing CHURCH AVE. All the real writers remember me, not him. I had a cross-out beef with the M.O.G. crew. I hated those guys so much. I was always strapped when I went bombing cause I knew if I seen any of those niggas, I was going to put niggas to rest. They had no respect for anybody. They went over everybody from NSA, RTW, WOW, the list goes on. Fuck them niggas, They wonít be missed.
Could you name all the members of NSA?
REBEL, DEAL, SMIZ, BUSTER, JOUST, TRIKE, BUF, BASE, FASE, REK,
LUE-ONE, SPAR, SAM, LEE FAB-5 Deal told me that LEE was down with NSA and There are more, but they

were from before my time. The ones I mentioned were

the ones I knew. The main NSA members.
What year would you say was your peek year as a writer and why did you stop?My peek was 1983. I stopped in 1986.
That was the last time I went to the trains. I was with BUF, LUE-ONE, his cousin JX, IR RISK, & REVLON. We went to THE BRIDGE AND DID 2-WHOLE CARS. REVLON and RISK didnít go in the lay-up with us. REVLON decided not to go in because he couldnít climb over the wall, RISK got chased by a cop when we were going there on the train. I really wish that REVLON wouldí ve went in there with us. That kid could really piece. And I wanted to do at least 1 piece with that kid. Maybe weíll get to do a wall soon in the future.
Any closing words?
Iíd like to send shout outs to : BASE, BUF, DEAL,REK, LUE-ONE, DJ ECHO AOW, REVLON, INK76, SONIC, JOE61, JOUST, TRIKE, HATE168, SP-ONE, PEEK V.I.C., SM-1, ROACHES TFV, BET TFV, RAC & SOR TBK, RIST, RON-ONE, RESE, LIL CHIP, CHINO BYI, ATCO, BURN 7DS, KCONER, MEEK, TESS X-MEN, WHY-ONER, BOE WOW, LIL STAR 7DS,
BABY 168, SAST ST-ONE. CHARM, TRACK2 aka TK. And all the writers who remember the real O.G. writers who put in work. ONE-LOVE. And thanks to GIL for the SUBWAYOUTLAWS site. Thanks for remembering us.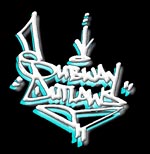 Should any one have any of REBEL's work or any of the members of the NSA crew please contact us MESSAGE@SUBWAYOUTLAWS.COM Photo credits go to REBEL and WADE.