Here we go again boys and girls, this time big papa Danger takes a trip to Florida to visit some of his old subway buddies from yesteryears. It's just non stop fun in the sun with all the paint and beer in reach. Enjoy the tour and a special thanks to DIME 139, JOUST and BIG COUNTRY 76.

~~Photos by : "Big country 76"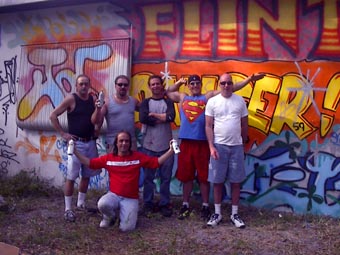 Relocated Old School Kingz unite. IZZY IZ THE WIZ, DANGER 59, JOUST aka JD / JOHN DOE 718 and DIME 139 keep the movement alive in Florida state.
| | |
| --- | --- |
| DANGER starts things off. | DIME and IZZY join in the fun. |
| | |
| --- | --- |
| The company truck. | Those f #!*! vandels! |