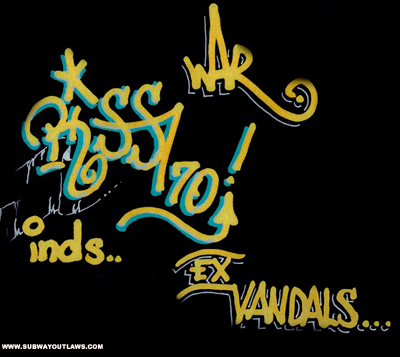 STAY HIGH 149, a true subway outlaw from the Bronx, who has hit almost every subway line in the city with his famous, stick figure smoking a joint. Legend has it that by the end of 1974, two known Graffiti cops found out who he was and where he lived, therefore STAY HIGH had to change his name to a message just to keep the cops off his trail. That is when VOICE OF THE GHETTO... was born. Using a two-tone mini-wide marker, he destroyed the insides of the IRT's.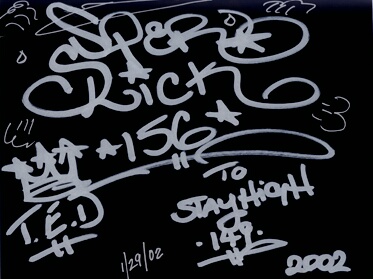 Snake 1 started on the upper west side in 1969 with his partner STITCH-1. There tags were very big on the A's and 1's,but the two were best remembered for forming the first writing group "Writers Corner-188" or W.C.-188. The group had some of the best taggers of the era, such as CAT-87, CO~CO 144, and SJK 171.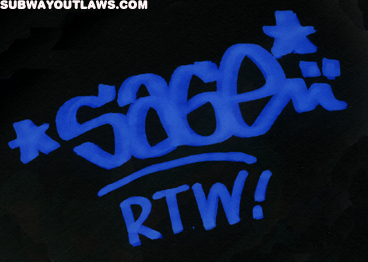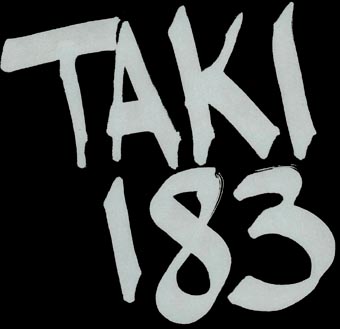 TAKI 149 began writing in 1973, on the Broadway line with his partners MOSES 147 and B~ONE. Here TAKI shows us a famous platform style of writing, invented by TOP-CAT 126.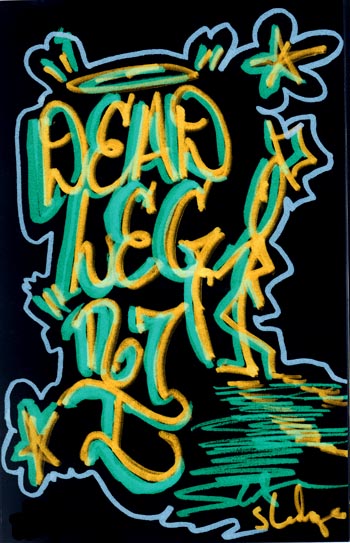 SWEET-DUKE 161 was LEE-163's writing partner in the early 1970's who also had an incredible hand style for the era. SWEET-DUKE 161 used a playboy bunny with a wine glass at the end of his tag. As time went on, he banged out many pieces in record time.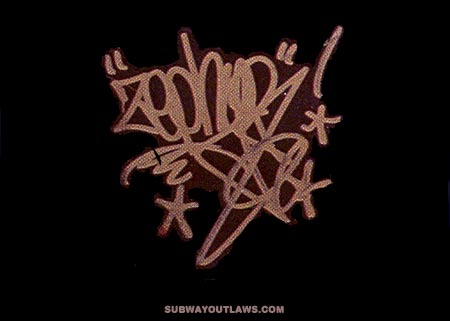 RIFF 170, style master from the 1970's, showed off a Bronx style of tagging, with a platform style edge to it (with the rest being all RIFF). He was part of many groups as seen here; Groups such as WAR - writers are respected, IND's - The independents and the most famous group the EX: VANDALS.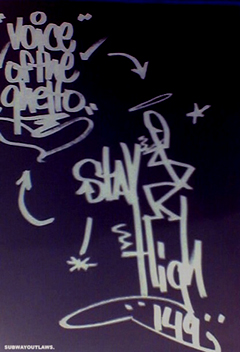 Super Slick 156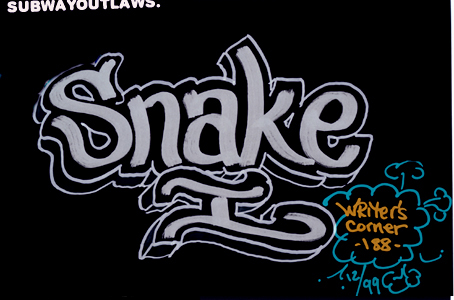 SAGE, RTW a.k.a. BILROCK 161 began writing in 1974 under the name SAGE. He hung out with old timers like STEVE 161 and MALTA at the band shell and learned the craft of writing. BILROCK 161 later formed the group RTW- ROLLING THUNDER WRITERS, which became one of the greatest writing groups in history.
TAKI 183 started writing in 1969 in the Upper West Side of Manhattan. He was first inspired by an earlier writer, JULIO 204 who tagged on the streets were he lived. TAKI 183 took to the idea of placing the street number where he lived at the end of his tag from JULIO 204. JULIO 204 could not write outside his neighborhood, due to him being in a gang. TAKI 183 was one of the first to take his name All-City hitting every thing in site; mailboxes, hallways, train stations, buses, inside and outside of subway cars. He took on few partners like GREG 69 & 70 and GERMEN, but would also go on his own being that he was a messenger.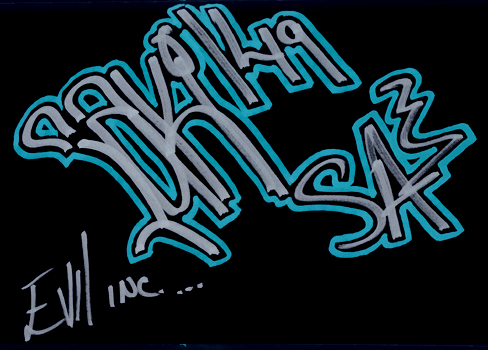 DEAD-LEG 167 was STAY HIGH's main writing partner in the early 1970's, with a style all his own. DEAD-LEG's hand style inspired many writers of his generation, such as LSD-3 / LSD OM TR who went on to use his L and D, but changing it to his own style. DEAD-LEG 167 hit with many big writers of his era, as well as moved on to the "Piecing Generation" era. During his era DEAD-LEG 167 painted many trains and eventually ended his writing career in 1974.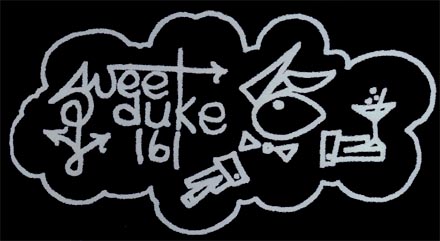 ZEPHYR is know for having one of the best hand writing styles in history. His hand writing influence, on how he used his "R", came from one of the greatest subway killers of all time, JESTER 1. Zephyr wrote with some of the biggest writing groups of his era, CIA and RTW, who both went All-City. Another RTW member who was extremely underrated with excellent hand writing style was STRIKE, also known as STRIKER.