Black books

Throw Ups

The history of the "throw-up" started with writers in the 70's doing quick "bubble-letter" pieces to "get-up" fast. The first writer and crew to take this form of "bombing" to a new level was, IN-1 & THE TOP CREW. Their goal was to take over the whole subway system. They accomplished this by inventing the two-letter throw-up which helped them become "All-city" kings in the mid 1970's. Many writers used this concept and took it to a new level. Originality is also very important and writers could be criticized for having a "whack" "throwie"
" HIT AND RUN BOMBERS "
KEL.1st

Would rarely do throw up's, but when he did they were plane looking pieces that he do when forced with a limited amount of paint.

PPPPPPPPPPPPPP

DEZ

Would occasionally do throw ups. His throwies would mostly be seen on the IRT's in the early 1980's with his partner SKEME, who many felt the two had the best looking throwies running on the trains.

IZ THE WIZ
The master blaster, would go on to take over many train lines with throw ups as well as well as doing many painting productions.
OD aka SEEN.

Seen mostly did throw ups under the name od in the mid- late 70's and early 1980s. He would join the Tmb crew who were controlling the 6 yard at the time and with them would take over the 6 line and later would do the same with his own crew .

SEEN.

Seen would take over the 6 line in 1985 after a short lay off. Not only did he do many large productions, he would also take over the line with throw up's.
| | |
| --- | --- |
| CAV on workers train. | Colorful throwie by DURO.1 CIA. |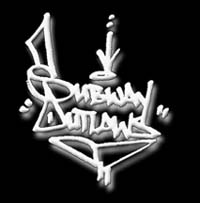 Photo credits go to KEL, CAV and IZ THE WIZ. Please feel to submits photo plus your commits to MESSAGE@SUBWAYOUTLAWS.COM