Black books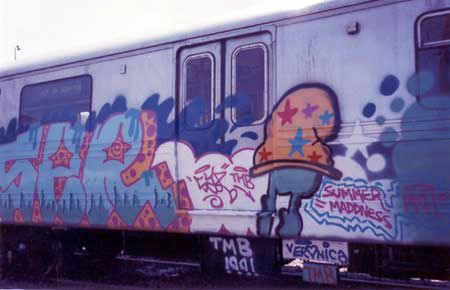 SAR
Started : 1977
Area: Richmond hills Queens
Writing Groups : TMB, MOD, TOP, FAL , RIS.
Alias : VIKING, SZAR, SARCASTIC 109.
*************************************************


I first started writing in an abandoned train tunnel on Atlantic avenue in 1977.
My earliest influences were local legends like, IZ, FUZZ-ONE, VINNY, FANE-2(PI-2), UNCLE JOHN 178, TEAR, DUKE-9, KEVIN97 AKA EX-ONE (I REMEMBER SEEING HIS TAG IN THE OPENING OF THE SATURDAY NIGHT FEVER MOVIE, DINO, PONT (THE ORIGINAL) SHORTY 13, SO-ONE, SI-ONE, COOK, DC-10, DIME 139, TEK-2 AKA SIKO, RUST, HOMIE, JESTER aka DY 167 (LIVED IN OZONE PARK FOR AWHILE)
MY BOYS SIKE, SHARK, SACH WERE EXTREMELY INFLUENTIAL.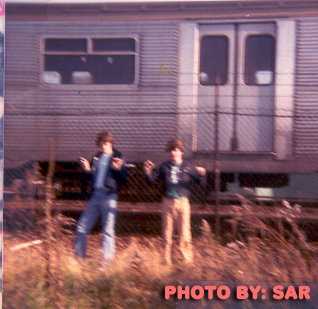 SAR and SN- MGA, in the E & F yard 1977.


MY BIGGEST INFLUENCE WAS THE KING.. IZ THE WIZ. NOBODY ,I REPEAT NOBODY BEATS THE WIZ, BOMBING, PIECES, CANVAS', FAME AND LONGEVITY. IZ MY TMB BROTHER, YOU CAN WASH AWAY HIS NAME BUT NOT HIS FAME.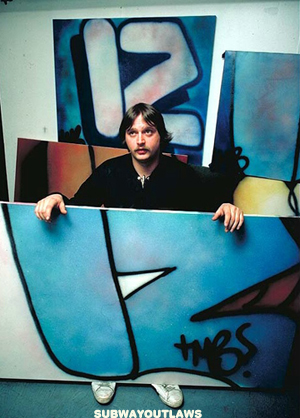 IZ THE WIZ.

When I first started writing on the trains in 1977,Me, Shark, and Saint, used to take the J train to the last stop and do insides. The j train just stopped going to 168th street and now stopped at Queens Blvd. I used to write with Piolets and niji's or el-markos. My boy SAINT got a flo pen from NIP-112, SIKE'S BROTHER. and we used to tag insides for days.

I remember we used to take the J train to gates stationary on Gates avenue in Brooklyn and this old Jewish couple used to run the store. We got ink and Uni's their. This old lady was a real pain in the ass and used to follow us around the store. We used to split up and they couldn't keep their eyes on all of us. what ever we racked up we split up. We had to be careful when we left cause their were a ton of writers from east new york ,they would rob your shit so we would ball our gear and run for the station. We would stay near the top of the stairs and as soon as the train came we would jump the turnstile. Later on the place got burnt out and you couldn't rack up any more, they kept most of the shit behind the counter. Green Opaque flo master was beautiful. We used to make 2 tone UNI'S AND MINI'S.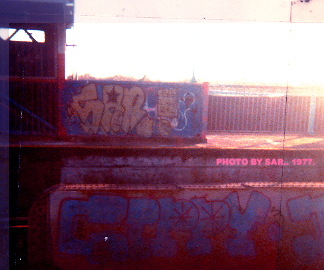 SAR on 102st train station j line 1978 with cippy who was fane and pi-2

I LOVED TO PAINT TRAINS, I LIKED THE FRESH AIR OF AN ELEVATED LAYUP. TO ME IT WAS THE BEST PLACE TO BOMB.
NO PAIN IN THE ASS BY STANDER IS GOING TO WALK OUT TO THE ELEVATED TRACKS AND MESS WITH YOU. THAT WAY WHEN SOMEONE CAME DOWN THE CATWALK IT WAS EITHER ANOTHER WRITER OR A RAID NOTHING IN BETWEEN. I COULD REALLY BOOK ON THOSE CATWALKS, I COULD DO THE BIRD .NOBODY EVER CAUGHT ME, EVER.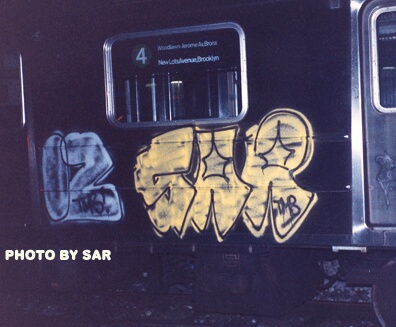 IZ and SAR. On there fight to bring writing on the subways back

I lived between the J line and the A line in south Queens, near Brooklyn. Once I started to write on the J'S all I remember was TOP..TOP...TOP..JAMES(JEE-2)
MICKEY 729, HURST, HATE 168, SID THE KID, NACO, IN, DIKE, SLAVE,
THEY DIDN'T BUFF THE J'S UNTIL 1980.I SAW CARS THAT WERE DONE IN 1974 THAT STILL WERE RUNNING. THE J'S HAD MORE THROW UPS AND SIMPLE PIECES AT THAT TIME BUT YOU LEARNED YOUR HISTORY. TAGS INSIDE THE CONDUCTORS DOORS, LASTED FOR YEARS. I REMEMBER A WHOLE CAR BY UNCLE JOHN, TEAR AND VINNY IN CORAL PINK, BERMUDA BLUE WITH A FED PURPLE OUTLINE.
I REMEMBER A WHOLE CAR BY MICKEY, FA-2 (HATE 168) AND HURST, THEY PAINTED A FARM AS THE BACKGROUND , I WAS LIKE HOLY SHIT THESE GUYS WERE BUGGED OUT.
HURSTISM, HURSTOP, OI,OI,OI,
TOTOP729,MICKEY AND ANGELA.
NOBODY SEEMS TO HAVE FLICKS OF THAT OLD SHIT FROM 1977-1979 ON THE J'S. I HAVE A FEW.
I TOOK A PHOTO OF THE FIRST TOP TO BOTTOM NACO IN SILVER IN BLACK THAT I SAW IN 1978 BY DONDI. I CAUGHT IT WITH WINDOWS AND I GOT TO GIVE IT TO DONDI LATER ON IN LIFE. I REMEMBER DONDI LOVES LUCY WHOLE CARS IN SILVER. LUCY WAS DONDI'S MOM. FUZZ AND I USED TO VISIT DONDI SOME TIMES.
I WAS IN AMSTERDAM WITH HIM IN 1992 SOME GUYS STARTED TO BEEF WITH HIM AND I HAD HIS BACK , REST IN PEACE BROTHER.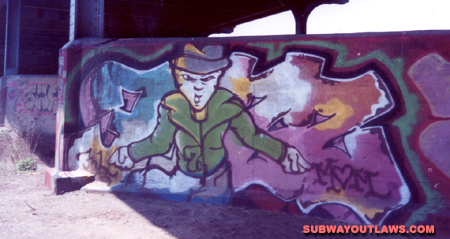 SAR's writing partner FUZZONE.


I USED TO GO TO THE M YARD WITH RISCO , JOKA 2 AND OD-ONE (OVERDOSE) I REMEMBER GETTING RAIDED AND RUNNING OUT BEHIND THE BUS YARD. IT WAS SO NARROW BACK THERE I REMEMBER HOLDING ON TO THE LEFT SIDE OF THE WALL AND RUNNING ALONG THE TOP LEDGE. WE USED TO GO TO THE ART COVE IN RIDGEWOOD TO GET INK,I WAS USED TO FLO MASTER IT HAD THE GREATEST SMELL, JUST LIKE FRESH PUSSY. THE ART COVE CARRIED MARSH INK ALSO. IN 1979 THAT WAS THE FIRST TIME I HAD SEEN THIS INK. I RAN INTO UN-ONE AND NIF ..CW CREW, CAUGHT TAGS WITH THEM ON MYRTLE AND WHYTCOFF
ONE OF THE FIRST TIMES I WENT TO DO THROW UP'S ON THE ELEVATED J LAYUP THE TEN CAR LAYUP HAD BEEN KILLED BY HURST AND MICKEY ,I DID THE SMALLEST THROW UP AND CALLED IT A NIGHT.
I wrote on the j's and A's, E'S AND F'S, CC'S.

IN 1980 I MOVED OUT OF NEW YORK AND CAME BACK IN LATE 1981. AT THAT TIME MOST OF MY BOYS WERE INTO GETTING LUCKY WITH THE CHICKS AND GOING TO DISCO'S SO I HUNG IT UP BUT I NEVER LET GO.

IN 1989 I GOT THE ITCH WHEN I SAW STYLE WARS ON PBS. I WAS LIKE',THEY FILMED THIS MOVIE WHEN I MOVED OUT OF NEW YORK. AND MY BOYS, IZ THE WIZ AND SACH ARE IN IT. I CALLED SACH, WE FOUND IZ AND THE REST IS HISTORY. WE MADE A HUGE COMEBACK. TOO BAD ALL OF IT GOT BUFFED BUT WE TOOK TONS OF FLIX. AS SACH WOULD SAY "REWIND MY MIND".TMB WAS BACK. THE A'S,J'S,M'S,E'S,F'S,2,3,4,5,6,AND 7'S.
I DID SOME GRAFF SHOWS, PIECED IN LONDON WITH IZ AND AMSTERDAM WITH BLADE
I REVISITED GRAFF AND HAD FUN, AGAIN, TWICE IN LIFE.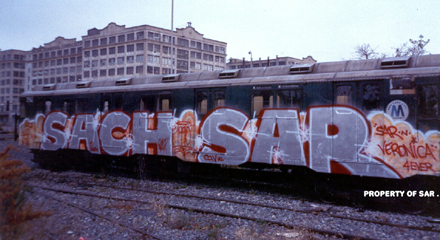 THE SACH & SAR BLAST.

BIG SHOUT OUTS TO MY BROTHERS,
IZ THE HELLIFIED WIZ,OOH LA LA SACHSOOOON, SIKE, FUZZ-ONE, BLADE, QUIK,AND CAVSTER,
SHOUT OUTS TO ..COMET, QUIK, REVOLT, SEEN, RIZE, PURE, COPE,, BOOTS 119,VICTOR 161, ALE, SENTO, CASE2, GHOST, SMITH, LADY PINK, KET, CHINO BYI, SIAR-MOD (IT-1) ,.SACHA JENKINS,
SAL TQC,RON718,VERONICA MY STRENGTH AND HEART
REST IN PEACE TO ALL MY BROTHERS WHO HAVE WENT ON TO THAT BIG TRAIN YARD IN THE SKY,WE WILL MEET AGAIN.
IT'S NEVER GOODBYE,
I'LL BRING THE FAT CAPS.
SAR-ONE TMB'S .........TRAINS 1977-1992.
I DIDN'T MAKE A MARK I MADE A DENT. GRAFFITI LIVES.........SAR TMB