Black books

" PER ONE "

( New York City Artist at Large.)

AREA : BRONX NEW YORK.

WRITING GROUPS : FX , TAT, TNB, MW, TDS, TFP.
1) Where are you from and when did you start writing?
the Bronx New York.. I got into writing at the age of 12 yrs old my boys were doing it and it was a big thing in school to write at the time. This was back in 1978 I was just starting JHS..


2)How did you come up with the name PER?
A friend of mine gave it to me, his name was Phill and wrote AID at the time.
3) What was the first line you hit and what writers were you with at the time.
it was on the 6 line. I hit trains with TAN , AID , CHUCK, and another kid that wrote SHELL Tc5.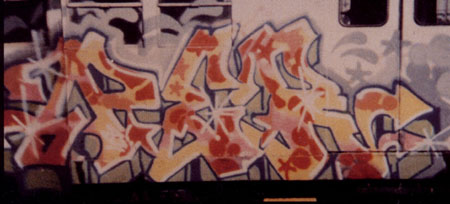 <![if !supportLineBreakNewLine]>
<![endif]>
4) Could you tell us about your first piece done on the trains and who where you with.
to tell you the truth its so long ago I cant remember but I did do allot of racking with RAZ TAT and KENN TAT back in the day.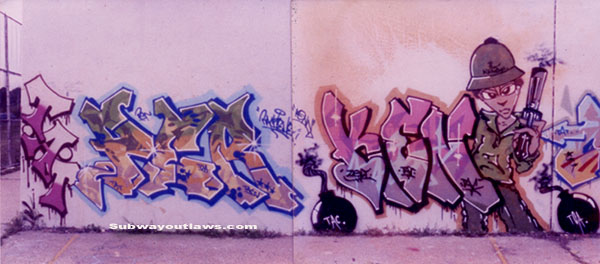 <![if !supportLineBreakNewLine]>
<![endif]>
5) who would you say was your earliest influences?
I would have to say writers like Tack FBA , SEEN UA, DUSTER UA , LEE, COS 207 , MITCH 77, T-KID 170 and many others.
6) You would do RE throw ups all over the city, What did that stand for?
It was short for RACHELLE ( My girl friend ).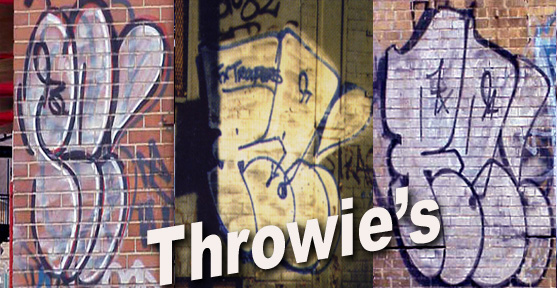 7) There was a time in 1985 that you and LASE went all over New York City on a bombing spree. Could you tell us a little about that.
I had beef with his boy CAT at the time, ( just neighborhood shit )and Eric ("LASE") was kinda down with them and I fought that kid CAT and some how me and LASE hooked up after all that bullshit and started doing our own shit. We started plotting out the takeover of the street, LASE was bold you would see his name in places you wouldn't expect. in one Bombing mission we took over flushing in 1 night and the wack shit was that after we got done bombing all of flushing queens.. walking back we had a few scraps and decided to make them count. We descended do a few highway spots before we got there we got picked up by the cops and the fucking cops took our paint and lets us go. Happily we thought they only took the paint but the assholes stole 75$ and it was all we had to get back to the Bronx that sucked. But it was a memorable night amongst a bunch of other shit Me and LASE did.
<![if !supportLineBreakNewLine]>
<![endif]>
9) Can you tell us all the writers you have painted with over the years.
MACK TAT , BOM 5 , T- KID 170 , BIO TAT , COPE 2 , BRIM TAT , BG 183 , KENN TAT, LASE , RAZ TAT, WANE , CEM TAT, EZO , PART, SERVE , POSE 2, POEM , CAV , NICER TAT and CES... I have been painting with allot of people for 26 years..
<![if !supportLineBreakNewLine]>
<![endif]>
10) Would you have any chase stories you could tell us about?
a bunch of chase stories the coolest nigga in a raid situation to be with was BIO TAT he always held his head would never panic we had allot of raids specially in the ghost yard. T-KID 170 ran that shit MACK TAT, CEM TAT you had to worrie about them nigga's rather than the cops if you got caught you would had wish the cops grabbed you instead.. I never had to worrie about none of that stupid shit but anybody else that wasn't TNB - TAT or TOA... ( SHAME 125's Crew ). You had to worrie about not getting caught by them anywhere back in those days. it was sick..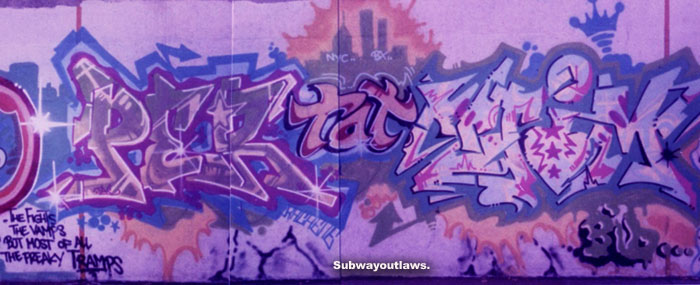 <![if !supportLineBreakNewLine]>
<![endif]>
<![if !supportLineBreakNewLine]><![endif]>
11) What writing groups were you down with?
FX basically there are a few others TAT, TDS , KD , MW, TFP, in Europe Daims crew TCD, Lommits crew, FBI thats about it.
12) You are part of a artistic group called FX could you tell us a little about the start of the group.
I just thought that a crew should be formulated. POSE called it FX so we went with at the time.. and we still roc with it now... from like late 92 to 93 it started
<![if !supportLineBreakNewLine]>
<![endif]>
<![if !supportLineBreakNewLine]>
<![endif]>
13) Where do you see you art going in the near future.
MORE WALLS OF COURSE. FX WILL ALWAYS ROCK ON WALLS.
<![if !supportLineBreakNewLine]>
<![endif]>
14) Would you have any closing words.
PEACE TO ALL THE REAL NIGGAS ... STAY TUNED FOR THE FX DVD COMING SOON!!!!!!!!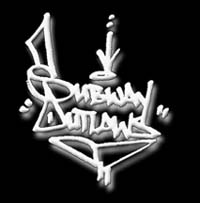 Should any one have any of PER's work, please contact us MESSAGE@SUBWAYOUTLAWS.COM Photo credits go to PER ONE and KROME TMR.
<![if !supportLineBreakNewLine]>
<![endif]>