Black books

SCHICK

STARTED : 1971

AREA : The Bronx

WRITING GROUPS : TK, SALSA.

LINES HIT : 2's, 5's, 3's, 6's.
1) Where were you from and when did you start writing.
I WAS FROM THE BRONX AND BEGAN WRITING IN 1971.

2) Can you tell us the first writers you seen up on the trains and which writers inspired you.
EDDIE 181, EVA 62, BARBARA 62, CHARMIN 65, PHASE 2, STATIC 1, SUPER KOOL 223, EL MARKO 174, THE CRUSHER 2, JOHNNY 800, THERE ARE TOO MANY TO PUT DOWN SO I WILL STOP HERE.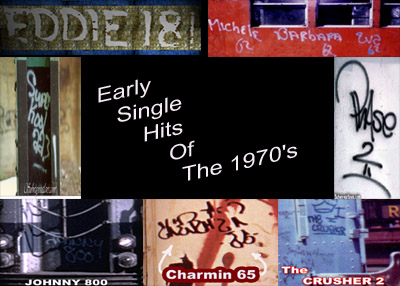 3) How did you find the name SCHICK .
I WALKED IN TO A SMALL CANDY STORE ONE DAY, I BOUGHT A MARKER AND THEN I STARTED LOOKING AROUND THE STORE FOR A NAME AND I SAW THE SCHICK RAZOR BLADES AND THAT IS HOW I GOT MY NAME.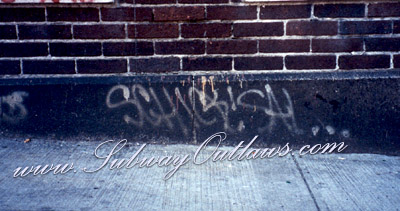 4) Can you tell us about your first experience hitting the trains and who were you with.
BEFORE I EVER EVEN THOUGHT OF BECOMING A GRAFFITI WRITER, I USED TO TRAVEL ON THE THIRD AVE L AND BACK THEN I WOULD WRIGHT MY NAME ON THE TRAIN WHENEVER I GOT ON. BUT THE NAME I WOULD USE WAS DANNY 172 AND I WAS WITH MY COUSIN WHO USE TO TAG SWIFT 169 ON THE 3RD AVE L TRAIN.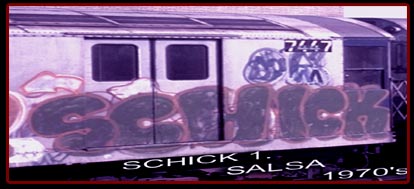 5) What was your main line and could you tell us what other train lines you hit.
I PRETTY MUCH GOT TO HIT ON ALL LINES, BUT I LOVED TO HIT ON THE IRT LINES.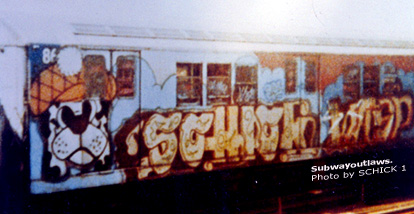 6) What writing groups were you in.
THE KILLERS, LATIN ACTION, THE 12:O'CLOCK CREW AND LAST BUT NOT LEAST SALSA.

7) Can you tell us all the writers you bombed with over the years and who was your main partner.
I'VE GONE WRITING WITH A LOT OF WRITERS, TOO MANY TO NAME.
BUT MY FRIENDS AND ALSO MY SALSA PARTNERS I ENJOYED TAGGING WITH: FDT 56, KROME 100, GAME 5, PAX, OZ 109, MITCH 77, PADRE 2, BLUE BEARD 183, AND MY BEST FRIEND WHOM I CONSIDER MY BROTHER WASP 1.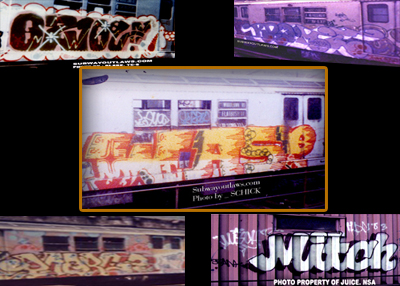 8) Would you have any RAID stories you could tell us about.
I WILL HAVE TO GET BACK TO YOU ON THIS QUESTION IN A WEEK.
9) you were a member of the group SALSA can tell us all the members of the group and why did you call the crew SALSA.
WE CALLED THE CREW SALSA BECAUSE I BELIEVE WE WANTED A NAME THAT REPRESENTED OUR LATIN CULTURE BEING THAT THE ORIGINAL 5 MEMBERS WERE LATIN. (FDT 56, KROME 100. GAME 5, PAX, AND OF COURSE YOURS TRUELY SCHICK). OTHER MEMBERS WERE…WASP 1,WHIZ 3, BLUE BEARD 183 EDDIE 80, P.BODY, RAT 1, PADRE 2, (DEN AND PANCHO OF THE BMT LINES) THERE WERE A LOT MORE, TOO MANY TO NAME, SORRY IF I LEFT ANYBODY OUT. I DID NOT DO IT ON PURPOSE.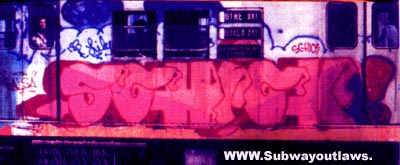 10) What writers from your era do you feel are truly over looked.
THE (3rd AVE EL) WRITERS I CAN'T REMEMBER THEM ALL, BUT THE 2 THAT STAND OUT IN MY MIND ARE: PURPLE HAZE 168 AND COKE ONE 225 I USE TO SEE THERE NAME ALL THE TIME ON THAT TRAIN LINE.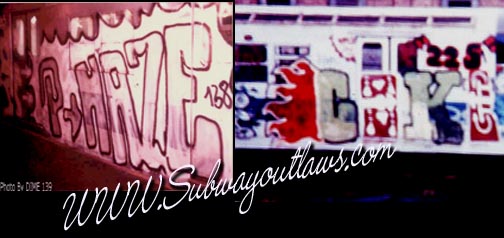 11) When was the last time you hit the train and why.
I QUIT TAGGING THE DAY I SAW FDT 56 IN THE NEWSPAPER, THE HEADLINES READ MAN GETS CAUGHT WRITING ON WALL. I THOUGHT, MAN I'M GETTING TOO OLD FOR THIS. EVER SINCE THAT DAY I QUIT. I REALLY DON'T REMEMBER WHAT YEAR IT WAS WHEN I QUIT.

12) Would you have any closing words.
I MISS THE WHOLE GRAFFITI CULTURE.
I MISS HANGING WITH MY WRITING PARTNERS.
TO PUT IT PLAIN AND SIMPLE I MISS THE GOOD OLD DAYS AND LAST BUT NOT LEAST I WANT TO SAY THANK YOU TO THE STAFF AT
SUBWAY OUTLAWZ FOR DOING WHAT YOU ARE DOING. KEEPING GRAFITTI ALIVE SO THAT OTHERS CAN LEARN OF THE CULTURE AND ITS PIONEERS. MAY GOD BLESS YOU AND TAKE CARE.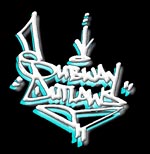 Should any one have any of SCHICK's work or any work of the members of the SALSA crew please contact us at MESSAGE@SUBWAYOUTLAWS.COM