Black books

~ REE 2 ~

* STARTED : 1973

* AREA : The Bronx New York

* ALIAS : OPEL, REX, FRED 174

* MAIN LINES : 1's, 2's, 5's, 6's,

* WRITING GROUPS : MTA , TMT, LA, BYB, SALSA,
1) Where were you from and when did you start writing?
The Bronx Zoo Section I started in the Summer of 1973 writing FRED 174 then I met Chino Malo, Ruff in 1975 or 1976.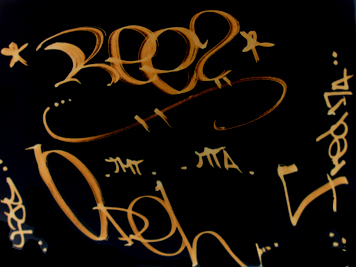 2) Could you tell us who were the first writers you seen up in the early years and what one writer inspired you most?
| | |
| --- | --- |
| | The Crazy 5, the 56 boys, Ex-vandal, Wild Style , Iron Mike 3, Snow II, X-Ray 174, Cloud 9, Ant, Voe, Hondo, Kindo, Death, Vinny, AJ 161, Cliff 159, Clyde, Ale, FDT 56, Hoy 56, Hydra, Derby, Riff 170, Stim, Tee, Doo 2, Solid, PEL, Bot 707, Butch, Bic 149, Kase 2, Jr Bic 149, Ajax Comet, Blade, Vamm, Dee3, Smily 149 aka Glade, Punch 204, Fish, Beaver, Split, Cha, Some1, & Joy1 |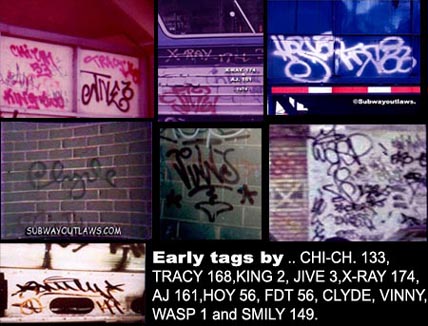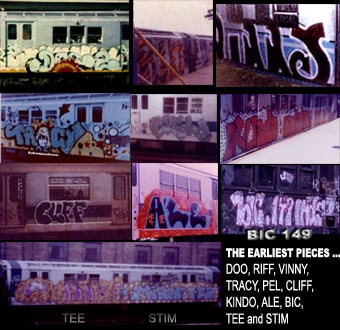 3) When was the first time you hit the trains and where?
The One tunnel with Kindo & Ruff in 1974.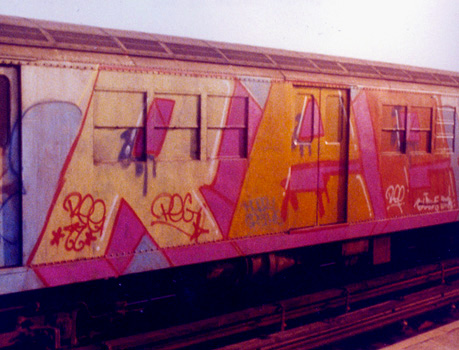 4) How did you come up with the name REE 2 and what other names did you use.
The first names I used were Fred 174 (in 1973), Rex 2 (in1974), Ree2 (in 1976), Opel (in 1977). Fred - I used to tag around the Town (Bronx) Rex - I used to tag all the bus in the Bronx and I used to tag the 1,2, 3, & 5 but my big name was REE until my arrest for my sixteenth birthday.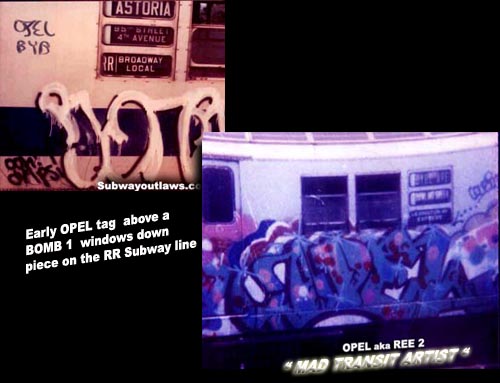 5) MTA was a very big group on the IRT's , How did the group start and can you tells all of the members of the groups.
Chino Malo, Ruff aka Rib, Rex aka Ree/OPEL, Kade, Tean, RCA, Some1, Crane aka Radar, Tag, Vine, Tybu, 2 Swiff, Best 149, Shy 147, Sunshine, and Drake aka Kos 207.





6) You were famous for very colorful top to bottoms running on the number line, could you tell us how you were inspired to do so many.
You stand out from the window down ,when you are walking the street and look up and pow! You did it again. From artist's Riff 170, Ale, Death, Roach, Tracy 168, Kindo, Bic 149, Kase 2, Butch, AJAX, Billy, Coke, P.Nut. lee
7) What yard or lay up's did you and the MTA crew hit the most and did you ever hit any other lines like .. IND's or BMT's.
All Yards and lay-up in the Bronx, The Tunnel in Manhattan for 1's, 3's, then in Brooklyn New Lot, and Vertical Lay-up.




8) What other writing groups or writers did you and the MTA crew have competition on the subways with.
TC 5, TF 5, BF.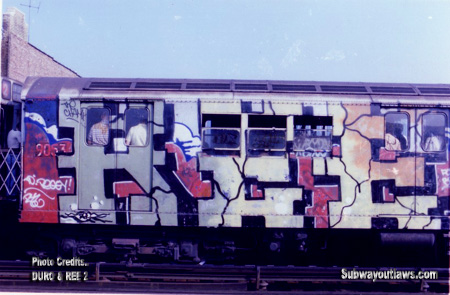 9) Would you have any racking stories?
Ruff and I went to Jersey with Kindo because that day all stores were very hot by the evening we didn't have enough paint to go piecing in the 1, 3, 6,2 Lay-up's. Best 149 and I went to the 6 line with no paint, Best 149 got busted in one store but that didn't stop us from bombing that day.






10) Could you name all the writers you painted with over the years.
Chain 3, Noc 167, Mitch 77, Padre 2, Dek, Tio, Kindo, Schick, Wasp, Bluebeard 183, Base 2, Z28, Rat, P.Body, Bear 167, Ban, Derby, Hydra, Tice 149, Crane, Ruff.


11) In the late 70's and early 80's, space on the trains were hard to come by which forced some writers to go over others. Did you or the crew have any writing wars with others.
12) Could you tell us the writing groups you were in.
CA, 6YB, 3YB, BYB, TCA, LA, WS, SALSA, TDS, PHK,
TMT, TOP, and MTA.


| | |
| --- | --- |
| | 999999 |
13) Would you have any raid stories.
In the Baychester lay-up. They were waiting for me (Cops) but I got away, Sorry Crane and Tice, they got arrested. After that I changed my name from Rex to REE and then to OPEL.

14) What writers from your generation or truly over looked in our history.
Riff 170, Chain 3, Noc 167, Kade, Tean, Schick, Chinomalo, Kindo, Hondo, Death, WASP, Billy 167, Hoy 56, 00 one, Padre 2, Derby, Hydra, Cliff 159, and Clyde.



15) When was the last time you hit the trains and why did you stop.
The last time was 1978, I quit to start a family. I found out about the whole Graff scene again by a co-worker by the name MEEK in 2002.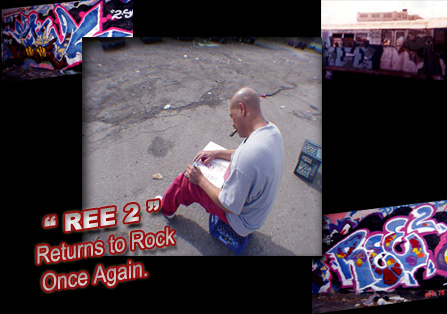 16) Would you have any closing words.
Thank you subway outlaws for letting me Ree- express myself...peace & joy to all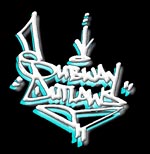 Should any one have any of REE's work or any of the members of the MTA crew please contact us MESSAGE@SUBWAYOUTLAWS.COM Photo credits go to REE and DURO.