Black books

STARTED : 1977

ALIAS : KAYARTIST

AREA : Queens, New York.

LINES HIT : RR's, M's. J's, LL's, 2's & 5's

WRITING GROUPS : TSS, NEWAVE, BYB, MAFIA, BTB.
______________________________________________________________________________________________________________________________________
I started writing in 1977 in Astoria Queens. Back then it was the RR line. I remember seeing DEAN BYB, DON ONE MAFIA, DS3, UPS2, FBI, GEAR BYB, SMOKE TKC (original prez) ROTO NCB, HATE 168, T59, AS 2 TBB, OE3, P13, so many. I saw all these tags and throw ups and I was fascinated because I was drawing allot when I was a kid. (still do) I remember seeing CAINE 1, TRACY 168, CHI-CHI 133, SKY 2, SON 1, PRO 1 all on the 7 line. I used to go to the MET games at Shea and YANKEE games in the Bronx. There I saw all the BLADE and COMET stuff. BAN2, MITCH 77, BLAST and FOCUS pieces.. all bugged out lettering and characters.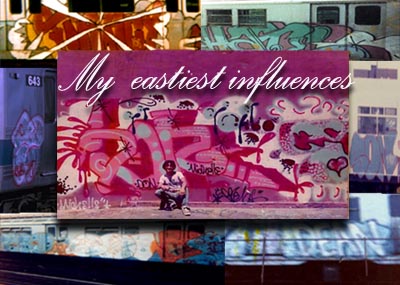 I started writing KROME ONE then I changed it to KR.ONE out of respect for the original KROME... KROME.100. I started hitting streets, buses, just tagging on the run. It was in 78,79 that I went to the M yard with SICK NICK, FOME ONE this kid TEX2 and CHI-CHI 133's little brother who was using his older bro's tag. After that day we'd go all the time. It was such a get over back then.. We never got raided there.. I would met UN ONE, NIF, KIK NSG, SIKO aka BAD TEK,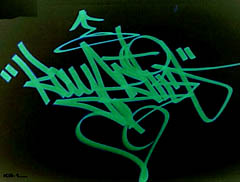 and this crazy kid RISCO and JOKA.2 there.
As far as influences...For tags its was guys like TEAM GO CLUB, ROTO NCB,T59, DEAN and DON 1..The pieces that influenced me were of course DONDI, guys like HATE 168, SON 1 & PRO, TRACY 168 and definitely DON 1....My main piecing partners were FOME ONE and SICK NICK.. I did a few window down whole cars , plenty of throw ups and insides with those dudes. We'd go to Long Island in FOME's car and just go crazy racking paint. These people had no idea what Graff was . We'd would be in and out of the store a couple of times without a hitch. I got busted once by Junction Blvd. on the 7 line, me and ROB 78 in Martins Paints.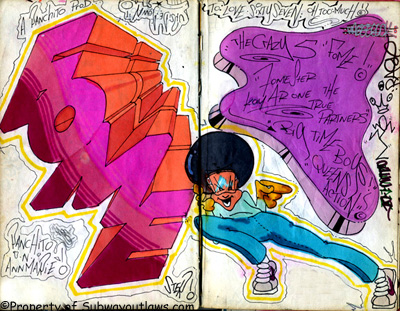 FOME, from the files of ©Subwayoutlaws
FOME showed me Charettes, a store by Art and Design H.S. They had all the dope KRYLON colors, Icy Grape, Catepillar Yellow, Hot Raspberry (nice).. I used to walk out of that store with anywhere from 10 to 15 cans without bags. FUZZONE showed me how to
| | |
| --- | --- |
| put cans in my socks! You had to walk out really quiet so the paint balls wouldn't rattle, Fun stuff! I was put down in BYB thru DEAN BYB... I met DEAN through my boy MACE. DEAN lived in Queens bridge at that time, he used to come by my neighborhood and smoke erb with us and talk about Graff for hours. I was sad to hear that he passed away. KB a.k.a KRAZY BOY put me down in THE SUPER SQUAD he was from my hood | |
pppppp

KB.TSS aka KRAZY BOY

Former king of the double R's.

KR throwie on the double R's.
also.. I went bombing with him several times ..he would hit all the 'Perm" spots cuz he was tall. Him, SMOKE TKC a.k.a. YE "DEATH FROM ABOVE" really killed the RR's back then. JACE, KS3, MACE, SN, ZAP3, KN all hit up TSS. SICK NICK and myself came up with BTB (BIG TIME BOYS) We did a few BIG TIME BOYS pieces...FOME was gettin up, I was gettin up. FOME introduced me to ERNI (PAZE) we'd hang out in the lunch room at A&D with him, DOZE, SEEN TC5. I knew LADY PINK from Astoria too. The KING SIZE, PARTY PAZE, MIDG, KR FOME whole car was done in the Esplanade tunnel lay up around Christmas time 1982. Y'know Henry the photographer never credited me for that piece, meanwhile I drew up the matching outlines for FOME and my piece...But whatever, those who knew.. knew.. those who did'nt , did'nt. I never saw that piece run. That first time I saw it was when the book came out.
| | |
| --- | --- |
| As seen in the book Subway art . | |
KR ONE : I did the out line for this whole car. The sad thing about this photo is with the windows buffed you can not appreciate the impact of this whole car.
Even with that, I think 1980 and 81 were my best years.. We'd "go up"a couple of times a month and I had a lot of pieces runnin on mainly the RR's and the M's.Due to some thieving mother fuckers that I knew almost all my photos are gone ..But I still have great memories of the days.. They were great days.. way before "regular people" knew what a tag or a piece meant (although a lot of them still dont know what a "floater" is.) I think the best piece I did was a K-Ar window down whole car with a Sophia block letter. Separating the K and the AR was a Howard the Duck.. it had a full cloud from end to end. That ran for about 2 years before it got buffed. FOME had a t2b whole car on the other side of the same car! That was done in the M yard in 81. It ran on the RR, M and J lines. I had many favorite colors...Jungle Green, Spanish Brown< Dunes Tan, Cascade Green ,Marlin Blue, Fed Green, Fed Purple all KRYLON and RUSTO...Bermuda Blue Red Devil was hot too. This new paint is dope too..Its like Design Markers, they have every shade of every color. The last time I hit a subway was those 5 t2b's in subway art with FOME and PAZE...But I have never stopped creating since then..I got into music and since have been half way around the world playing drums.Currently I'm jammin with "LORDZ OF BROOKLYN "and my own original project "SUPERVILLAIN"... Lately I've done pieces with TEAM, MACKIE, KAVES and I have a slew of original prints and canvases ,2 of which were on display at the NEW YORK CITY URBAN EXPERIENCE MUSEUM.. I'm gonna send you flicks of my stuff,....What we called "WRITING" became "GRAFFITI" a true art form with its own evolution and language. Something that started in NYC has become a world wide phenomena with corporations using the art to give their products "street credibility" but always remember where this art came from and who started what. Peace to those who came before us and a wealth of history for those who came after.I'm glad I grew up where and when I did . I witnessed and took part in this phenomena....remember that famous question,,,,"what do you write?"...........KR.ONE ! peace!
KR and BIONIC done in Queens New York.
Should any one have any photos of KR's work please contact us @ MESSAGES@SUBWAYOUTLAWS.COM