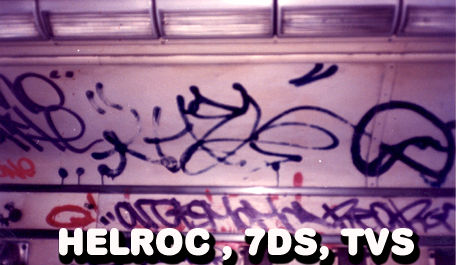 Started : 1978.
From : East N.Y. Brooklyn.
Main Lines : CC's , A's,
Writing Groups : 7DS, TVS, CIA.
*************************************************************
1)When did you start writing and how did you find your the name HEL.
.I stated writing in 1978, In bklyn East New York
I got my name from the East New York Squad & and from the BKLYN A team.. I was small only 4.5 and I always started fights with individuals larger than me to prove I was truly
hard core..
2) Who was the first writer's to show you the ropes when you were starting out and who were your inspirations.

THE FIRST WRITER TO SHOW ME GRAPH WAS CHULOROCK..
THEN THERE WERE VARIOUS Writers who inspired me .. DIKE TOP and SID TOP and BAN II for bombing..
SONIC and DEL for style and burners..
DURO & SOUND 2 for insides.. And KEN 007 for knowledge of all city yards, tunnels and layups.. AND MOST OF ALL
THE MAIN PROPS GO OUT TO LIL STAR 7DS FOR TAKING ME UNDER HIS WING AND TEACHING ME ALL DIFFERENT STYLES OF PIECING AND WRITTING YOU COULD SAY THE A TO Z OF GRAFFITI..
3) When was the first time you went bombing and with whom.
I lived only 3 blocks away from east new J yard..
I went with me DOC 2 CRIME 79..BID 2.. MEXICAN PG 3(RIP) AND SOME OTHER WRITERS THERE THAT WE ALL KNEW..
4) Could you tell us all the members of the 7DS crew as well as any other groups you were in when you were writing.

DUST 1, LIL STAR . KILO 1, HEL 2, SINKO 1, BURN 1, THOR 1,
THE CREW BECAME SO BIG WE COULDN'T KEEP TRACK OF ALL THE MEMBERS THAT WERE PUTTING IT UP..
I WROTE AND BOMBED WITH MANY CREWS: TBC,TPA,CIA,TC5,DOG,TSM,7UPS,SIS,TPC, AND MANY MORE SORRY FOR THOSE I MISSED..
MAINLY I WROTE FOR 7DS, ROC STEADY CREW AND TVS..

5).I FOCUSED MAINLY ON THE CC AND A LINE I WOULD ALSO
BOMB THE HEL OUT OF THE F LINE AND ENJOINED HITTING
THE RR, LL, J LINE AND ONCE AND AWHILE..
I WOULD HIT THE 2'sS AND 5s..
6). Did you have any wars or battles with other writers.

WRITERS I HAD WAR WITH.. I HAD NON STOP WAR WITH
MIN 1 AKA NE.. WE WERE BOTH SMALL GUYS BACK THEN AND WE HIT THE SAME PLACES GRANT A YARD NEW LOTS..SHEPSHEAD BAY CONEY ISLAND.. CREW I HAD WAR WITH I REALLY DIDN'T BUT MY CREW DID WITH TNS..OVER THE F LINE.. I KNEW EL 3(RIP) I HAD NO BEEF
WITH HIM NOR HE WITH I.. IT WAS BETWEEN EL AND DUST 1..

7).Do you have any great raid stories you can share with us.
.ONE NIGHT IM DOING A SILVER AND RED WILD STYLE HALF A CAR..
IN THE J YARD AND DOC 2 WAS DOING A DOC 2 WHOLE CAR WINDOW DOWN block buster AND I THINK DURO WAS DOING HiS NEWSBREAKER PIECE AND PG WAS DOING HIS PGISM ..PEO WAS THERE AND CRIME 79 AND BID AND MANY OTHER WRITERS TOO MANY ANY HOW..
THE YARD GOT LIT UP LIKE someone TURNED ON THE LIGHTS IN A STADIUM AND THEIR WERE HELICOPTERS EVERY WERE AND BOYS IN BLUE WITH DOGS EVERY WHERE..
DOC WENT TO KNELL DOWN AND GRAB THE THIRD RAIL BY MISTAKE..
it threw him across and he hit his head on the opposite
train and knocked him out for a moment.. his nails were black..i got him up and we jetted on the tracks on to the over head and we managed some how to escape and climb down to the street and laid low at my block.. till things cooled down we went back around 3:30 am and there was Duro finishing his piece we went right back to work and finished ours..
8) Did you ever king a train line back in your day and which lines were they.

.I KING THE CC FIRST BACK IN 82' MANY I WAS HAPPY AT THE SAME TIME MY PARTNER DOC 2 KING THE Js..WE FOUND OUT FROM GUYS LIKE DIKE TOP SID TOP AND DEL TF5 THAT WE WERE GETTING BIG.. THAT JUST FEED MY EGO AND I WENT OFF TO THE RACES ON THE As.. I RAN THE CC"s AND As FOR MANY YEARS TO COME..

9) Could you name all the writers you went hitting with.
DOC 2,PEO ,DURO ,FLINTOP, SOUND 2, SLEE, TN ,KENN 007, LIL STAR, YES MIN ONE, QUICK RTW, SACH, JS, KC ONE, PLUS ONE,
RON 1, RIST 1, BID 1 , SINKO DEMO TPA ,BOND 1 AND MANY MORE..
10) What is HELROC up to these days.

RIGHT NOW I HAVE BEEN TOO TIED UP WITH MY FORD NISSAN AND CHEVY STORE TO GO HITTING.. I DO HAVE ALMOST 200 CANS IN MY HOUSE AND I HAVE TURNED ONE OF THE BED ROOMS IN TO A ART STUDIO FOR ME TO START DOING PIECES AND I HAVE BEEN TALKING TO MY BROTHER PIPER, BOM5 AND DURO, KC AND FLIN ABOUT SOME
OTHER ACTIVITIES WHICH ARE SOON TO COME..

TO ME GRAPH IS IN MY BLOOD YOU CANT GET A TRANFUSSION AND BE CURED FROM IT.. I LOVE IT BREATH IT DREAM IT ..
WHEN I'M AT SOME FORD COMPANY MEETING YOU CAN ALWAYS CATCH ME TAGGING ON SOMETHING OR DOING SOME NEW PIECE..
JUST LIKE BREAKING AND B-BOY IT WILL BE HERE FOR EVER..
REMEMBER THEY SAID RAP WAS GOING TO FADE OUT TOO..

AND TO THE NEW WRITERS OUT THEIR I WILL TELL YOU I WAS TOLD
PRACTICE PRACTICE PRACTICE.. PEACE..

*THE ORGINAL HEL..HELSTEROC 7DS TVS ROC STEADY CRU..ENY SQ..