Black books

" Started : 1971 "

Area : Bronx , N.Y

Writing Groups : WAR, WANTED, SALSA, 3YB,

Alias : RATED X, AND.2, CHIP.56

Main lines : ALL CITY!
1) Who were the first writers you seen up in the early years.

I DO NOT REMEMBER THE FIRST WRITERS NAMES I SAW, BUT I CAN TELL YOU THE FIRST GUYS I
| | |
| --- | --- |
| | EVER SAW TAG THERE NAMES. FIRST THERE WAS LEE 163rd. ON THE 4 TRAIN AS WE WERE GOING TO SCHOOL AT DE WITT CLINTON, NEXT THERE WAS THIS GUY FROM BKLYN WHO WROTE TIGER SAY IN CENTRAL PARK AND LAST I SAW ACE 137 SPRAY ON A ROCK BY THE LAKE IN CENTRAL PARK DURING THE PUERTO RICAN DAY PARADE. |
2) When did you start and where were you from.

I STARTED BETWEEN 1971 AND 1972, AND I AM FROM THE JACKSON PROJECTS. AT 156th,. STREET IN THE SOUTH BRONX.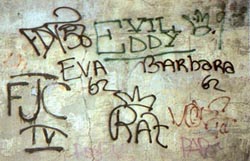 Early writers of the 1970's, FDT.56, EVIL EDDY, EVA.62 & BARBARA.62, FJC.4, KING RAT.
3) How did you find the name FDT.56 and did you write under other names.
| | |
| --- | --- |
| WELL MY INITIALS CAME FROM MY GIVING NAMES THAT MY PUERTO RICAN MOTHER AND CUBAN FATHER GAVE ME. THE OTHER NAMES I WROTE WERE RATED X 1, AND 2, CHIP 56 | |
4) Can you tell us about the first time you hit a train and who were you with.

I WAS WORKING FOR THE YOUTH CORP IN 1971 AND THEY TOOK US TO A PLAY AND I WROTE MY NAME ON THE SIDE PANEL IN BETWEEN CARS ON THE D TRAIN. BACK THEN YOU SAW VERY LITTLE NAMES ON THAT LINE.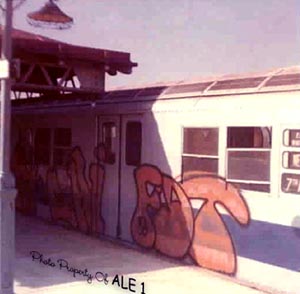 CHI ~CHI 133 and FDT 56. 1974
5) What writing groups were you in and did you help to form any of them.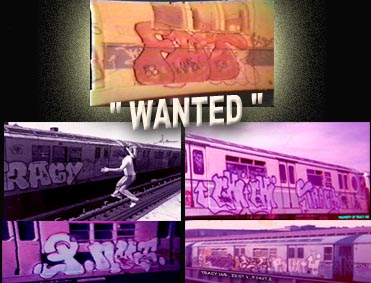 FIRST I WAS WITH WAR, THEN THE WORDS. THIS GUY BILLY JACK 140 ASK ME TO PUT DOWN HIS GROUP AND HE LIVE NEAR MY COUSIN MOUSEY 56 WHEN HE LIVED ON SHEPARD AVE IN EAST NEW YORK. THEN THERE WAS WANTED, WHAT A GROUP OF GREAT WRITERS. TRACEY168,CHI-CHI,SONNY107,KING.2,P-NUT2 ,LIL FLAME. CLYDE,ZEST1 AND MANY MORE. WE HAD THE BADDEST CLUBHOUSE IN CHI-CHI133'S BUILDING. IT WAS AT WOODCREST AVE. THEN THERE WAS THE 3 YARDS BOYS. CLIFF 159 AND TE 163 ASK THE 56 BOYS AND CLYDE AND RISK 1 TO JOIN THE GROUP. THEN CAME SALSA. , THAT GROUP WAS FORM FROM 5 GOOD FRIENDS. MYSELF, KROME 100, GAME 5,PAX. AND SCHICK 1. TWO GUYS FROM THE BRONX AND THREE FROM MANHATTAN.
6) You wrote with LSD3 / LSD.om in the 1970's.. can you tell us about your relationship with him and your first meeting.
I DO NOT REMEMBER HOW WE MET, ALL I CAN SAY IS THAT WE USE TO SEE HIS NAME ALL OVER
| | |
| --- | --- |
| | GRAND CONCOURSE IN THE BRONX. LITTLE DID WE KNOW HE LIVED ON THE CONCOURSE ON 156th. STREET. WE USE TO LOVE GOING UP TO HIS HOUSE AND TALK STORIES AND LOOK AT HIS BOOKS AND GET HIGH. WE ONLY WROTE A FEW TIMES TOGETHER BUT HOY 56 WROTE WITH HIM MORE THAN I. ALL I CAN SAY IS THAT LSD 3 WILL ALWAYS BE GOOD FRIENDS WITH THE 56 BOYS. |
7) Would you have any raid stories you could tell us about.

I REMEMBER THE FIRST TIME I WENT TO KINGSTON, THAT IS WHERE EVERYBODY DID TOP TO BOTTOMS AT. THE COPS CAME OUT OF NOWHERE AND THE ONLY WAY WE GOT OUT OF THERE WAS THE ESCAPE HATCH THAT LED TO THE STREET. IN THOSE DAYS THE LAY-UP WAS IN THE DAY TIME. SO YOU COULD IMAGINE WHAT IT LOOK LIKE TO SEE A BUNCH OF DIRTY GUY COMING FROM OUT ON TO THE SIDE WALK. YOU WOULD MEET THE GUYS FROM BKLYN THERE, DO YOUR PIECES WITH THEM AND AFTER IT WAS OVER YOU MADE NEVER SEE THEM AGAIN. THAT HAPPEN TO ME A LOT.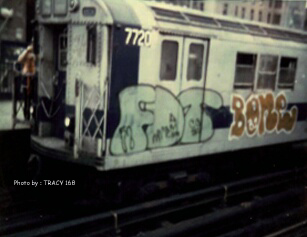 8) What are all the train lines you hit over the years and what yard or lay up did you like the most.
THE TRAINS I HIT THE MOST WAS THE 1'sTHRU 7's AND THE A'B,C,CC,D,E,EE,F,,GG, AND REST OF THE OTHER LETTERS. AND LETS NOT FORGET THE 3rd AVE EL. THAT WAS A LINE FOR OLD TIME LEGENDS. AND FOR YARDS.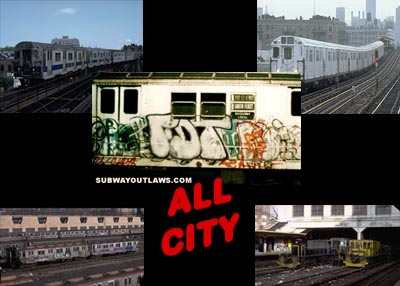 4 YARD, NEW LOTS. A YARD AT EUCLAUD, THE ONE TUNNEL, ONE YARD UPTOWN, BAY CHESTER LAY-UP. THE RR LAY-UP IN ASTORIA , THE 7 YARD, THE MYRTLE.AVE TUNNEL FOR THE LL'S. THE BOWERY LAY-UPS AND MANY MORE THAT I CAN'T REMEMBER
9) Can you tell us all the writers you wrote with in your day and who was your best partner.

HAD A LOT OF GREAT PARTNERS. THERE WAS HOY56, TINE 1 AND OUR BOY YAZ 56. FOR BUSES THERE WAS CLYDE, HE SHOW ME EVERYTHING ABOUT THEM, HE WAS THE KING. NOW FOR
| | |
| --- | --- |
| | OTHERS, THERE WAS KROME 100, MOUSEY 56 aka M.56, LSD 3, GAME 5, PAX, WASP 1, SCHICK. 1, TRACY 168, SONNY 107, KING 2, OZ 109, EDDIE 80, BLUEBEARD 183, PNUT.2 CHI - CHI.133, CLIFF 159, BE 3, TE 163, SLADE 3, KID 56 aka K.56, CHI- CHI 133, BIN 5, BOC, LUIS 176, PRESTO 1, LARRY 152, SHAFT 007, FLINT..., BAD-BOO 148, DEN,1, RISK 1, APS 167 COCO 174, JOEY TPA, SLY 159, IN aka KILL.3, FID 6, MAX, CLYDE, POONI 1, SUKI, KITU, KIVU, PRIEST 167,STICK 1,BILLY 167, SPIN, LSD.3, THE KID 1, MITCH 77, DICE 198, RENO 170, MASTER KOOL 1, LEFTY, YVONNE 53, DIANE 53, B.ONE, KATHY 97, CLYDE, COCO 144,SAVE THE WORKER, CHECKER 170, STAG161,DEMO TPA, DEAD LEG 167, PHASE 2 , |
BAMA aka AMRL, BAM-BOO 1, MICO, ERIC 700 aka DEAL AND MANY MORE. PLEASE FORGIVE ME IF I FORGOT YOU. AS YOU GET OLDER YOU CAN FORGET ALOT.
10) Have you ever been busted for writing and if so how did it hapen.

I BEEN BUST A FEW TIMES BUT I DO NOT FEEL LIKE TALKING ABOUT IT. ALL I CAN SAY IS THAT IT HAS PREVENT ME FROM GETTING ANY CITY CIVIL JOBS.
11) What writers do you feel are truly over looked in our history.

WELL HOY56 AND YAZ56 GETS OVER LOOK WHEN EVER THEY MENTION MY NAME. WHAT
| | |
| --- | --- |
| | PEOPLE DON'T KNOW IS THAT YAZ56 WAS MY FIRST PARTNER, THEN CAME TINE 1, AND FINALLY HOY56,. KROME 100 GETS OVER LOOK TOO, BECAUSE THAT MAN COULD DRAW HIS ASS OFF, IN HIS DAYS HE WAS ONE OF THE BEST. I MISS YOU BRO. |
12)
Did you have any cross out wars with others.

NEVER. I HAD TOO MANY FRIENDS FOR THAT. AND IN MY OLD BLOCK TUFF GUY WOULD NEVER STAND FOR THAT.
13) When was the last time you hit the trains and why.

I SAW A CLEAN DING-DONG AND I HAD TO HAVE IT. IT WAS IN 1980 AND I WENT TO SUTPHIN BLVD
| | |
| --- | --- |
| TO GET IT BUT VINNY BEAT ME TO IT, HE SAW I HIT NEXT TO HIM AND THAT WAS THE LAST TIME I EVER HIT THE OUTSIDE OF A TRAIN AGAIN. | |
14) would you have any closing words.

I AM JUST SORRY THAT I COULD NEVER DRAW. BUT I DID THINGS THAT WILL GO DOWN IN HISTORY FOR BEING A REAL OLD TIME SUBWAY KILLER. AND TO ALL THE GUYS I EVER WROTE WITH, WE DID HAVE SOME GREAT TIMES. AND THE ONES THAT PASS AWAY WE WILL ALWAYS MISS YOU.
I WOULD LIKE TO THANK GIL , BOM5 AND THE SUBWAY OUTLAWS SITE FOR TELLING ABOUT MY PAST.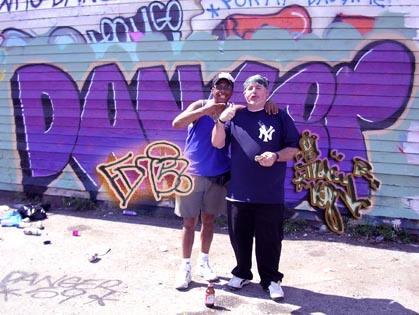 ~ Should any one have any of FDT's work please contact Message@Subwayoutlaws.com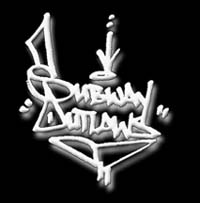 Photo credits go to TRACY.168, B~1, ROGER, JUICE. NSA and BOM.005.