EZ0

Started : Early 1980's

Area : Queens / Mahattan

Main lines : E's, F's, GG's, N's

Writing Groups : TPA , TC , TDS , CUK , 3YB , VIC
_______________________________________________________________________________________________
When did you start writing and where?

I started writing in late 78, tagging around school, black books and in the
neighborhood but I didn't step into a yard until winter 79
how did you find the name Ezo?

I went through a bunch of names like bronze and sprite, Ezo came from the word esoterically meaning
| | |
| --- | --- |
| mysterious but it was to long, in those days it was either 4 letter or 3 letter names so I shortened it. it stuck for the simple reason that it was just absolutely different from everybody else, which is the way I fancy myself, different. it wasn't a name until I made it a name. in a lot of ways it is like an alter ego a reinvention of myself. | |
Can you tell us who were the biggest writers in the area where you lived?, as well as who was the biggest on the trains?

In queens back when I first started noticing graffiti back in junior high, years before I even thought of picking up a can . it was these guys SNAP 5, JAKE and AHA who had tags in all the back streets of my old neighborhood of corona. to this day I don't know who the hell these people were. but they definitely helped along
| | |
| --- | --- |
| | the process in my curiosity of the why's and how's of graffiti. when I started riding trains to the city form school I really became intrigued with the outside bombing and how it was accomplished, who did I |
notice in those days? SON & PRO on the 7's JESTER 1, DEAN, IZ THE WIZ , FORCE 5, VADE TPA, JOEY & DEMO TPA on the E's and F's as well as NA, TOR of The writing group the Union, EX~1 etc. on the rare occasions I went on the IRT's usually the 6 train at 59th on the way to the N train it was BLADE,
| | |
| --- | --- |
| COMET, a LEE car and 00.1 ( aka CADD ) and occasionally sometimes a fucked up SEEN throwie with the bulging bloody eyeballs. in the stations you saw tags from TREE 127, EARL ( aka POET ), JESUS 2, UNCLE JOHN 178, CAPTAIN AMERICA, LSD3, FDT 56, CLYDE, CLIFF 159 to BAN2 who was virtually everywhere even on my block, as well as BLADE and COMET, if you went to | |
Astoria it was KB and the super squad on the double RR's. in the streets of Astoria on every overpass and statue JOHNNY "B" and CHISY. as for strange it would have to be my boy 3MI (rip) TPA , super cool but most def Super Strange.


Can you tell us about your first experience hitting the trains and where?

First time hitting trains was of course motioning like everybody else, I'd have to say going to my
| | |
| --- | --- |
| boys house in the Bronx to play baseball on the D line. first time in a yard bombing was with CONAN - PIC on the 7 line at the yard at Shea Stadium over winter vacation in 79, at night it was colder than a witches tit. | |

Who were your first writing partners starting out and could you tell us all the writers you have wrote with thru the years?
Writers you have wrote with thru out the years. my first partners tagging around as a kid in H.S were this cat PASE from Harlem and this other cat who changed his name so many times I forgot all of
| | |
| --- | --- |
| | them. when I started bombing seriously in 81-82 my main writing cronies were BOBBY 1, SPICER, SHARK67, BREAK, QUARTZ / BLACK TVS we had our own crew it was called CUT UP KIDDS, CUK for short which in time became CUKILLZ. I also bombed with CK from the WR crew from time to time, up at the D yard on Bedford we'd run into KEN 007 and smash shit, HALTER and FRENER from SYB as well, JOEY and 3mi tpa and SPLIT city as well but that |
was more drug and booze debauchery, later on doing walls it was more of a loose than confederacy crew mentality with SHARP, PART, SHAKER179, AONE ,. freights with ZEPHYR, KLASS, SMITH, LADY PINK. During My time of running the Hall of Fame I painted with pretty much everybody who counted from STAN 153 to the TATSCRU. and finally a good 3 year run of pissing everybody off from vandal squad to writers to family with my boy PEAK VIC, CHAIN 3 to SEEN to SKEME to DEL .



What line did you focus on the most and can you tell us all the train lines you hit over those years?
E

's and F's and the locals being the GG's and N's branching out later to the LL's at Halsey Street, D's, B's, A's, CC's at the Bedford yard , sometimes we'd travel
to bay ridge and smash the lay-ups all the way to 86 St.

What are all the writing groups you belong to?

I just push CUKILLZ ( THE CUT UP KIDDS ) , TPA ( THE PUBLIC ANIMALS ) and TC ( THE CREW ) but I've been affiliated with other crews as well.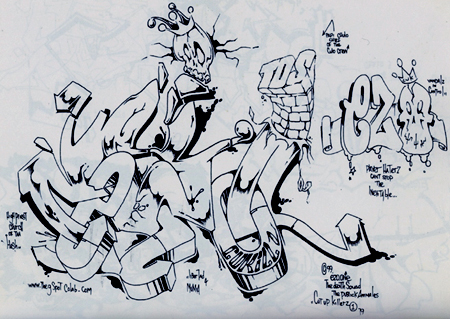 EZO shows off his artistic skill

Would you have any racking adventures you can share with us?

Nothing extra ordinary, besides the usual six in the back and one in each
sock variety, I ran out of a few joints with an arm full of paint once or
twice because the opportunity presented itself. in the old days I stole only when
I was going to bomb or piece and I took only what was needed for the mission at
the time.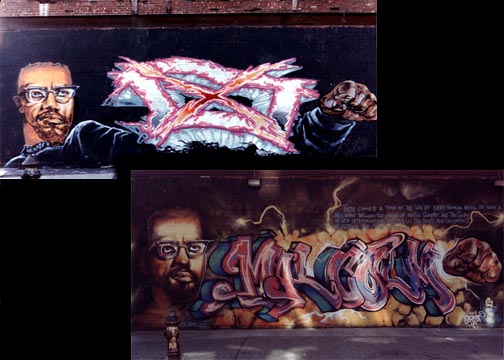 MALCOLM X . Done by EZO

In the late 70's and early 80's the fight for space on the subway trains where hard to come by, where you ever involved in any writing WAR's in your time?
I would have to say yes on a number of occasions but I think those occasions are probably common knowledge. they occur due to either crew or partner affiliations or some numb nut just trying to hold the balls.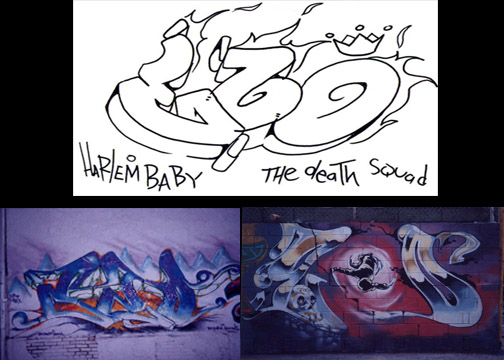 What writers do you feel are truly over looked in history?

Overlooked I'd have to say MIN the guy put in allot of work. SONIC 002
| | |
| --- | --- |
| | another cat who put in work with style, MITCH 77, FUZZ & FLAME , CAINE1 he did the first whole train and was the original jacket painting master , SON & PRO, DEAN ( aka LE ) , OE3, BABY 168 ..had a cool throw up, this dude 2BAD from queens who |
| | |
| --- | --- |
| went to the 6's who also wrote BOUNCE and would would hit the 7's with the original BRIM, he rocked a little some thing for a minute. there's a lot more I'm sure I'll remember. late-------------------------------ropoo. | |


You were involved in one of the biggest subway raids in history with writers like DEMO , CER , PW ...etc. Could you tell us about it?

Well, what can I add to what is already public knowledge, we tried to pull
off a whole train, 8 to 10 whole cars I believe it was, we came close... but
the New York city police department had other plans for us at the time.



When was the last time you hit the trains and why?

Its been a minute, the reason I did it is the reason I usually do impulsive
things from time to time , to see if I can, it's a test.




You and PEAK went on an ALL CITY street rampage, could you tell us a little bit about it?

Like I said before it all comes down to if you can still pull it off, a test but it's also a hell of allot of fun going
from bomber to piecer to bomber again, going full circle to a degree. those that saw it and dug it understood and rooted us on , those that got upset and hated well what can I say our names were the last thing they thought of at night and the first thing they thought of in the morning, either way mission accomplished.

.......................

>>>>> EZO and PEAK takes New York City by storm.
Where do you see your art going in the future?

That's a daunting question for any artist, my hopes are to continue on my quest of expression, be it the Spray can, Music, my Paintings or business in general and stay true to the spirit of my endeavors. salute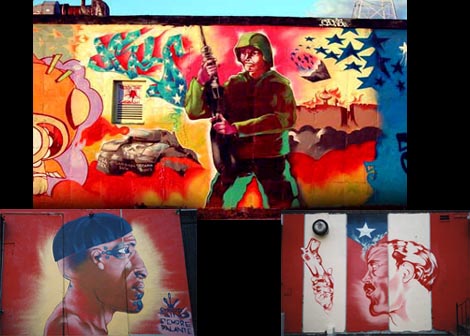 __________________________________________________________________________________________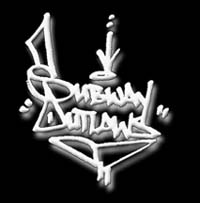 Photo credits go to .. EZO, BLADE and PC KID. For more on the artistic works of EZO 1, check out www.TheGspot.com. Should any one have any photos of EZO's earlier work, please contact Message@Subwayoutlaws.com