* Started : 1973 *

Area : Astoria Queens, New York

Aliases : THE DON, PARTY 167, SER, MR.NASTY, DI

Writing Groups : M.A.F.I.A, SSB, GGW, BYB, TOP, MG, TDS

Lines Hit : RR's - King 76-77 ) , M's, N's, J's, LL's, EE's, 2's, 6's
The BMT RR's, from 1973 to 1977 was the home line of a style burning writer named DON ONE...His clique was MAFIA..."Masters Administration For Incredible Artists "Storming out of the L.I.C. Astoria section of Queens, NYC.....DON 1 proceeded to blow minds with whole

cars, burners, throw ups and insides. Kinging the RR insides with his burning tagging style with names such as"DON ONE"," THE DON ", "DI" "Don Incredible", "PARTY 167" "SER" "MR.NASTY" that were just as stylish as his pieces As part of SSB "Soul Stoned Bros", BYB "Bad Yard Boys", TOP "The Odd Partners", and TFA "The Fantastic Artists", MG "Mission Graffiti" and his own MAFIA "Masters Administration For Incredible Artists" .. DON ONE quickly took the lead en route to kinging the RR's as well as searing his MAFIA style onto the L's J's and M's.... Melting colors and bending styles never before seen on those BMT lines at the time.

DON found a second home in the tunnels of the Bowery in lower Manhattan, layups in Brooklyn and Queens where most of his work was done usually on solo bombing missions DON ONE and his MAFIA crew of DIME 139, JOT, BOMB 1, GEAR, INCA, and CHINO MALO took style to a new level. BILLY 167 would bring DON to the IRT's where they, along with BUTCH 2 TFP did T2B's right off stations. A member of N.O.G.A. "Nation Of Graffiti Artists" His legendary crew would live on after DON's retirement with such writers as NOC 167, FUZZ 1, FED 2 and ZEPHYR.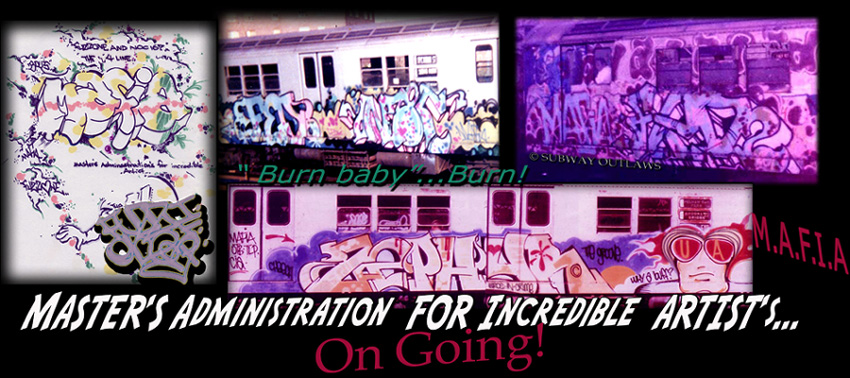 As a kid growing up in the same neighborhood I was amazed at the style of his pieces, the thick 3d's he would add to his burners, the way little arrows would just pop out of letters, replacing the letter "O" with a cartoon version of himself (usually smoking a joint) some of the earliest usage of Vaughn Bode characters, the fresh hot Krylons and Rusto he'd use and that ripping tag style that he had with uni's, mini's and Marvey markers.



At the time I had no idea that we lived a little over a mile away from each other...I always thought he was from Brooklyn or the Bronx and that maybe DEAN BYB brought him around tthe RR's It wasn't
| | |
| --- | --- |
| l | till a few years into my own writing career that the DON ONE MAFIA puzzle starting fitting together and almost another 25 years before we would actually meet. DON ONE was a king, a bomber, a style master and an all around great artist. A BMT killer, completely underrated, and almost forgotten until now. His personal and graffiti histories, both riveting and legendary will be brought out in the near future. Look for it......... much respect to DON ONE and his MAFIA crew. |
l

___________________________________________________________________________________________

DON ONE... MAFIA....A King From Queens..........Look for the book on DON ONE..MAFIA by BMT writer KR.ONE....coming soon.


___________________________________________________________________________________________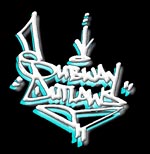 Look for the book soon. " It will blow your mind". Photo credits go to DON 1, KR 1, SAR 1 and DIME 139. Should any one have any of DON 1's work, please contact us at MESSAGE@SUBWAYOUTLAWS.COM.