( " WHO's THE KING BABY! " )

Started : 1971

Area : Bronx, New York

Main Lines : 4, 3, 2 and 5's

Writing Groups : Ex:Vandals, 3YB, Wanted, Salsa, and The Rebels
~~~~~~~~~~~~~~~~~~~~~~~~~~~~~~~~~~~~~~~~~~~
1) Where were you from and what got you into writing?
I grew up in the Bronx on 155th street, between Melrose Avenue and Elton Avenue. I did not like being in gangs and wanted to get away from it all, so I started writing. It was a good way to stay out of trouble. I just hang out on my corner and started tagging the buses that stopped there.

2) Who were some of the first names you saw getting up, when you first started writing?
I really did not see many people bombing anything. However, I did see JOE 182 on a bus in my neighborhood.

3) How did you come up with the name CLYDE?
When I was in 7th grade, at the Sacred Heart school on 168th Street and Nelson Avenue, in the Bronx, I was a class clown. When the teacher called my name to answer a question, I would say my name was CLYDE, not Joseph. During lunch time, we would play tag and round up on the block, when the girls in my class would say, " there goes CLYDE", as I ran by. That is how it all really began.

4) Who were your first writing partners?
At the Sacred Heart school we he had a hot bed of future famous writers. Myself, my brother LEFTY, FJC 4 and his brother RC 162 (who passed away), SANTOS 108, TRACY 168, CHI~CHI 133, BOBBY 172, CHRIS 170 and his brother BONANZA, all wrote together, from time to time.

5) When was the first time you hit the trains? What did it look like when entering?
In 1972, I went up to the lay-up on 225th Street, on the 2 line and did my first piece. But before that in 1971, I motion hit the lay-ups on the 6-line with the Sacred Heart crew, hitting front panels from Elder Avenue to Park Chester and Castle Hill to Middletown Road. I also hit the 3rd Avenue "el" when it stopped at 156th Street. I would jump right up on the tracks and just bomb it.

6) The buses were just as big as the subways in the 1970's, and you were king of them all. Could you tell us the places you caught them and some of your adventures while hitting them?
My main spot, was my street corner at 155th street and Melrose Avenue, which had 3 bus lines passing through. Also, the 167th Street Grand Concourse underpass was where you could hit the roof line and the bus drivers side of the bus, without detection from the driver. I used to go to Clinton High School where I rode the school special and bombed it, inside and out. The driver was a friend of mine who always let me ride with him on the BX 55X, which later replaced the 3rd Avenue "el".
7) Can you tell us some of the writing groups you were in?
Ex/Vandals, The Rebels, 3-Yard Boys, Salsa and Wanted

8) Would you have any chase stories to share with us?
Me and FDT 56 got chased out of Pitkin Yard after we bombed the A-yard. We were running on the driveway and a car was behind us, when we got to the wall we got over it and was gone. A bunch of us (me, FDT 45, and HOY 56) were in the Ghost Yard (the 251st Yard) when we found two painted cars just done. We bombed it and got chased. We ran towards the back fence where we just got over it, almost getting caught. One night at the 3 yard, myself, FDT 56 and others just jumped in to the yard when the cops popped out and told us to stop. We all jumped back over the fence, where we saw a car speeding towards us in the park, we all ran and luckily got away.

9) Who were all the writers you wrote with over the years?
There are really too many to mention. Here are just a few that I can think of at the moment: LEFTY, FDT 56, HOY 56, FJC 4, HRJ 2, YAZ 56, LSD 3, TRACY 168, CHI CHI 133, SANTOS 108, RC 162, BOBBY 172, TINE, BONANZA, CHRIS 170, LIONEL 168, STAY HIGH 149, JOHNNY 800, DEAD LEG 167, PHASE 2, P-NUT 2, SONNY 107, OZ 109, KROME 100, PEL, KING 2, RIFF 170, SWEET DUKE 161, PRIEST 167, WASP 1, RISK 1, DEN and FAME.

A Few Of My Old Writing Partners
10) Did you ever go to any yards or lay-ups outside of the Bronx (like Queens, Brooklyn or Manhattan)? What were they like?
The 7-line at Shea Stadium, in Queens had a yard that was an easy get-over for me. The 3 yard at 148 Street and Lenox in Manhattan was a placed where I liked bombing. The A-Yard or the Pitkin Yard was a place that was easy to get into. Another place I went bombing was the City Hall and Canal Street lay-ups where the EE trains were stored. I would kill those every time I went there.
11) Do you have any racking stories?
I used to get my paint, very easily at Morases Hardware on 153rd Street and Melrose Avenue. Any Martin Paints was also an easy get over. Pearl Paints on Canal Street was another great place to rack. I remember the hardware stores on Canal Street would have the paint outside the stores.

12) What writers do you feel are very over looked in the Graffiti history?
Now..? All of us old timers, who were all there at the beginning, who started bombing to get up and had their tags around the city. Also those who showed these guys after us the way of Graffiti. Without us, there would be none of them.
13) What lines do you feel you were king of, as well as what bus lines? Why?
I bombed the Broadway insides at the 3 yard, which also ran on the 1 line. I also had many insides on the 4, 2 and 5 lines. I can say I was king on those insides, as well as a few others I can not remember. All buses out of the Kingsbridge depot which had many routes in the Bronx and some in Manhattan.

14) When did you stop writing and why?
Who stopped? I'm still out there, king of the 7-line, 1-line and 3-line with tags scratched into the window and various train tunnels though out the subway system.
15) Would you have any closing words?
I was not an artist, just a writer who had his own style in script and tagged everything in sight. I was a writer who got my tag around and bombed. At the time, I was into buses, trains, parks in the Bronx ( and Central Park in Manhattan), garbage trucks, Post Office trucks and anything else that got around.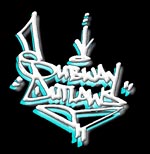 Should anyone have any of CLYDE's work, please contact us at MESSAGE@SUBWAYOUTLAWS.COM. Interview conducted by FDT56, editing done by Claudia. Photo credits go to: Yvonne 53, Blade 1, REE 2, Tracy 168 and KROOK TBK.