Black books

AZ ONE

STARTED :EARLY '70'S

ALIAS : DMA.174

ARIA : BRONX

WRITING GROUPS : PHK, UA, TED INC, MW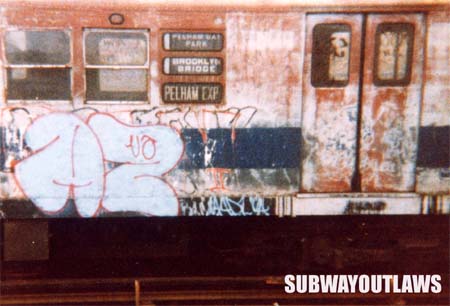 1.) WHEN AND WHERE DID YOU START WRITING?

1972 going into 1973. I grew up on E. 182nd on Southern Blvd in the Bronx. I took my first tag in an alleyway on the window of the garbage room.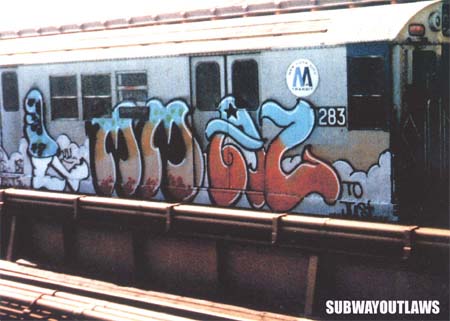 2.) WHAT WERE THE FIRST NAMES YOU'VE SEEN BACK THEN?
MAD HAT 1, GUMPY 1, MIKEL-182, RIFF-RAFF1, SUPER SLICK 181, ULTRA KOOL 182.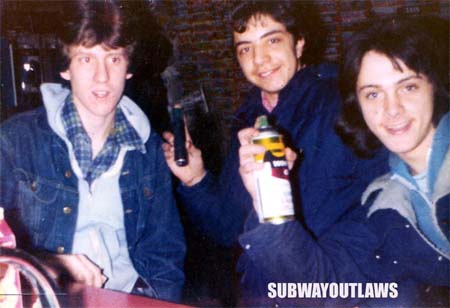 3.) WHAT WAS YOUR FIRST EXPERIENCE WRITING ON THE TRAIN?
I took my first tag in the insides of the train when I first entered Junior HS in the fall of 1974. It was Wire 170 that got me into tagging the insides. I was scared at first but got the hang of it after a few times.
4.) HOW DID YOU COME UP WITH YOUR NAME?
I came up with AZ1 in late 1977 from Aztec from the go club and before that I wrote DMA 174.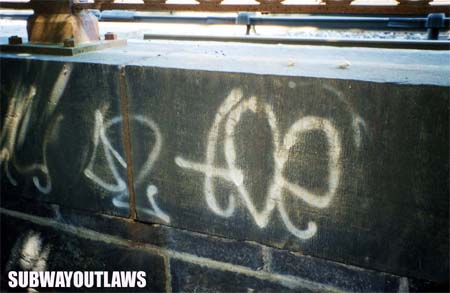 5.) WHO WAS YOUR FIRST WRITING PARTNER AND WHAT LINES WERE YOU HITTING?
Wire 170 was my first partner when I first started tagging in the insides on the 2-line.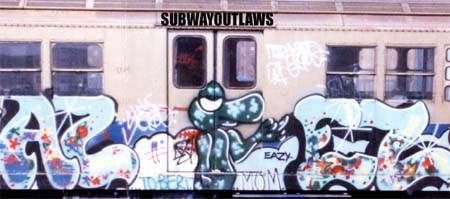 6.) WHAT WAS THE FIRST CREW YOU WERE IN?
P.H.K. (Party Hardy Killers)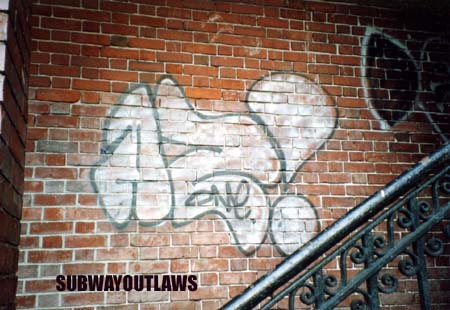 7.) HOW DID THE CREW STARTED ANDWHO WAS THE MEMEBERS?
I got down with P.H.K. from Ped5 and Smily 149 when he was writing Glade Phk At that time that was in the Fall of 1975 I just started 8th grade. There were also other members that was tagging the buses back then like Beaver1 and Poet.
8.) WHAT YARDS OR LAY-UPS DID YOU LIKE THE BEST?

On the 5 Line Esplanade Tunnel.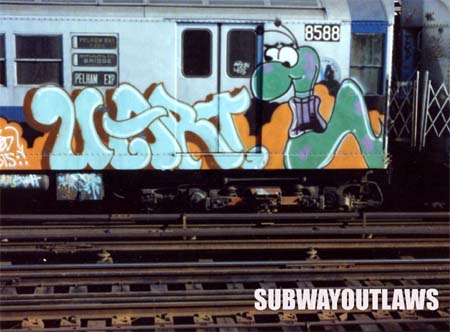 9.) WHO WAS YOUR FAVORITE PARTNERS?
Toe 1
10.) NAME ALL THE WRITERS YOU WENT HITTING WITH?

TOE 1 , COKE 1, RECK OTB, SEEN UA, STONED 1, DUSTER UA, EASY UA, DIE UA, DOCK 1, PED 5, SMILEY 149, UFO, PACK, JIM 170, LONE 2, BOM005, BANE, FADE, FED 1 TCP, WIRE 170, KRISTY, IMPORT, BADE, BERT, JOE, COMET 1, ME 3, RUSH, CHARLES A.K.A - MW VA, CHA, BC, KAT II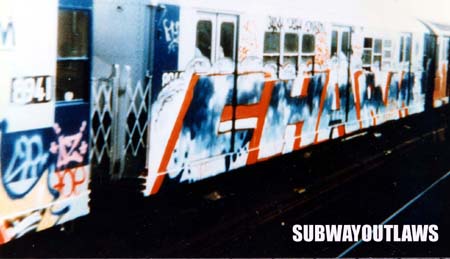 11.) EVER BEEN RAIDED?

YES. Back in late 1978, at the outskirts of Esplanade Station by Gennels Towers, there was about six of us tagging the insides and some lady was yelling from the towers to get the hell out before I call the cops. We did not pay her any mind, we left to walk to the street. A car pulled up and two big guys with army jackets jumped out. I yelled DT's, everybody scattered. I ran thru somebody's backyard and the people in the house came out. I told them I was getting chased by a mugger. They let me stay in their house and even fed me. When I finally went home, I found out that Toe1, and my younger brother Dock 1 got caught with the markers and a can of flo master ink.

12.) DID YOU HAVE ANY BEEF WITH WRITERS? AND WHY?

NO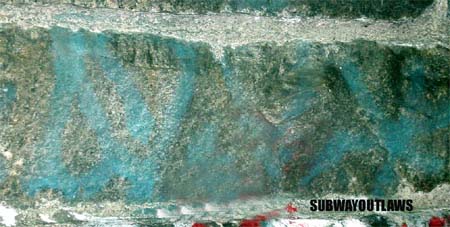 13.) WHO DO YOU FEEL IS THE MOST UNDERRATED WRITERS?

BILLY 167, AJAX I, PALO AKA COST 170 T.F.P. But I have to say Billy 167 was the Real Style Master of his Time.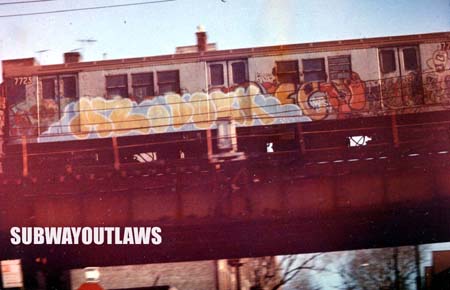 14.) WHEN WAS THE LAST TIME YOU WENT WRITING?

My last train was 1987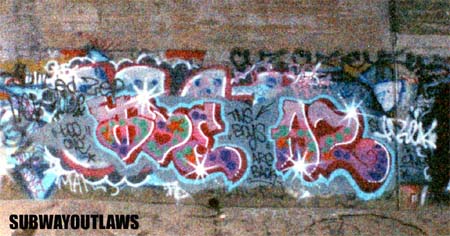 15.) ANY LAST COMMENTS?

Thanks to Bom5 and Subway Outlaws for letting me express myself for the old days.