RIFF 170 ..." STYLE - MASTER ."

_______________________________
IRIFF 170's place in the history of the subway writing movement is almost unprecedented.. He holds two very distinct honors. What most people know of RIFF is that he was famous for being a chameleon, RIFF's the guy that other writer's point to and say - " I don't know if I ever saw a RIFF piece, I saw a kick ass CONAN piece with cracks in it, I saw this mad DOVE 2 "top to bottom" with that little worm charecter; didn't he do those FLIP pieces with the 3-D on top? How crazy were those? I remember the CASH and WORM pieces, I remember an R that lead into an improvised profile; it coulda' said RIFF". At a time when getting up was at a premium and your name is what got you fame RIFF wasn't interested in that, he wanted to play with new names. He wanted to take comic logos and pop imagery and weave it into his work, and he wanted to do it in a high contrast proffessional way. Speaking of names, CHAIN 3 sites RIFF's wordplay as the blueprint for the Death Squad. TDS, like the IND's, wanted the best style masters, they also wanted names that flowed and worked together - this was a true extension of RIFF's work. RIFF 170 is one of the five most important figures in the subway movement. He rarely gives interviews and Subway Outlaws is thrilled to be able to give you the real story in RIFF's own words!

NEW ARTWORK FROM RIFF 170... 7 / 14 / 08
_____________________________________
<![if !supportLineBreakNewLine]>
.......... Early Style Originator <![endif]>

BLADE : Riff 170 is one of the most underrated old timers from the early 70's. A talented artist with the most amazing paint control, that help change the look of most pieces seen on the subways during that period. Many old school writers forget that Riff did tones of Riff pieces but he also carried others names like WORM 161, DOVE 2, CONAN plus so many others. His respect as an artist is way over due.
VAMM : I remember Riff being one of the most talented artist on the trains. He always carried a comic book in his back pocket and claimed to be the best, which he pretty much was.

PART : Riff's works would help lurched " THE DEATH SQUAD ". In 1976-1977, we started doing WARD–WARM-WORM - cars that were inspired by the famous SOLID–BOT–DON–RIFF done Riff. that always had a ring to it and I feel it was one of the greatest cars in history. Many members of the group took on some of his aliases such as WORM, 2BAD, BOY and so on. At times, I used the name WORM2, which got me into trouble with RIFF170, who also wrote WORM before me. I had a quick run- in with him at 149th Street and Grand Concourse. He commented on it, but after that we got along fine.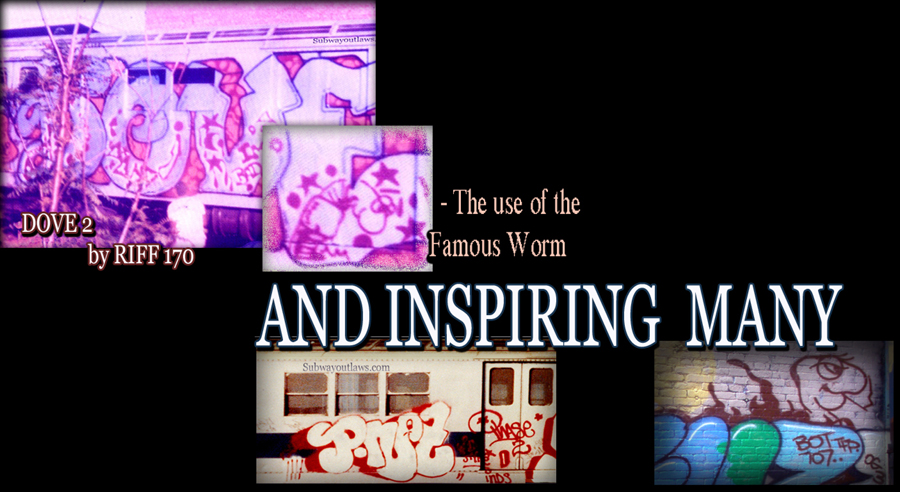 DASH :
The most imaginative writer of my generation. Many writers would look forward to seeing one of his many master pieces.
FUZZONE : Riff is the reason I rocked names like IVORY 2, ROMEO, LOVEMACHINE, LORD 138, DJ 2, SOR 707, PRINCE, SLURP, GIGOLO and the list goes on. My most memorable Riff piece was one he did in the 4 yards, which lasted for years. The dude rocked!

ARTISTIC MASTERS CONTINUE RIFF'S AEROSOL LEGACY

Many writers would continue many of RIFF 170's innovating approaches to the aerosol alphabet, such as movement of letters, breaks, cracking letters, interconnecting arrows, whips, interconnecting stars in the letters as well as his signature color schemes. Kool-Aid 131, Noc 167, Part 1, Chain 3, Slave and Dondi as well as writing groups like TDS, TMT, MTA, TSF, CIA, would be some of the notable writers and groups to carry out many of Riffs approach to lettering styles. Many of these writers would develop their own style and start a cultural phenomenon that would grow world wide.