Where in New York were you from and when did you start writing.
I grew up in Bensonhurst Brooklyn which at the time for me was not the most inspiring place for an out of place introverted artist. When I was excepted to the High School of Art & Design Graf was just beginning to explode. I focused in it by late 1971.
How did you get the name PISTOL.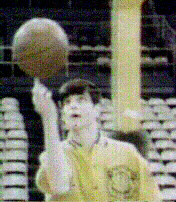 At the time the most flamboyant and popular basketball player in the NBA was this white cat named Pete Maravich. His nick name was PISTOL cause of how amazing he was on the court. I adapted it as my tag and name and wanted to do with Graf what he did with the basketball.
Who were the first writers to inspire you in the early days.
Those who initially caught my eye were FLINT... Stay High 149, Tracy 168, Spin, P-Haze 168, Super Kool 223, and of course Taki 183.
When was the first time you hit the trains and who were you with.
The first time was by myself and I hit up the line of stations on the F train.
Who were your first writing partners.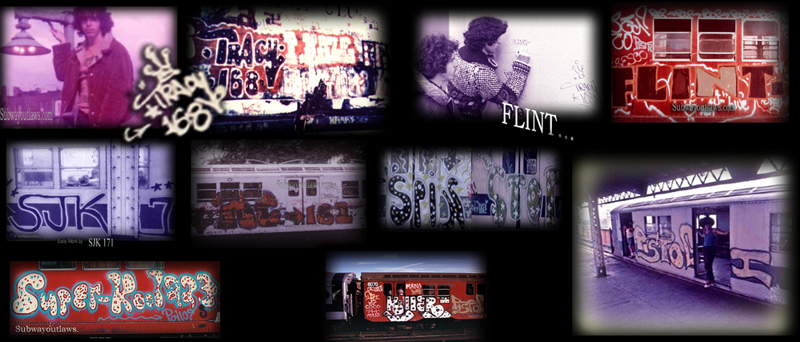 In Art & Design Tracy 168 was a big influence in showing me the ropes. He introduced me to the IND's at Bedford park yard in the Bronx where I met RC. 162 whom I wrote with early on. Also in the school were Flint who became a friend from that point on and Stop 700, Super Mug, SJK 171 and others, however my actual writing partners were from Brooklyn who included Killer 1, Poco 1, Mico, Savage, Flint, Chopper, K55 ( Bronx writer) and Stop 700.
Could you tell us all the subway lines you hit.
Every letter and number that existed but it was the F's, D's, B's, M's and RR's, and in a small scale the 4 and 5 (which was where I did the first 3-D) that I was prominent on.
You were a member of the writing group THE REBELS that was started by LSD, could you tell us about your first meeting with him and how you became a member of the group.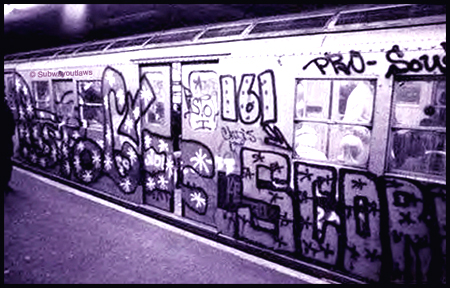 It was in 72 and FLINT... introduced me to him. It was just mutual respect and I just went with it. In those days if you got up and were respected you could be in all the groups if someone already in one introduced you.
Many others credit you for doing one of the earliest 3-D piece. How did you come up for the idea for the piece and how many did you do.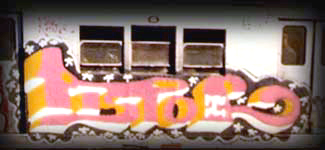 I had the idea in my head in 72 but never acted on it. The actual imputus could have been something as silly as a cereal box or watching Batman when the POWs and ZAPs came up in a fighting scene but I started seriously putting it to plan in early 73. I was busted for stealing paint and if I got caught again I would go to some kind of reform school and be expelled from A & D. It was a Saturday morning in early March and I had the colors and look in my head and went by myself to the Bronx on the 5 train line where the lay-up was below the surface but not underground. I was taking a huge risk but I had to do it cause someone else eventually would have. Believe it or not I did not practice this on paper. I did it all from my head. I guess it was a flash of improvisational brilliance but it turned out to be the last piece I did on a subway train. I also invented the flag which was my name done up like the colors and design of the American flag. When I did that on the F and the IRT, a week later every ethnic flag was represented.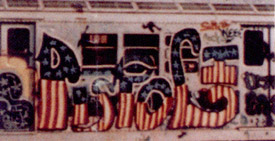 Can you tell us all the writing groups you were in.
I was in The Rebels, DEAD ( Dedicated writers ) and various others at one time on another. One of the groups I started was the Brooklyn Writers corner which was the last bench on the Manhattan bound Atlantic Ave station. Writers would show up in the afternoon and hang out to watch the show go by and exchange ideas and show off the work they did the night before. It got hot with the cops after a while and eventually faded. But everyone at one time or another came here. It was like a speakeasy for Graf.
What were some of your favorite colors to use when painting the trains, plus what was your favorite brand of spray paint.
Every color that ever came out of a can or marker. Like any old school master will tell you: RED " mutha fucken" DEVIL!!!!!!!!!!!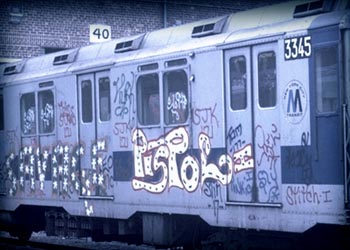 Who were all the writers you painted with.
The list goes from A to Z. I had the privilege of writing with the greatest innovators who wrote from 1970 till I stopped hitting the trains in 73.
When was the last time you painted the trains and why did you stop.
The 3-D on the 5 train was the last time I painted a train but like Flint says in his interview I never stopped nor will I ever. It's like telling Miles to put down his trumpet, could you imagine, No. You put it down when you leave this world and who knows what happens after.
Any closing words.
My only regret is that I did hundreds of Pieces in a 3 1/2 year period and never photographed them. So I thank any one who may have. Would love to see them. Also special thanks to Tracy 168 who was instrumental in showing me the ropes in the beginning and for photographing the 3-D. Rock on Bro. And to Blade who has become a good friend and has my back covered.