| | |
| --- | --- |
| During the early 1970s I engrossed myself into getting my Spiritual alter ego's message seen. Writing became therapeutic to me it became an out let to vent frustrations and anger. I began to realize more the toll that the drugs, crime, and poverty of the South Bronx was having on | |
| | |
| --- | --- |
| | people. I began to go on major missions racking up on paint, markers and ink and tagging "Staff-161-, there was a small crew from the hood which included A.J 161., DYNAMITE 161, TOPAZ 1, DICE1, KING KOOL 156, SUPER SLICK 156 and SKIP 1. I decided that it was imperative that we organize, during that period the Panthers, Young Lords, N.O., B.L.A were some of the militant organizations around besides others, one of the common soul brother symbols seen often was the "Power fist", so I came up with the name "THE EBONY DUKES", Ebony refers to the color "Black" and Dukes refers to the slang term meaning "Fists"! I established a creed that stated we were about getting our voices heard, unifying the people, expressing our artistic abilities and setting new trends for style. I didn't want to appear to be another street outlaw gang, so I made official membership cards instead of colors. Later some Brooklyn writers came up with the wearing of colors; some of the first Brooklyn Ebony Dukes were SPIN, BOP and KRANE who were the major writers for that borough back then. Many of the Brooklyn writers were members of the outlaw groups, Tomahawks and Jolly Stompers, when I first noticed the Brooklyn writers wearing colors, I was a little apprehensive and thought it was an entirely different organization, I was surprised to learn it was the Dukes that |
I established but went to the point of making colors outlaw style. I had not intended

THE EBONY DUKES

to be such a group, but the colors were nice, so I conceded. One of the requirements of membership in

TED INC.

was that you write it whenever you wrote your tag the Brooklyn Dukes were certainly fulfilling that obligation. I used to go the Atlantic Ave and new lots lay-ups once in a while and I would see

THE EBONY DUKES

and

TED INC.

tagged all over! Most of the major writers in all five boroughs became EBONY DUKES, basically the only prerequisite was that you be visible and a major artist sponsor you. So once that your tag was seen usually some one would sponsor you.
| | |
| --- | --- |
| | |
What eventually occurred was I lost track of the membership so you had many writers who were writing for the organization but never received a membership card. Phase II was the leader of the

EX

Vandals

in the Bronx in the early 70's, that's why I also wrote WAR" (Writers Are Respected!) as well as

EX

Vandals

. There were some Queens cats that were bombing the Double R's, E's and F's trains that were even down with us. Many thought once "I stopped writing that I passed T.E.D Incorporated on to some one else. " Absolutely not!" How could I do something like that? SUPER SLICK 156 was and still is the vice president, AJ 161 would have to been third in command... and you had the other original dukes from the hood like TOPAZ 1, DYNAMITE 161 and others. SMILY 149
| | |
| --- | --- |
| I know, he was respected and I know he was down, but he wasn't a part of the original team. What I no doubt did, in which I use to do often, was authorize a writer to be a lead Duke in his hood and establish a crew of Dukes in his hood meaning he could bring writers in to T.E.D based on the by laws and the original members giving them the thumbs up. A lead Duke was some what like a president of a division of one of the street gangs of the period. SMILY 149 was a lead Duke. That honor was given to him by TOPAZ 1. I was always on the move and would be at a different writers corner frequently: 149th street Grand Concourse, Atlantic Ave., 180th street, Queens borough Plaza, Clinton High School, West 4th street, what happened with the organization is that most of the major leadership came out the scene, Super Slick-156- who was the Vice president got a prison bid as well as A. J. I didn't get a major prison bid till later but the scene changed dramatically and even though there was a whole new generation of writers that came about (wild style!) most of the Old School originators moved on into the Hip-Hop scene, and other things. Most included their writing experiences as a major part of their lives that they'll never forget, and some just want to forget! The fact is if you were there and your tag got around, you made history! Art is just creative self-express and there's various ways to express one self. Graffiti tags as it | |
| | |
| --- | --- |
| was done by the originators of the movement in the 1970s, was a cultural calligraphy that expressed the views of the youth who experienced the turbulence of the 1960s Civil Rights and Hippie movements. The originators were mainly of the baby boomers generation, all had that spiritual connection we all felt we had this calling! Even when I was a kid in foster care my thing was writing Poetry in school and you can see it manifested in some of my old tags. All of the Ebony Dukes knew that we were living our lives to a rhythmic beat; and in all actuality, your heartbeat is just that; your pulse of life! And our lyrics to the beat of life was our own special calligraphy: This is why the Hip-Hop era proceeded us! | |
| | |
| --- | --- |
| " City wide Subway king. " | |
| | |
| --- | --- |
| There wasn't a train yard or lay-up in the city that I didn't visit at some point in my career. I was like a nomad going from place to place, every place I went, I met new and different writer, and would bring them into THE EBONY DUKES, I also did suburban missions Yonkers, Mount | |
| | |
| --- | --- |
| | Vernon, Long Island, Jersey and Freight trains, buses. A.J., Super Slick 156, Skip 1, Topaz, Dynamite would go to the bus yard on Tremont Ave. hit delivery trucks …… anything with a writing surface. The number 7- lay ups were me and A.J's main targets as well as some of the Original Dukes. The double R's and J's were trains line we took over as well, Those subway lines reminded me of the I.R.T 2 & 5 lines which ran along tracks elevated through specific neighborhoods where you could get a lot of visibility. A.J and myself would take the 7 train to the last stop just to rack up at the Martin Paint store and other spots out there along Queens blvd. By the time we got to Main street Flushing we had shopping bags full of paint from 3 or 4 specific stops we made along the way, finished off on Main street and head back to the Bronx with with bags of paint bombing the insides of trains on our way back. We are both very familiar even with Astoria because our mom was working out there on Steinway blvd. She was working for some elderly Jewish |
| | |
| --- | --- |
| | |
| | |
| --- | --- |
| women, my mom use to spend days living in taking care of that women. She would have me and A.J come out there so she could give us money and groceries to take home to look after our younger brothers and sisters. Of cause on the way there and back the double R trains got "Bombed!" Not only that we noticed the Martin Paints and other stores on Steinway blvd, of cause half their paint stock were missing before they got hip to the two Black kids that use to come around every so often. Because of the large amount of paint A. J. and me accumulated, we go into the habit of being extravagant and as a result we created what came to be known as the "TOP TO BOTTOM MASTER PIECE", especially A. J. he wasn't that artistic, so what he did to compensate was go to extremes. I firmly believe that ALL JIVE-161- that covered the entire side of a car covering the windows from end to end in multi colors was the main "MONSTER PIECE". That brought about " TOP TO BOTTOM ERA". I'm sure of that…. All we did was watch the trains go by on my block and nobody ever saw anything like it, I followed with a blinding bright white, with black trim monstrosity that consumed the whole car. I was at 149th street writers corner when this beast rolled in people's jaw dropped transit workers were devastated. The only thing is that these monster pieces were short lived being that they covered all the windows, they created a security risk and would be taken out of service and cleaned immediately, this brought about major crack down as well …… they were my FAVORITES! | |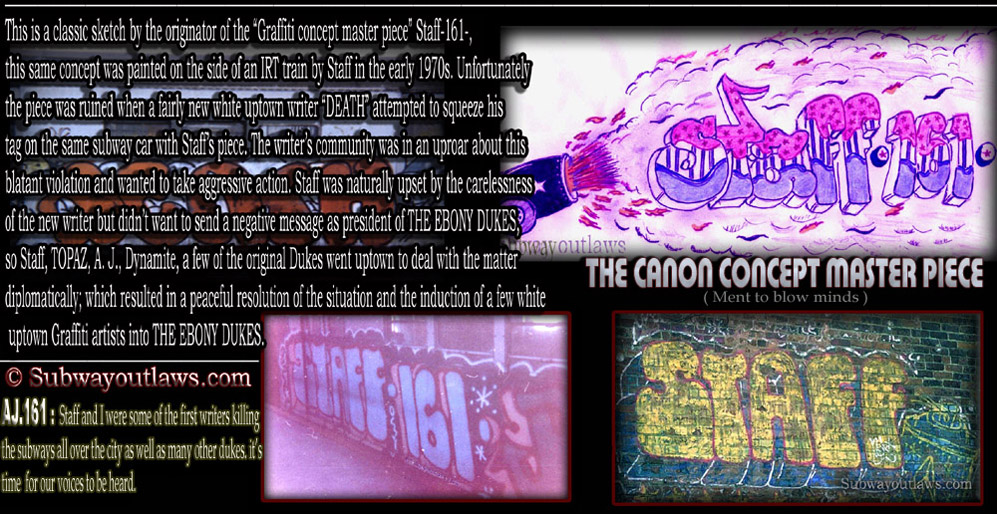 | | |
| --- | --- |
| THE CANON PIECE: Most of my work was for shock value, which was a way to grasp the public's attention, there was always the subliminal message involved in any of my "concept work"… this one was actually entitled "THE BIG BANG THEORY"……….the message was: I'm blowing up! this concept was painted on the side of an IRT train by in the early 1970s. Unfortunately the piece was ruined when a fairly new white uptown writer "DEATH" attempted to squeeze his tag on the same subway car with Staff's piece. The writer's community was in an uproar about this blatant violation and wanted to take aggressive action. I was naturally upset by the carelessness of the new writer but didn't want to send a negative message as president of THE EBONY DUKES, so TOPAZ, ALL JIVE.161, Dynamite, a few of the original Dukes went uptown to | |
| | |
| --- | --- |
| pp | |
deal with the matter diplomatically; which resulted in a peaceful resolution of the situation and the induction of a few white uptown Graffiti artists into

THE EBONY DUKES.

DEATH VIOLATING THE PIECE: That was an unfortunate situation, what was eventually done was not what most of the community wanted to do about the incident. Most of the community had wanted to ban him from the major lines by putting a hit out on him (catch him at the lay-ups and beat him down and hot 110 his tags). What I eventually decided to do was more diplomatic we went to see what his excuse was. Basically he explained it something he did accidentally while it was laid up. Anyway, we let it slide; we brought him and his crew, Crachee, Vamm into the DUKES as part of our uptown connection and becoming the first white faces in the DUKES. What I'm sure occurred was most of time people want to squeeze into your limelight when they see you doing big things (WOW! look at that let me get my name next to it!) but when you try to squeeze your way in you wind up messing things up! Just find your own train, get your own limelight, there was enough for everybody.
| | |
| --- | --- |
| | |
| | |
| --- | --- |
| This is one of the first, if not first major concept that I painted on my favorite line of attack the IRT numbers 2 and 5 lines. The piece entitled: "The Shadow of Death" has a grim reaper character that I got from the colors of the "Reapers" a street gang in his South Bronx neighborhood. The over all concept was based on a portion of the 23rd PSALM that reads: "Yea, though I walk through the valley of the shadow of death, I will fear no evil" The South Bronx neighborhood named Fort Apache where me and my brother A. J. grew up was a grim reaper piece depicts my experience of being surrounded by this grim reality but yet surviving through it shining. His tag came from the other portion of the 23rd PSALM that reads: "For thou art with me; thy rod and thy staff they comfort me." Staff –161- went on to create other major concept master pieces using my other aliases Mr. ED 161 and Corky –161-. Staff's tags and pieces were on every transit live in the city, the numbers 1, 2, 3, 4, 5, 6, 7, and the A, C, D, E, F, J, RR, 3RD Ave. EL., Staff and A. J. were the first originators of the huge "MONSTER PIECES" (top to bottom) that covered the entire subway car. | |
| | |
| --- | --- |
| | |
| | |
| --- | --- |
| THE GANG SCENE OF THE 70's : Many of the outlaw street gangs of my time idolized the popular western on television during the period. If you notice closely you could see it in the way they dressed, the wide brim hats, the high boots and spurs and holster. In the Bronx as well as other parts of New York city every neighborhood had a gang but the biggest were groups like THE SAVAGE SKULLS, BLACK SPADE, THE GHETTO BROTHERS, THE REAPERS, THE SAVAGE NOMADS, THE GOLDEN GINNIES, in Brooklyn THE TOMAHAWKS and THE JOLLY STUMPERS. | |