I started writing on the streets, of the upper west side of Manhattan and the south west part of Harlem, mainly hitting trucks, vans and buses, the M 7s, M 11s, M 20s, M 101s, and M 104s bus line. in 1970 then in 1971 I started hitting trains station platforms and then subway trains with my boys and First two writing partners SEGGI -1- 719 aka SWEET SOULFUL SEGGI and JOHNNY 719 ( may he rest in peace ). The first place we went to hit trains was the 1 tunnel on 145 St. and B - way, I'll be honest with you, it was a little scary the first couple of times. But exciting at the same time, it was different from hitting the streets, busses, trucks, and vans when I started in 1970. My God mother gave me this French nick name and my family couldn't say it right, so they called me Moosey. But I didn't like it, ( I guess you could see why ). Anyway I dropped the y and added the 106, Because that was the street I lived on. I also put up M-106, the original Z-A-R since '73, and CHULO. I also put up DEATH - 1- 108 for a short time. But the name sounded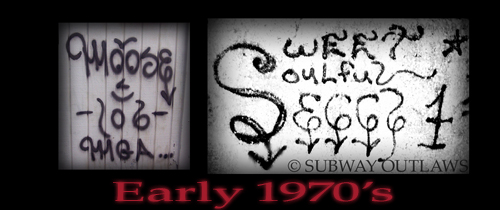 creepy, so I stopped writing it. Back in the early days the lingo was a little different, tags were called hits, pieces were called masterpieces. We put up a big tag with a fat cap, put a outline around it, filled it in, put some stars and some poke a dots in it and maybe a cloud and that was a piece. A throw-up was called a fill-in; we just didn't put so many on one car. And we didn't have them floating on the top panels of the trains, like IN and the guys stated doing in late 74 and late '70s as well as the '80s. Bombing was when we put up a bunch of tags (hits) on or in one car, maybe 50 or a 100, it could be more or less, we also called wallpapering.
When I was a kid, I liked to write on everything, like most kids did, but I never grow out of it. Then when I was in the sixth grade, I started to notice the graffiti on the walls. Gang names, political shit, local writers from around my way, that I looked up to. Guys like RAMY 105, PICO 105 SALOR 109 and SAINT 107, they made it into Faith of Graffiti with a tags. Then there was COOL CLIFF 120, CLANCY 120, HILT 505, BAD BOB 60 and TREE 127, I would see them up on the busses and that inspired me get up to start hitting the buses just as much as they did. The earliest writings were done just like we learned in grammar school. But by 71 to early 72 the way you wrote your name started getting fancy in Manhattan due to influences from the Bronx and Brooklyn writers. So I followed suit and changed my tagging style. LEE 163, STAY HIGH 149, LA-ZAR and PHASE 2 were some responsible for the evolutionary change in hitting up your name.

It's hard to remember every writer writer that got around in the beginning, But the biggiest names that stood out in the early days were CAY 161, ACE 137, JUNIOR 161, TAKI 183, JOE 182, POLLO 136, ZAP 136, CRAZY CROSS 136, JOE 136, POT 136, SATAN 136, CC-10, PAPO 184 ( Rest In Peace ), PILLO 137, SNAKE 1 & STITCH 1, YANKEE 135, MAD DOG 117, COLA 188, FRANK 207, MIKE 207, THE BOSS 1, JEC ( Star) 1, TUROK 161, TOM 177, RICO 1, SNAKE 131 & his brother BLADE 131, YAQUE 135, JAY 135, CORKY 170, RA 184, TINY 165, 7-UP ( the original from Broadway ), HILTER 2, JR 2, SPY 1-77, SMOKEY 1, STAG 161, MOUSEY 89, CHICO 1, JOSE 102, COOL CLIFF 120, CLANCY 120, HILT 505, BAD BOB 60, TREE 127, PETE 1, TAN 144, SJK 171, CO-CO 144, CAT 87, JAMES 1 & 2, JAMES 125, SKY 3, KING RAT 1, EVIL EDDIE 1, SAINT 107, TOP CAT 126, T-REX 131, FREDDY 173, SPADE 131, JOKER 1 ( The original), JOINT 1, SLIP 1, COCA 82, RAMY 105, PICO 105, SALIOR 109, SANTANA 204, SLICK 1 ( the original ) SPAN 102, SPIC 54, LA MAFIA 105, ASTRO 108, DOCTOR 105, BOZO 105 aka LIL BOZO, MANNY 104, SODA 1, BJ 61, LIL MAN 1, CANO 1, SWEET SOULFUL SEGGI or S- 719 ( May he Rest In Peace ), JOHNNY 1- 719 aka J - 719, PIPER 1, ROSS 1, JACE 2, ROME 150, JESTER 1, STAR 3, NEHI 161, MOSES 147, B-ONE, APOLLO 07, MAFIA 1, RICAN 619, JOCKEY 1 , AGEE 170, ACID 1, SPANKY 132, JOEY 139,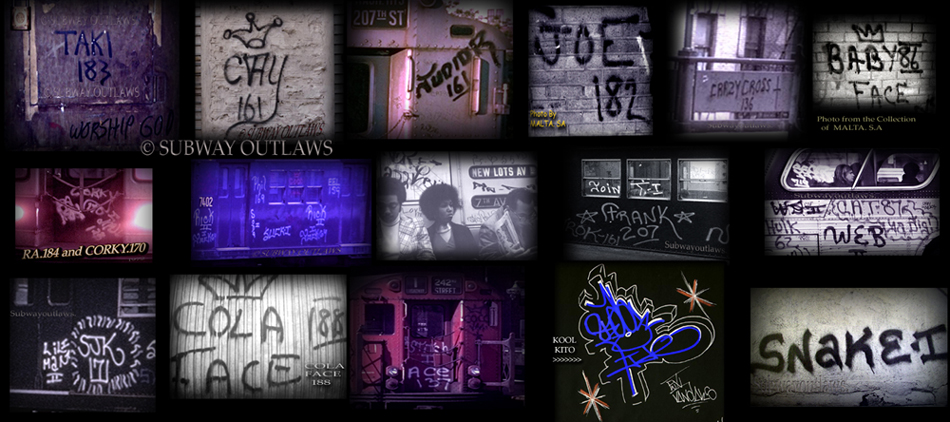 LEE 163, SUPER KOOL 223, PHASE 2, SLY 2, BUG 170, STAY HIGH 149, DEAD LEG 167, EL MARKO 174, HULK 62, CREEPER 167, TABU 1, KOOL KEVIN 1, LEAP 1, BONANZA, CHRIS 170, RAY - B 954, STATIC 1, SKIP 1, MR TIBS 171, HRJ 2, IRON MIKE, EDDIE 181, STAFF 161, AJ 161, EVA 62 and BARBARA 62, MICHELLE 62, KELLY 62, CHARMIN 65, ULTRA KOOL, TRACY 168, LIONEL 168 aka RIP 1, LIL FLAME, RIFF 170, CHECKER 170, JAPAN 1, PRIEST 167, CLIFF 159, CHARMIN 65, LSD 3, CLYDE, FDT 56, HOY 56, YAZ 56, TINE 1, EDDIE 80, FRESCO 1, HONDO 1, MALO 125, LIL KOOL BREEZ, IZZY 16, LIL HAWK 149, TURK 62, LADE 131, LAVA 1 & 2, KOOL BREEZ, COMET 1, TCB, DINO NOD, LA-ZAR, SPIN, SUPER STRUT, NOL, FLINT... FOR THOSE WHO DARE, FLINT 707, DIZZY, BOP BOP, KOOL KITO, SCOOTER 1 and so many more.

The insides are very over looked there were writers with neat and very beautiful tag styles . I think I was more effective on the insides, then on the outsides. Shit I think I was very effective on the insides. Other writers that come to mind that were hitting the insides, starting with the 70's writers were TAN 144, CAY 161, EL MARKO 174, FDT 56, CLYDE, SPAN 103, STAY HIGH 149 aka VOICE OF THE GHETTO, ACE 137, COCO 144, THE BOSS 161, SPIN 1, YAZ 56, HOY 56, SET 149, SKY 3, CRAZY CROSS 136, JOE 182, AJ 161, KROME 100, OZ 109, OLE aka BLUE BEARD 183, JESTER, DEAN, ROGER, DON1, Then you had other guys like FED 2, TEAN, TEAM , BAN 2, ZEPHYR, KID 56, M 56, MITCH 77, EN 005, IZ THE WIZ, MAX 183, DONDI, DURO, KIST, BS 119, G-MAN , RUB 5, SIKO , KIK, OE 3, P.13, SEEN TC-5 ,CUSTOM 2, BETE, SKEME, AGENT, CHRIS 217, STRIKE, and so many others. If I forgot any one I'm sorry .
My experiences in the early '70s... well I could probably write a small book, with all the stories I have from that area. I had some crazy experiences back then, some good some bad. We did some wild and crazy things back then. Besides writing and racking up paint, a lot of us would hitch and surf the sides, backs and tops of the trains. We would play chicken or daredevil.
We would ride the top of the trains, running and jumping from car to car, while the trains were in motion, on the elevated stations. We would jump down between cars, just before the train went back into the tunnel. We would hitch the sides of the trains by holding and standing on to the doors. We rode them to the end of the station and jump off just before the train went back in the tunnel. We also road the backs of the trains, It was crazy, stupid and dangerous. At any time one of us could be killed, or seriously injured and that's just what happened one-day.



We would make bets, on who could run and jump more cars, with out falling off, before the train went back in the tunnel. And who could hitch the sides, the longest before it got to the end of the station. We would bet for paint, markers, money, weed, beer, cigarettes etc. One day a bunch of us were surfing and jumping trains, from 116th Street to 137th Street in Broadway, going back and fourth. There was this guy I never meet before. I think he called his self Mase, Mace or Maze, something like that? I can't remember exactly, It was so long ago. I didn't remember seeing him up at the time and I thought he was a toy, but a couple of the guys, said they Knew him and they seen his tag up. Anyway they told him he could hang out; we were now at 125th Street going into 137th Street. There were a bunch of us surfing and jumping cars, including him. As we got closer to the tunnel, we started jumping down between the cars and all of a sudden. I hear a few guys yelling, hurry up get down, lay down, jump we're going into the tunnel, you're not going to make it! They were frantic and in a state of panic, yelling and screaming from the top of their lungs. Then there was a big loud thump, a bang, a smash, I knew instantly what had happened, the writers and the passengers were now running to the front of the train. Everyone was screaming and yelling in panic "Stop the train! Stop the train!" The people were going crazy. Some were saying "Someone fell or jumped off the train, or in between the cars!"

By the time they stopped the train, part of it was already in the station and part was in the tunnel and the doors opened up. I took off and got out of there before the cops came. As I got out of the station, I could see and hear the cops and emergency service vehicles
| | |
| --- | --- |
| | coming. I walked from 137th Street to 106th Street. I went home and locked myself in my room and tried to sleep. But I was up all night. I remember felling guilty that I didn't stick around, to see if it was one of my home boys. I also prayed for whoever it might be and their family. I can recall one day a bunch of us writers were at 155th Street train station. We all decided to bomb the whole station. A couple of guys put up some pieces, two older white guys popped up. One of them had a few cameras. One in his hand and two strapped to his shoulders. He started taking pictures and wanted to talk and interview some of us. No one knew him and we didn't trust any of them, so we said nothing. We thought they might be a undercover cops or a rats ( snitches ) or maybe the was trying to set us up. One of them said he was Norman Mailer and that he was a writer and a photographer and he and some friends, that were writing a book on graffiti. We didn't believe him and his name meant nothing to us at the time, So we all broke out. Who would have known that, that day would become one of my best experiences as a writer. About one or two years later, after I stopped writing, in the early '70s this book came out about graffiti. It was called The Faith Graffiti and it was written by this guy Norman Mailer. It was the first book written about graffiti and there were a couple of tags of mine in the book. |