(((((((((((((((((

__________________________________________________
Started : 1970's
Area : South Bronx New York
Alias : K56, KILLER 56
Writing Groups : TKA, CIA, TPA, PIC
Lines Hit : 4's, 1's, 3's, 2's, 5's, 6's, 7's, A's, CC's, D's, E & F's, RR's __________________________________
I am from the south Bronx, 156th street between Courtland and park avenue. ( Andrew Jackson Projects ) I no longer reside at the mentioned location. Please
| | |
| --- | --- |
| | note that the Bronx lives in my heart, I am a product of the Boggie Down! Graffiti was brought to my house by my oldest brother FDT 56. That's how I became interested . The number 56 became a house hold name back in the early 70's. My best friend and cousin MOUSEY even took on the legendary 56 logo. The earliest writers I looked up to, beside my brother... there were so many, but here are a list of few and if I left anyone out during the mentioned era, I apologize. FDT 56, LSD 3, HOY 56, YAZ 56, TINE 1, TRACY 168, IN, CLIFF 159, P-NUT 2, KING 2, KROME 100, WASP 1, ( The whole 12 O'CLOCK CREW ), RAT 1, MITCH 77, NOC 167, REE 2, CHAIN 3 ( the whole TMT crew ) , LEE and the FABULOUS FIVE, Also crews like ... THE 3 YARD BOYS & THE DEATH SQUAD, Etc. The name KID 56 was a suggestion from a partner of mine, say, around 1975 ( I was 10 years old ). My first choice was lefty, for obvious reasons. I started tagging in my neighborhood projects, which the tenants |
did not like. So we had to tag fast and keep moving. I was always the last one to be done and my boys always had to wait for me, which they did not like doing ( honor amongst thieves, type thing ). Being that I was the youngest and the smallest,

My boy figured it out. Quote: That dam lefty tag is too long for you to handle. Why don't you tag KID! And of course, That was the koolest suggestion I ever heard. My Brother was well respected in the game at this time , so of course to establish my respect I took on the 56 logo. And like my cousin taking the short cut
| | |
| --- | --- |
| from MOUSEY 56 to M.56. I joined in and went from KID 56 to K56. The first lay-up I hit was on the 4-line the MT.EDEN lay-up. Hitting lay-ups was never an easy task. Always had to duck when a passing train came by. And you needed a key to get the insides. So sharing the bedroom in a cramped apartment for 8 with the famous FDT 56, I had access to his keys. At that time I had already became good friends with younger Brother of LSD 3. Who was known as APS 167 ( may he rest in peace.) So together we plotted to go out one night on our own and do our own thing. Successful we were. We bombed the 4 line lay up one week night as soon it was got dark. The following morning when those trains pulled out for the morning rush | |
hour, that was the beginning of an urban legend. I can't recall feeling any fear at that time. I was totally focused on getting exposure and respect from my peers, ( and
| | |
| --- | --- |
| | that I did! ) APS 167 was my first writing partner but he did not last long. More like a one night stand, I really can not consider him a partner. I have always been an extremist. So allot of dudes were not willing to go the distance. So I danced around for a while until I made a connection with FACT ( aka DR.PEPPER aka CODE ONE. ) Graffiti became my life. I ate and drunk Flo-master ink and red devil spray paint. I lived on the subways in fact I knew the subway system better the staff employed by the MTA. I often found myself correcting them when they made incorrect public announcements. In order to become a successful Graffiti artist you have to be a successful rack up artist. The two go together like hand in pocket. I'll say this - I supported my own habit. I took king of the following lines; 2's, 4's, 5's, 7's, CC's, D's and a few Queens bus lines. I also supplied a few other artist with some of their own documented pieces. I'll let them come to the plate on that subject. DONDI may he rest in piece, gladly had the honor to shape my good fortune with (so to speak.) I place emphasis on the fact that I always had my own and some. From the beginning because of my size and age no one took me serious, so I had to step up in a big way. Peer pressure played a big part in my decision making. |

I kept a strong presents in the insides of the trains, in some way was just as big as being on the outsides. Some of the guys who were big on the insides were; My brother FDT 56, HOY 56, WASP 1, WHIZ 3, DSR*SN, MITCH 77, IZ THE WIZ, AT and The Master Blasters, KADE 198, TEAN, FUZZONE, TEAN,
| | |
| --- | --- |
| KM, RASTA, THE ROLLING THUNDER WRITERS, BAN 2 / DELI 167, FACT / DR.PEPPER / CODE, DURO & KIST. There were so many more. There was a time when I had to catch the insides as soon as they rolled out of the buffing yard. There was so much competition with the insides artist. The insides just got messy, so to speak. There's an old friend of my brother named Tito ( also known as ZEST 1) from queens. This is a true story, he pulled me to the side one day because he seen me doing some reckless tagging and he tells me - you know why your brother is so well known in the game, your brother tags his name where people, " all people people will notice his tag. For me that was like a lesson in Graffiti 101. From then on I tagged my name in places that was visible to human beings. One of my greatest moments is standing on a platform and watching my tags go by. ( visible from a distance ) | |

I was never with any group , although I associated with some of New York's top Graffiti artist. I have the honor to announce that I have hung out with the best that ever done it. I was never confronted by any group founder of cofounder and asked to represent. I personally asked one dude and was turned down. At this time I was running hard with writers from THE CRAZY ART ( TCA.) RAT 1, P-BODY 170, MAX 183, TUE ( MITCH 77 ), WHIZ 3, C 7, TEX 183, REX 183, . Also known as - haven't you heard, one eighty third boys. This is when I hooked up with FACT ( aka DR.PEPPER.) At this time I had the insides of the following
| | |
| --- | --- |
| | lines on lock down; 2's, 5's, 4's, and CC line. I put my work in, so I stepped to RAT 1 who was one of the cofounders of TCA. And he came up some lame excuse about he would have to bring it up with P-BODY 170. I mean I had the 4 line on lock which was run by TCA at the time, so I took that diss and moved on. So my attitude was like fuck all these half stepp'n crews. I'm going to do my own thing. That's when THE KOOL ARTIST was born. I was president and FACT ( DR.PEPPER ) I always considered vice president. He immediately stepped to me and demanded to be down! I have also painted with DONDI and his crew CIA. And his crew it was! DONDI was a natural born leader and his peers had his undivided attention and respect. earlier I mentioned not being a down with any crew beside my own. Due allow me to say that coming from the south Bronx and traveling to Brooklyn, I was always welcomed with open arms. Me and DR PEPPER was always made at home when fraternizing with the CIA crew. DONDI, RASTA CIA, AERON aka LOVIN 2, EDDIE CIA, KIST , and so many others to mention that I credit for allowing me and DR PEPPER not only in their |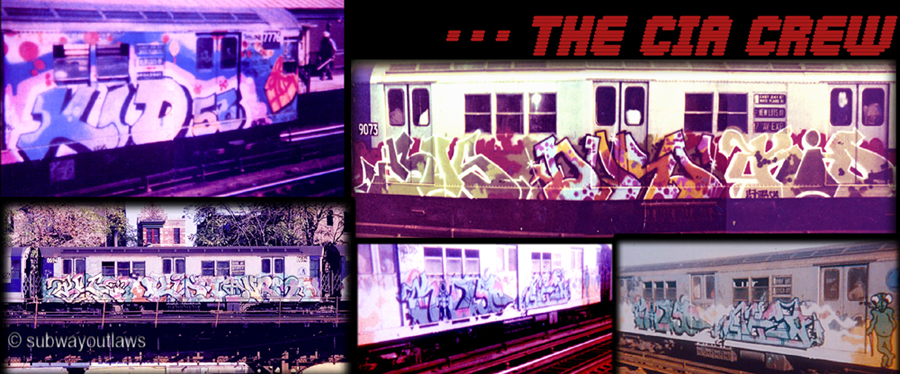 neighborhood trains yards but into their families homes. Which I greatly appreciated. Man, we were family and I miss that so much. DONDI's home was our Head Quarters. In his bedroom and in his basement is where most of the cities Subway Masterpieces were born. Meeting at the Head Quarters was the teams practice
| | |
| --- | --- |
| before a major game. Black books and markers spread out for individual use. Shopping bags of Rust-o-leum, Kraylon and red devil being lined up and coordinated accordingly. Always top shelf paint and hard to find colors, myself and DR PEPPER made sure of that! Brooklyn's East New York was the trey bag haven at that time. The CIA crew introduced the EL PRODUCTO blunt to us young Bronx bombers And that we always did plenty of. Along with the Old English 800 or Coqui 900, in retrospect I am still BUZZ'NNN! Time to roll out was always DONDI's call. The new lots 2 and 5 yard was right in DONDI's back yard ( so to speak. ) And we only rolled ( successfully ) when he said it's time. And it was cool like that with everyone. Any time of the day or evening, no matter how long practice took, we waited for that call. And we were kids with big hearts and ball to match, walking in prime time ghetto with bags full. But no matter what route we chose, someone was always hollering- " What up DONDI!" The CIA crew always treated me like family all the time is the description I want to emphasize! I will always love you dudes for that. | |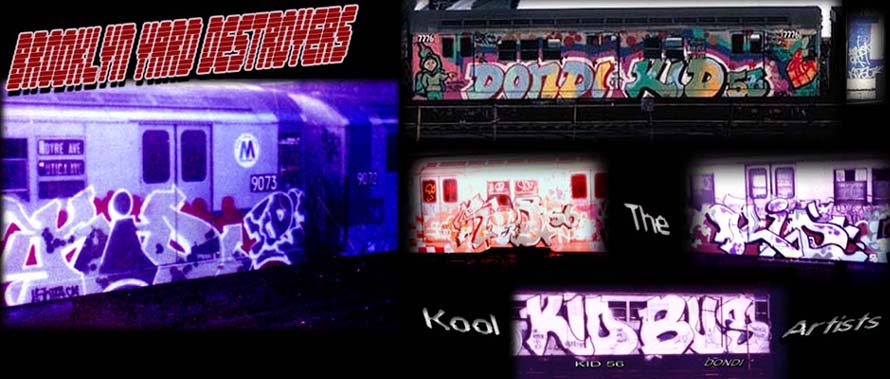 Through out my career I had a hand on all lines, 1's, 2's, 3's, 4's, 5's, 6's and 7's. I also got up on the BMT's and IND's. Considering the buffing crews, at any time I was of the 2's, 4's, 5's and CC line. But I would never claim to be an ALL CITY king. That would mean someone king'd all lines. And that was a tough accomplishment if accomplished. Some lines I refused to waste time on because of the rapid buff system, like the BMT lines for instance. I was doing lines where my work would have longevity. The only artist I would co-sign for being an All City king would be " IN "! During the 80's there was not a full train rolling with out a IN throw up on it. Much respect for the Brother. Just like there were graffiti artist to paint the trains, there crazy cops to try to catch them. HICKY and SKI were the STARSKY and HUTCH ( and Huggy bear, because there was snitches in the Graffiti world also. ) of our time. I was harassed by them but never busted! Never busted in any yard or lay-up! Raids came with the territory. All I remember is being fast and attentive all the time.

Me and Mousey 56 ( M56 ) kinged the 7 -line in one day. We each had 2 pilots and a quart of black flo-master ink, That was a day to remember, that till this day me and my cuzz reflect back and have a good laugh. It was labor day weekend. We went out that Monday morning snuck in the 7-yard like two thieves in the night.
| | |
| --- | --- |
| | considering the dangers the yard was known for. This had to be our best opportunity. Holiday weekend, early-rainy Monday morning, most people are home recuperating from a long BBQ weekend, our supplied are well stocked. I cant remember another tagging plan more perfected than that morning, the funny part about this story is that I supplying the ink and when we get to the yard, we forgot to to open / cut the nozzle of the ink can to refill. I always hated when this happen because I usually would end up biting the tip off which would, in some cases splash ink in your mouth. So here we are both thirsty for a refill and I tell MOUSEY , - you either bite the tip off , or you get no ink. In the middle of one of the Hottest yards in New York city if MOUSEY would have had a gun, I would be unable to be telling this story right now. as for FUZZONE and FLAME, my boys till the end. I remember lots of good times with them, in and outside of Graffiti, FUZZ was always a bag full of laughs. I like to remember him as the RODNEY DANGERFIELD of our time together, FLAME, my brother in art as music. A very talented "D.J" who I always encouraged to hit |
the clubs. But FLAME had other desires. I first saw and met ERIC - B and RAHIM at FLAME's cribe, before they even hit the charts. I tell people that story and I'm sure they find it hard to believe. ( But I wont go there. ) Yo FUZZ & FLAME - " HOLLA AT YOUR BOY!" I have wrote with so many Graffiti hard bodies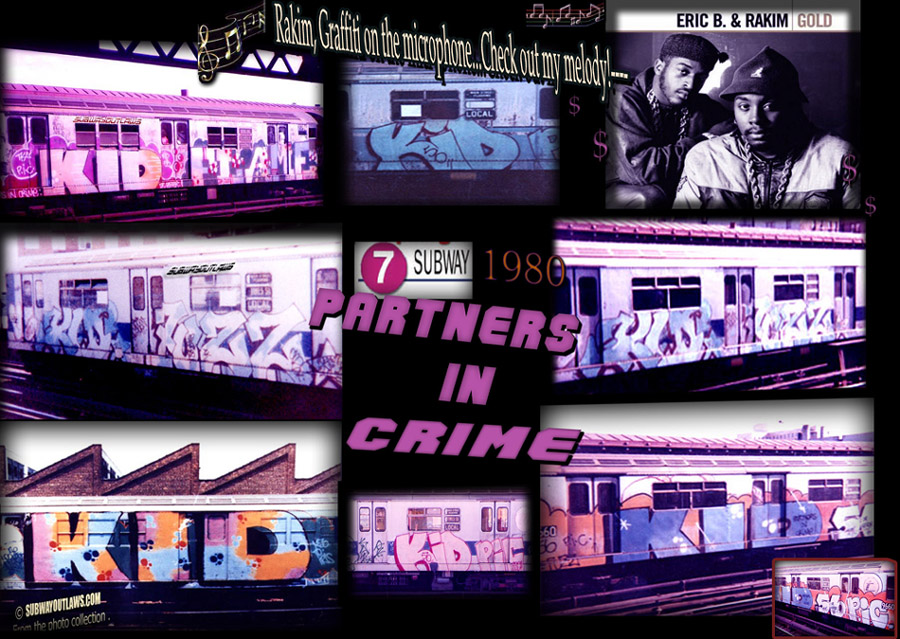 through my career such as ; DR PEPPER / FACT / CODE, KEL, MARE, DONDI, FUZZONE, FLAME, OF 147, REX 183, MAX 183, PERICO RALPH, RAT 1, MITCH 77, BOO 2, WHIZ 3, REE 2, JAMES TOP / JEE 2, QUIK RTW, DEMO TPA, M 56 / MOUSEY 56, KIST. My kid 56 or K56 tag was developed with speed in mind. Tagging is illegal. My style is my own signature. I just always was focused on getting my point across with the good left hand that I have, when it comes to tag style there is only one in my eye that stood out in the crowd. The infamous New York City bus writer CLYDE! This legend was king of all Bronx surface lines back in the day his chosen cursive style was the only one in the Graffiti world. In closing I will always be a Graffiti artist. I am no longer willing to Break the law to get my point across today I have other options!
KID 56 ~ ( THE KINGS ALWAYS )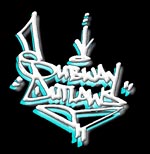 We like to thank FDT 56 for making this interview possible as well as thank him for all his purport though out the years. should any one have any Questions please contact us at MESSAGE@SUBWAYOUTLAWS.COM. Photo credits go to FDT 56, BLADE, ERIC and LUKE @t 149th street, EZO, FUZZ ONE plus The team at SubwayOutlaws.com
___________________________________________________________________________
| | |
| --- | --- |
| For more on Writers of the past, check out www.Paid3.com . A great site for art and major Graff events, Make sure not to miss it. | |