~ Started : 1978 ~
AREA : Jamaica Queens New York
Alias : CERISM, KOLT, BAZE, HAVE 2
Writing Groups : TPA - ( Prez 83 - 86 ) TC, CITY, OTB, CIA, AF, TKC, IA, TKA, YSL, RTW, WOW
Lines Hits : 1's,2's, 3's, 4's, 5's, J's, M's, N's, E's, F's, A's, D's, CC's, B's, GG's, RR's
************************************************************************************
I'm from the Q-boro, Queens aka the "Home of the Brave" for real!! I started writing around 1978-79. Tagging on light poles, store fronts and buses, basically just getting up; following in my big brother's footsteps. The first writers I remember seeing was QUIZ (my brother), Plus others like TAG 2, COSA 1 , MINGO 1, PIPER 2, DDT 1, CANE 3 from the J lines, and writing groups like The Soul Killers and the 3 Yard Boys! I think seeing all the different styles and colorful work that COSA and PIPER 2 was doing in my area pushed me to really take it serious.

I first came up with the name CER from my zodiac sign, CAN-CER. CANCER was too long so I cut it short. Of course, I had the aliases KOLT, C.K.one, BAZE and CERSTER . Those names came after my original tag HAVE 2! My first experience hitting the trains was with my boys, EUBIE and U-ROCK ( UNCLE ROCK ). My first time in the yards was with two of the all time greats, CEY.CITY and SCOP.TOP on the 2 & 5 lines in 1981-82 way uptown in the Bronx we did 2 whole cars and destroyed the insides along with some
| | |
| --- | --- |
| major throw-ups! Big up CEY and SCOP! | _ |
I used to rack Rustoleum and Red Devil paints back in 1980 with CANE 3. He taught me how to do it from this corner store on Linden Blvd. Then I went bananas with my boy- M.3 / DEMO.TPA. I really mastered the art with my fam - KAP, PW, SYE, SCOP. On a bad day, I would hold down 20-30 cans. On a good day, anywhere from 100-200 cans of Rusto and Krylon baby! Got stopped once and punched my way out the door on Hillside Ave and still kept 15 cans on me.

My earliest writing partners are all legends today! CANE 3, SCOP, CEY, DEMO, LUST, KAP, PW, SYE, ADAM, SLOAN, PUBO, EUBIE, U-ROCK ( UNCLE ROCK ), PG 3 and the entire TPA fam…Nuff Respect! I'm down with so many writing groups. Starting with of course, THE PUBLIC ANIMALS (thanks to DEMO), CITY, OTB, TC, TKC, RTW, CIA, SBK, IA, YSL, MOM, and TKA.
| | |
| --- | --- |
| --pppppppppp9999999-- | _ |

How I got down with The Public Animals...Well, I was doing some major damage on the bus lines in Queens and I was on Hillside Ave one day tagging in broad daylight and this wild looking dude walked up on me and said , "What you write?" Me being me, I said, "CER, why?" and then the dude pulled out a mini-wide marker and wrote DEMO.TPA…of course, I heard of him and seen him up like crazy and he had seen me up too so he put me down and then we went racking 5 minutes later and the rest is history! The key members of TPA was DEMO, PUBO, PG 3, VADE, WISE 3, KC 3, KC 5, TEE-BOP 169, FORCE 5, KID 56, EO, FUZZ ONE & FLAME, CEY, SCOP, HEART ( LADY HEART ), LADY PINK, JOEY aka RC and then you had me and my killer army- PW, KAP, SYE, LUST, SLOAN, REC 127, ADAM, U-ROCK ( UNCLE ROCK ), EUBIE, ABBY and many others!
THE TPA CREW


I have been through my share of crazy raids. My illest would have to be on the Union Turnpike lay-ups- a three level jump off. It was PW, KAP, MUZEK (Muse), DEMO, SPICER, EZO and myself. A whole train done up one car a piece and the infamous Graff-DICKS, Curly & Ferrari, rushed us. PW ran threw my legs while I was doing the top of my car yelling, "Oh shit, It's them!". Safe to say, we all made it out except my boy EZO.CUK. They also got about 200 plus cans of paint. We were headline news the next day in the NY Daily News with EZO and his head bandaged up.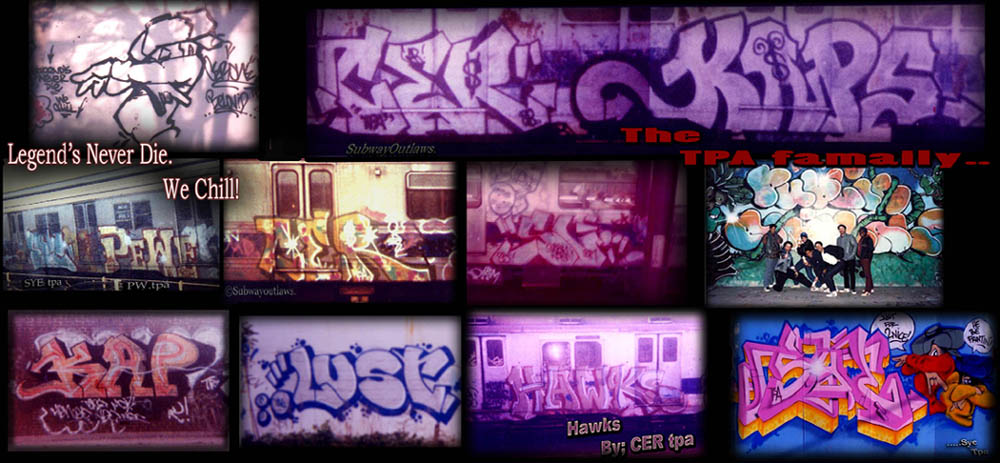 I've rocked so many subway line, starting with the 1,2,3,4,5,J, M, N, E, F, A, D, CC, B, GG, RR and caught 3 nights on the 7 line with CANE 3. TPA ruled the Es&Fs and at one point the D Yard was our second home. My favorite spots was the M yard, Ghost Yard, Coney Island, Es&Fs lay-ups, 155st lay-up, City Hall, D yard and all the East New York lay-ups, what up CRIME79!

Over those years I've written with a vast amount of people from old school to my day and time Animals, such as IZ the WIZ, PG 3, SIR.TKC, EKO.TKC, MIN, QUIK, RICH, CEY.CITY, SCOP, DEMO, CANE3, BOE, EUBIE, REC127, EZO, VADE, JOEY and PUBO, to name a few. I don't have one hardcore partner I had many…SCOP, DEMO, KAP, PW, LUST, SYE, ADAM, SLOAN, CEY…we were just a bunch of animals. When you start getting up all over the city, your bound to have other writers going over your shit. I've had my share of wars on the lines. YD & KP.WR was one that me and KAP had, GHOST.RIS was another, but the biggest was TPA vs. RTW-WOW - a major cross out session! But, we squashed it and went bombing, that's how I'm down with RTW-WOW. We tore the Ghost yard a new asshole that night! It was me, PW, KAP, DEMO, SYE, MIN, RICH, BOOZER and QUIK!



The biggest Graffiti cops in my day were Curly and Ferrari, They were the illest back then. They was after us hard but never got to lay a hand on us! The last time I did the trains was around 1987. The buff was getting faster and all the real Children Invading the Yards (CITY) was slowing down. I prayed for the days of old to return but everyone has moved on to different paths in life!

I think a lot of these new writers in the game need to do their homework and see what graff was really about. THE PUBLIC ANIMALS made a mark on the city's transit system and we all deserve our props. Big ups to Henryu Chalfant and Martha Cooper and the L.E.S. for opening your arms and galleries in the '80s and most of all, websites that keep us alive like this one!
I'm happy to be part of this art form and I will always rep it 'til my casket drops. Thank you all for recognizing my contributions in the graff world. I also want to thank my partners in crime, TPA, for holding me down in times of need and being there through thick and thin.
CERONE. TPA/CITY
Death before Dishonor!