SAIN
TOP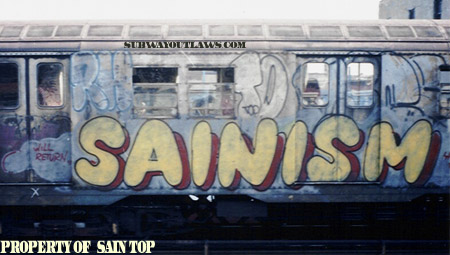 Started : 1976

Area : Brooklyn

Main lines : J's , M's , LL's, 3's, A's.

Writing groups : TOP , CIA.

I started around 1976 and was introduced to writing by LIL KING !7th who was a famous writer that use to kill shit back then . I wrote SAINT and changed it to SAIN just removing the "T"once I moved to East New York Brooklyn. I would met groups of writers back then , Specially SID THE KID , CRAZY DIKE (CD) , FLIN , SONO (DURO) , KIST , IK ( THE HULK), HATE168 , MICKEY ( TO729) , JEE2 (JAMES) HURST ( OI) NACO (DONDI) they were rocking back then as well.

Those years I was just a kid from park slope just into picking up girls

racking up beers and paint then going bombing back then. My first trip hitting the trains were in the "A" yard on linden blvd , Me and FLIN lived a block away and we would go there and kill shit. The only crews I ever pushed back then was TOP and CIA.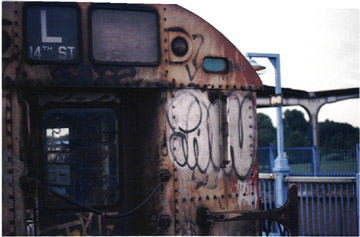 I was faithful to those crews only. Even though other crews put me down with there's it was TOP and CIA that came first. I would go on to be a ALL CITY writer hitting almost every train line back then except the 7s. I wase'nt comfortable with with those lay ups it was easy to get busted there. The exits were limited while the yards where much safer. When your writing you will have a few beefs out there and I had my share of them, I had some beef over some stupid jealousy shit and you would have to go over them or have to fight for yours. Some of those dudes where – "WRITERS WHO GO PICKING FLOWERS GO FOR YOURS WE GO FOR OURS" , MIN RTW (NE) – IF YOU WANT TO BATTLE GO HOME GET YOUR SADDLE FOR I COULD RUN YOU OVER LIKE A HERD OF CATTLE. they would go over my throw ups for no reason just to get on the dick. The war with MIN was a misunderstanding
DURO could have stopped it before it started. But peace to my man MIN1 (NE) shit was settled and now he's my boy. I made up my throw up style by just drawing circles and using my favorite colors , baby blue's , whites, yellows , black and red outlines it just took me a few seconds to do .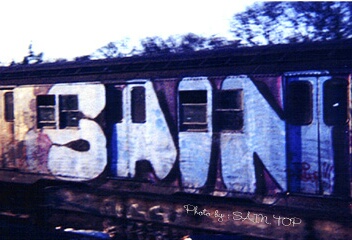 The last time I went bombing was in 1988 we went to the Canal Street layups and the City hall lay ups. I have been working for transit for 14 years ( A writers dream come true) I know more about transit then I knew then Its all about getting paid and growing up . I have a wife and son now and make $60.000 a year just to stop writing on train.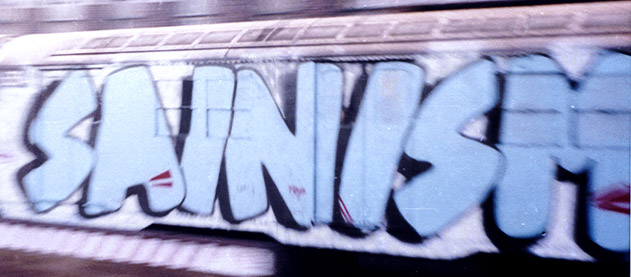 But I will never forget the history ! shout out to TOP and CIA as well as my cousin DEEP and my boy from uptown FR TOP, DURO CIA , FLIN TOP , JAMES TOP , IZ THE WIZ , DIKE , Rest in peace to my boys MICKEY ( TO729) , KIST ,
DONDI CIA ( NACO ) , HURST (OI) THANK YOU ALL AND PEACE

~~~~~~ SAIN TOP ~~~~~~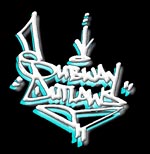 Should any one have photos of SAIN's work. Please contact us at MESSAGE@SUBWAYOUTLAWS.COM