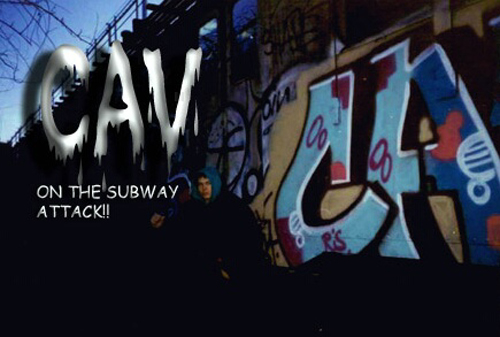 Started: 1982
Area: Bronx. N.Y..
MAINLINES: 2'S, 5's, J's, D's
Writing Group's: SV, TMB, MPC, RIS, GU.
*****************************************************************************
1) Where did you start writing.
IN THE BRONX.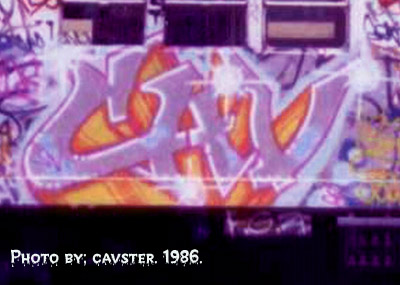 2) When was the first time you notice writing on the trains and can you remember the writers you seen up.
I STARTED TO NOTICE GRAFFITI IN 1982. I REMEMBER SEEING DEZ, SKEME, SEEN UA, BLADE, CAP, SHARP, DELTA.2, IZTHEWIZ AND THE LIST GOES ON AND ON.
3) When was the first time you went hitting and whom did you go with.
I WENT HITTING FOR THE FIRST TIME IN 1983 ON THE # 2 LINE. I TRAVELED THE SUBWAYS WITH A PILOT MARKER AND FLOODING IT WITH FLO-MASTER INK. MOTION BOMBING WAS A LOT OF FUN. THAT SAME YEAR I WENT TO ESPLANDE LAYUP WITH POVE GU. WE ALSO HAD ACCESS TO THE 2 YARD AND 2 LAY UPS.
4) Who was your first writing partner.

MY FIRST WRITING PARTNER WAS SENTO. I STARTED S.V. SUBWAY VANDALS IN 1984.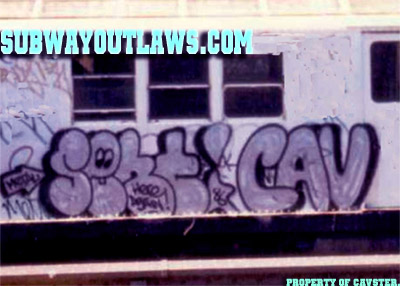 5) What writers inspired you when you where first starting out.
I LOOKED UP TO A LOT OF WRITERS. I WAS INSPIRED BY SENTO, SEEN UA , TKID170, SKEME, CASE2, TAT CREW, BLADE, IZTHEWIZ, QUIK RTW AND GHOST.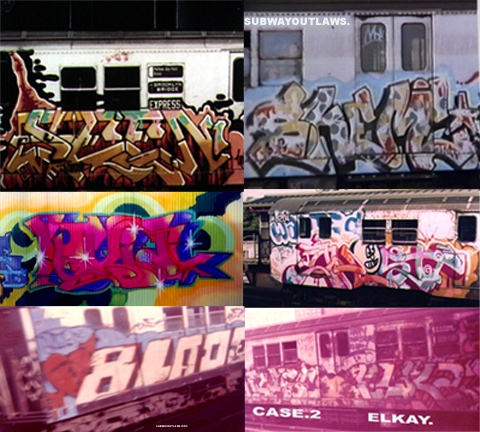 Some of CAV's early influences.
6) What train lines did you mainly focus on and what other lines have you hit.
I GOT UP MOSTLY ON THE # 2 AND # 5 LINE WITH SENTO,KEY,SEAR,MKAY,SEEN,DES,DEE. I ALSO HIT SEVERAL BMT LINES, B, CC, D, J, M, L's WITH SENT,CASE2,GHOST,VEN,SMOG,KIES,TEKAY,LACE

DEE AND CAV'S ON THE NUMBER 5 TRAIN 1987.
7) What year would you say was your peak year as a writer.
1988 WAS MY BEST YEAR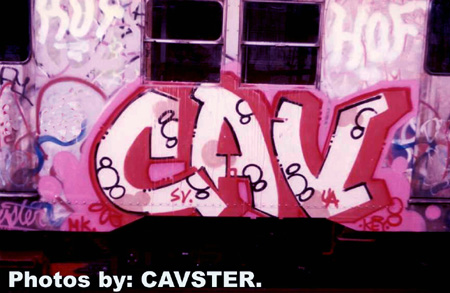 Could you name all the writing groups you were in.
SV, TMB, TNK, GU, MPC, MBT, COD, AOK, RIS, TOA, AMW, KD, KTC, TDR, RTW, IBM

9) Would you have any raid stories you could tell us.
ONE NIGHT, SENT AND I DECIDED TO GO TO BAYCHESTER LAYUP. WE HAD PLANS ON DOING A WHOLE CAR TOP TO BOTTOM. WE ARRIVED ABOUT 1:00 IN THE MORNING. THE LAYUP SEEMED TO BE COOL AFTER SCOOPING IT OUT. THERE WAS NO WRITERS OUT THAT NIGHT. THE WEATHER WAS NICE. WE PAINTED INTO THE NIGHT THROUGH THE MORNING WITH NO PROBLEMS. EARLY IN THE MORNING, WE SAW A WORKBUM . HE SEEMED TO BE COOL AND CONTINUED HIS WAY TOWARD DYRE AVENUE. THE WHOLE CAR WAS LOOKING DOPE AND SENT WAS FINISHING IT UP. I TOLD SENT I WAS GOING TO MARK THE OTHER SIDE OF THE TRAIN. I CLIMB UP IN BETWEEN TRAINS AND I SEE 2 DUDES COMING INTO THE LAYUP. I SMELLED THE BACON FROM FAR AWAY.I KNEW RIGHT AWAY THAT THEY WERE VANDAL SQUAD. CALMLY AND QUICKLY, I CLIMB DOWN FROM BETWEEN TRAINS. I TELL SENT THAT WERE GETTING RAIDED. I GIVE SENT HIS BAG THEN I START TO JET. NOW,IM RUNNING IN BETWEEN LANES, ITS CLEAR AS DAY OUTSIDE, IM TIRED AS HELL AND NOW WERE IN SOME PREDICAMENT. IM ABOUT 200 YARDS PAST THE LAYUP, I TURN AROUND GASPING FOR AIR I SEE SENT COMING THROUGH THE MIDDLE OF THE LAYUP. ON EACH SIDE OF HIM I SEE 2 VANDAL SQUAD COPS. I YELLED OUT RUN! SENT CATCHES UP WITH THE QUICKNESS. AS WERE RUNNING, WE CAN HERE THE SIRENS UNDER THE EL. THE VANDAL SQUAD WAS RIGHT ON OUR TAILS. SENT AND I JUMP OFF THE TRACKS, RUN DOWN A HILL, CLIMB OVER A FENCE AND END UP IN SOME WOODS. AT THIS POINT I STOP. I CANT RUN NOMORE. IM GASPING AND COUGHING LIKE CRAZY. SENT YELLS! THERE STILL COMING! AFTER THAT, SENT AND I JETTED AGAIN. THE WOODS SAVED US FOR SURE. SEVERAL HOURS LATER WE GO BACK TO BAYCHESTER TO SEE IF THEY CROSSED OUT THE WHOLE CAR. WHEN WE GOT THERE THEY DESTROYED OUR WHOLE CAR WITH GIANT V OVER EACH LETTER, BUT LITTLE DID THEY KNOW THAT SENTO HIT THEM WITH PLAN B. HE WENT BACK AND FIXED UP THE WHOLE CAR. THAT WAS THE LAST WHOLE CAR WE DID ON THE # 5 LINE. SHIT WAS HECTIC, BUT WE CAME OFF IN THE END.

10) When was the last time you went bombing.
after my peak year, the M.T.A had cleaned up the system. even though the trains are clean, there still trains. the only question in my mind is, will shit still run? well, I guess there's only one way to find out. I represented for a hot minute but there were others that killed shit. I also represented with KET, ZENO, SAR, SACH, GHOST, VICTOR161,BOOTS119,FUZZONE and GKAY. after a while, to me it wasn't the same. it didn't have that same effect on me like it use to. the fact of the matter is, graffiti wasn't running on the trains. maybe one trip if your lucky. it was worth trying though but I rather put my energy into something that's going to run and I did, freight trains.
11) Would you have any closing words.

I would like to thank subway outlaws for letting me do my thing. peace to my sv. and bfk family and peace to all the real subway outlaws. you will never be forgotten. peace and god bless, from the cavster! staying consistent until the end